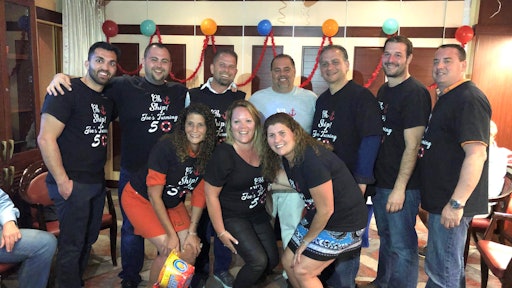 In 1960 Saverio Stasi left Naples, Italy, seeking a better life in the United States. He settled in Westbury, NY and started a landscaping company. A brick mason by trade, he soon added brickwork to his services and by 1964 had added paving asphalt driveways. In the late 1980s he began pursuing public work, almost doubling the size of the company to 20 people.
Today that company, Stasi Brothers, employs upwards of 100 people in peak season. They generate 45% of revenue from commercial paving, 15% from residential paving, 20% from concrete paving and repair, and 20% from masonry. They run two paving crews, a sealcoating crew, a striping crew, a site-prep crew, two concrete crews, three masonry crews, two "rip-and-prep" crews and a trucking division with 10 dump trucks.
CEO Joe Stasi, part of the second generation of owners, says three factors have influenced their success, two of which have been part of the company since the start.
A Family Environment
First is the company's approach to its employees.
"We grew from a mom-and-pop operation to where we are today and we were able to do that because we make it a point to take care of our employees," Stasi says. "A bad environment affects the work in the field, and that affects your reputation. When you're around a family-type environment you take that into the job, and you care more. Working in that kind of environment makes everyone proud to work for our company."
He says their newest non-seasonal hire has been with the company five years and that most people have been with the company more than 10 years – including many who have worked there more than 20 years.
Stasi says that as the company has grown it's become more difficult to retain that family atmosphere, so they've begun efforts to systematize what happened organically when the company was small. Included among those efforts are employee recognition programs such as employee of the month, team building, and when it's an employee's birthday the company buys lunch for that whole crew.
"We're getting a little larger and a little more corporate so we're starting to focus more on what we can do to keep this a place people enjoy," Stasi says. "It's hard to find skilled labor and once we find and train them, we want to keep them."
Work is Done In-House
"The big thing about our company is we do everything in-house," Stasi says. "Unlike most contractors that have to hire subcontractors for some of the work, we can do it all. From $100 sealcoat jobs to $5 million parking lot or road projects and everything in between, we do it ourselves. Commercial, municipal, and residential. Driveways, patios, steps, outdoor kitchens, drainage and foundations."
He says the company's in-house approach has been part of the business from the start because it offers more than a few advantages. "We can offer better pricing, we have better coordination, and we end up with better-quality jobs doing it ourselves," Stasi says. "And everything runs more smoothly. There's no blaming and no pointing fingers because something isn't done on time or the way we want it done. We do it all, so it's all done on our schedule and the way we want it done."
Because they do their work in-house, they own and operate a diverse fleet of more than 200 pieces of equipment and employ four full-time mechanics to keep equipment running. "Last year we invested almost $2 million in new equipment," he says.
Delegating Responsibility
But perhaps the most-important change Stasi Brothers made, which enabled them to jump from 20 people in the 1980s to 100 in 2020, is that they decided to hire foremen to manage three of its divisions.
"We brought in some heavy top management to watch and manage the crews, and that enabled us to grow the business," Stasi says. "At the time we were much smaller, and the crews were much smaller than we are today, but we realized we couldn't grow without having people to run those divisions."
In 2003 Stasi Brothers hired Sal Karim to help and take care of the Residential and Masonry Division. In 2007 they hired Jason Dellaratta, who took over the concrete crew. And in 2008 they hired Ken Pellegrino to manage the paving division. Joe Stasi trained all three, so they learned to manage their divisions the way Stasi Brothers wanted them managed.
"One person can only do so much, so most of our growth is the result of hiring more management and more people to oversee the business," Stasi says. "Many people are afraid to do that. People are hesitant to hire people and pay them the money they need. It does cost a lot more to hire a manager than to hire a worker, but companies that are afraid to spend that extra money prevent themselves from growing from a position like we were in to where we are today."
With the newer addition of Sam Stasi, the namesake and grandson of the founder, Stasi Brothers is excited to see what the third generation Stasi holds for them.