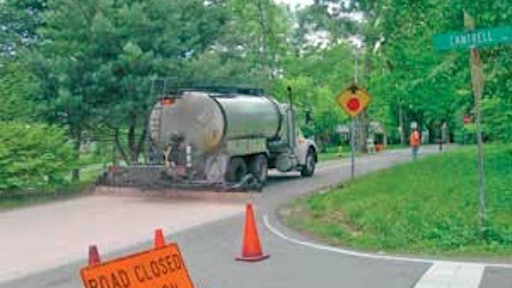 Following an audit of its street infrastructure in 2002, Metro Nashville's Department of Public Works made a significant shift in the way it maintains the streets within its jurisdiction. It established new methods for identifying streets that were likely candidates for repaving, and it also initiated an aggressive preventive maintenance program using surface treatments, like slurry seal, to maximize the structural life cycle of its road network. As a result of the audit and the recommended changes, Metro Public Works (MPW) established a formal Pavement Management System (PMS) that would objectively analyze appropriate road treatments based on data and field inspections.
MPW maintains 2,200 centerline miles in its roadway pavement network. The network consists of local streets, connector routes and major arterial routes; and the network is comprised almost entirely of asphalt concrete pavement. Prior to implementing the PMS program in 2002, maintenance and roadway improvement activities consisted of mainly pavement resurfacing with hot mix asphalt.
To enhance its overall pavement management approach and develop a long-range strategic paving and alley maintenance, MPW evaluated its existing PMS approach and looked for an alternative that would help it maximize its allotted maintenance budget and extend the life of its roads.
The evaluation consisted of collecting information on construction techniques, materials, traffic usage and road conditions throughout the network, and also projecting future pavement conditions and rehabilitation needs in order to identify the best approach to maintain a quality network. The end result was a strategic three-tier program that addresses road conditions based on reconstruction, rehabilitation and preventive maintenance. To manage the large network, MPW divided the paving program into five geographical groups, with paving projects let on an individual group basis.
Preservation evolves
Over the past four years, MPW's PMS has evolved to the point where 50 percent of the maintenance budget is now earmarked for preservation work. In 2006, for example, each of the five network groups received approximately $1.25 million for repaving projects and $1.25 million for preventive maintenance projects. Donald Reid, right-of-way manager for the City of Nashville, says more dollars would be earmarked for preservation work, but the rising cost of asphalt (due to rising asphalt cement binder prices) has required more money in the repaving budgets just to complete the same centerline miles paved last year.
Reid, who worked for the Tennessee Department of Transportation for 16 years, has been instrumental in establishing Nashville's new PMS. "Nashville hired me in 2003 to execute its preservation program, and each year we continue to expand the use of surface treatments to preserve roads and maximize the dollars the city has to maintain its network," Reid notes.
Reid initially researched appropriate surface treatments by placing test strips in from of the DPW's office. He wanted to evaluate the performance of rejuvenators and slurry seals.
"We were looking at a pavement reclamation technique that rejuvenates the asphalt binder by penetrating the road surface," Reid says. "We have a lot of roads that are two-, three-, four- and five-years-old that are in excellent driving condition but through oxidation they are beginning to show signs of surface stress. So, we wanted to apply a surface treatment that would address those initial stress factors and extend the service life of those roads."
For this particular preservation approach, Reid selected Reclamite Rejuvenating Agent (originally designed by Golden Bear), an oil-based solvent that is formulated from selected petroleum maltene fractions. Reclamite is designed to penetrate the road surface, chemically reacting with the asphalt to rejuvenate the AC binder that has been lost through oxidation. The rejuvenating agent restores and preserves the plasticity and ductility in the asphalt, delaying the aging process of the pavement. The surface treatment also seals the pavement, preventing the intrusion of air and water.
The pink-colored rejuvenator is applied with a distributor truck and then covered with a thin coating of sand to prevent tracking while it cures.
"Our primary usage of this particular surface treatment has been local subdivisions and some city streets," Reid says. "There's minimal disruption to traffic and homeowners are happy with the resulting improvements made."
As for the other surface treatment Reid has in his preservation arsenal, the MPW makes extensive use of a fog seal on roads that are seven-, eight-, nine- and 10-years-old.
"When we see some beginning signs of raveling, with exposed aggregate, we know its time for an additional surface treatment," Reid notes. "We've been using the PASS (Polymer-modified Asphalt Surface Sealer) emulsion fog seal product produced by Western Emulsions. It really does a great job of bringing those roads back to 'like-new' condition, and again it's a surface treatment that we can execute with minimal disruption to traffic."
In the second full year of MPW's preventive maintenance program, 173 lane miles were treated with Reclamite and 141 lane miles were treated with the fog seal product. This year, Reid expects to treat 300 lane miles with Reclamite and approximately the same number of miles with the fog seal process. "Each of our five (road network) groups will spend approximately $600,000 on Reclamite surface treatment and $800,000 on fog seal applications," Reid says. "As we continue to execute the pavement management system we put in place, we're able to maintain more roads with preservation techniques and keep those roads in better shape for a longer period of time before they require repaving or reconstruction. The Reclamite extends a road's service life by approximately three years, and the fog seal application adds another three years of service. We used to get about 10 years of good service out of a (asphalt) paved road before we would have to do some major patch work, but now we're getting 16 years out of the road before we need to start considering rehabilitation.
"With asphalt (hot mix purchased from an independent producer) costing us $52 a ton this year because of the higher asphalt binder prices, we're saving a substantial amount of money with our preventive maintenance program," Reid adds. "We realize that treating good roads will help them remain good roads longer, and that translates into savings for our taxpayers."