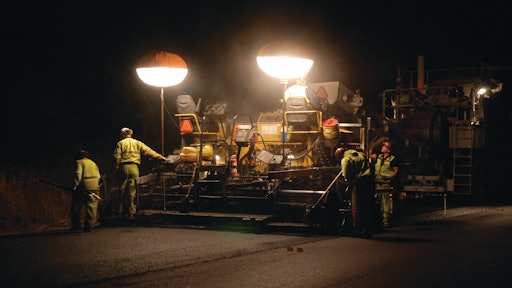 In July 2011 the workability and environmental benefits of warm mix additive were paired with the performance and environmental benefits of rubberized asphalt binder to create a high-performance pavement on scenic California 1 along the northern California coast south of Fort Bragg.
There, Evotherm DAT warm mix additive was used to ensure workability of a asphalt-rubber, gap-graded (RHMA-G) mix following a 2 1/2-hour drive across California's Coast Ranges. Without the warm mix additive the length of the haul – in addition to the mix's placement at night along the cool coastline – would have cooled to the point of losing workability.
As it eyes the potential benefits of warm mix asphalt (WMA), California has been studying WMA's attributes. But there's a catch: As the California DOT (Caltrans) is working under a legislated mandate calling for the use of increasing amounts of reclaimed rubber in asphalt pavements in future years, Caltrans had to determine whether – and which – warm mix additives would be compatible with asphalt-rubber binders.
Now, Caltrans materials engineers – working with stakeholders in the private sector – have determined that WMA will work with rubberized binders, and the California 1 section of rubberized warm mix asphalt utilizing Evotherm DAT additive placed in late July 2011 is proof.
Caltrans

: WMA has benefits

After six years of study and field tests among the 12 differing climatic zones of the Golden State, warm mix asphalt technology has received strong endorsements from Caltrans.

"Hot mix asphalt production has many adverse consequences, including high energy consumption to maintain workable temperatures, and hazardous asphalt fumes that endanger workers at the plant and during construction," said the Innovation Team (I-Team) at the Caltrans Division of Research and Innovation in an October 2010 brief, Warm Mix Asphalt.

"Asphalt mix producers seek energy-efficient, environmentally friendly, and worker-friendly methods," the I-Team said. "The Caltrans I-Team strongly recommends the use of warm mix asphalt on paving projects throughout California because of its many proven improvements over hot-mix asphalt."

Benefits of WMA include, Caltrans' I-Team said, improved mix compaction, a potentially longer construction season, and longer haul distances for asphalt mixes without loss of workability.

And in April 2011, WMA's position was further bolstered by the issuance of an approval process for new warm mix asphalt technologies.

"Warm mix asphalt technology allows the mixing and placement of asphalt mix temperatures significantly lower than those used with conventional hot mix asphalt," said Cathrina B. Barros, P.E., chief, Independent Assurance and Reference Sample Program, Caltrans' Division of Engineering Services, in releasing the approval process.

"Lower mixing and placement temperatures provide the following benefits: fuel conservation, lower emissions, reduced worker exposure to asphalt fumes, and [improved] workability of asphalt at lower temperatures," Barros said in April 2011.
Asphalt rubber and WMA
While WMA in California is relatively new, use of rubber-modified asphalt is decades old both in California and elsewhere.
Caltrans began using asphalt rubber in chip seals in the 1970s and in hot mixes in the 1980s, reported Larry Santucci, P.E., pavement specialist, University of California Pavement Research Center, and California LTAP field engineer, Technology Transfer Program, Institute of Transportation Studies at University of California-Berkeley, in the September 2009 of the institute's Pavement Technology Update newsletter.
Use of rubber in asphalt now is required by law in the state. "In October 2005, California Assembly Bill 338 was signed into law," Santucci said. This bill originally called for the use of increasing amounts of crumb rubber from waste tires in HMA: 20 percent of total statewide HMA tonnage in 2007, 25 percent in 2010, and 35 percent in 2013. The bill later was revised to allow a variety of types of rubberized asphalt such as terminal blends.
But one consequence of the legislation was that in order for Caltrans to take advantage of the newfound benefits of warm mix asphalt technology, engineers would have to determine whether asphalt rubber could be used successfully with them.
On Sept. 15, 2009, Caltrans used warm mix asphalt technology in a rubberized hot mix asphalt-gap graded mix on a traveled way, U.S. 101 south of Eureka. "This use of warm mix asphalt technology was introduced for a one-day trial to evaluate RHMA-G production and placement at lower [ambient] temperatures," wrote Caltrans District 1's Wesley Johnson and Michael Stapleton in the March 2010 bulletin, Caltrans News.
Success with this technology would mean that many other projects using rubberized hot mix asphalt could have success in such cooler environments in the future. Typically RWMA-G costs Caltrans 15 to 20 percent more than conventional HMA, but the longevity is double, on average, so it more than pays for itself in reduced maintenance.
"Placement of rubberized HMA on the North Coast has always been challenging, due to the low ambient air temperatures and wet, misty conditions," they wrote. "In addition, air quality has always been a sensitive issue in this pristine environment, and previous rubberized asphalt projects have met opposition due to odors emitted from the rubber product during production, transport and placement."
On the other hand, warm mix asphalt technology used with rubberized hot mix production process allows the RHMA-G to be produced at lower temperatures, provides an overall energy savings, and lowers hydrocarbon emissions and off-gassing of noxious fumes, Johnson and Stapleton said.
"The use of rubberized hot mix is a 'win-win' for the environment and maximizes scarce road-maintenance dollars due using reduced required pavement thicknesses for pavement rehabilitation," they said.
Performance of rubberized WMA
By 2010, the performance of rubberized WMA in California had become evident. For example, the benefits of combining asphalt rubber and warm mix asphalt technologies were articulated by R. Gary Hicks, Ph.D., P.E., DingXin Cheng, Ph.D., P.E., and Tyson Teesdale, all of the California Pavement Preservation Center at California State University-Chico in a presentation at the January 2011 Transportation Research Board meeting, Assessment of Warm Mix Technologies for Use with Asphalt Rubber Paving Applications
"The potential savings in energy and reduction in greenhouse gas emissions could be great," they said. "The overall field testing and research results demonstrate that there are a wide range of benefits which can be attained by using warm mix technology in rubberized asphalt mixes. These may include reduced fuel usage and emissions, compaction aid, longer paving season, night paving, long hauling distances, and improved working conditions."
Hicks, Cheng and Teesdale found:
Warm mix technologies can be used with asphalt rubber mixes, allowing the mixes to be placed at night and in cooler climates
Warm mix technologies can increase the workability of asphalt rubber mixes, extending the paving season and allowing their use where asphalt rubber could not be used before
Warm mix technologies can improve workers' working conditions, reducing undesired asphalt rubber odor and blue smoke coming associated with conventional asphalt rubber placements
Warm mix technologies can reduce fuel usage because they reduce production temperatures by 30 to 80 deg F (19 to 45 deg C), with energy-saving benefits for asphalt rubber mixes
Warm mix technologies reduce emissions at both production and paving sites, with reduced carbon footprint and greenhouse gases emitted
"To date, the initial performance of warm mixes asphalt rubber placed in California is good," they said in January 2011. "More agencies should consider the use of warm mixes with asphalt rubber for night time construction and for cool climates."
WMA on California 1
In July 2011, WMA, asphalt rubber, and night construction in a cool, coastal climate all came together in the California 1 project south of Fort Bragg along the Mendocino Coast.
"On this project Caltrans is using an asphalt-rubber, gap-graded mix, which in and of itself is very temperature-sensitive," said Michael Plouff, applications engineer, MWV Asphalt Innovations. "Not only are they using that mix, but they are hauling it 2 1/2-hours to place along the coast, and doing it all at night. This is important for District 1, as they can have very cool temperatures, even in the summer, and they are limited as to what they can use for their pavements by the conditions. They feel that warm mix will give them the opportunity to use rubber mixes and open-graded mixes along the coast."
They feel that way with good reason: the average nighttime low along the Mendocino coast in June is 48 deg F, and in July, when this work was undertaken, is 49 deg F, according to U.S. Climate Data. The weather often is drizzly and rainy, even in summer.
"The plant is a long ways away, and it's such a long haul to get here," said Dave Chang, pavement coordinator for Caltrans District 1. "But when the mix gets here, it still can be rolled and worked at 240 to 250 deg F, while conventional mix has to be at least 280 deg."
In addition to the 53-mile, 2- to 3-hour-long haul, there are many variables that can pull the mix temperature down, Chang said. "When you dump it in the shuttle buggy – which is a requirement for our thin blanket overlays – it heats up that big chunk of iron, and that sucks some of the heat out of it. The paver will pull more heat out of it, as will the existing pavement surface. And the coast is cooler, but WMA allows us to put the mix down at cooler temperatures, as last night we got down to 45 deg F and with conventional asphalt we don't like to place it below 60 deg F."
A similar WMA project in the district in September 2008, California 1 near Point Arena down the coast, placed a polymer-modified, open-graded, WMA friction course containing Evotherm DAT under similar conditions, with long haul and cool ambient temperatures. "Three years into the project, the Point Arena job looks really good, without any signs of raveling," Plouff said. "Typically three years into an open-graded friction course wheel paths would already have begun raveling away."
In addition to its functional attributes, Caltrans looks at WMA in terms of 'green' technology, as not as much energy is required to make the mix, Chang said, adding rubberized mix also is a green technology. "It utilizes tires that would have gone into a landfill," Chang said. "But there are functional reasons to use rubber. Rubber 'gives', and as a result should last longer than a conventional open-graded mix. In our district we have severe winters, and an OGFC might last five years along the coast. But we are hoping to get at least seven years out of this thin blanket overlay, which is an inch and a quarter deep."
Gap-graded mix
The RHMA-G was gap-graded, but not open-graded, and was produced by prime contractor Granite Construction Inc., at its Ukiah North plant. Evotherm DAT warm mix additive and metering equipment was supplied by Telfer Oil Co., Martinez, Calif.
At the plant the Evotherm DAT warm mix additive was blended at a rate of 5 percent of total binder into the mix at the plant, which was producing the 1/2-in.-NMAS, open-graded mix at 310 deg F at about 280 tph using an Astec double-barrel drum plant.
The mix arrived at the job site approximately 2 1/2 hours later at 250 to 260 deg F, where it was dumped into a material transfer vehicle, eliminating the longitudinal windrow often used "out west." The WMA temperature at the screed was about 240 deg F as the material was placed and compacted into a 1 1/4-in. lift.
Granite was using three rollers, of 15-, 9-, and 12-ton size. "The first two, including the breakdown roller, are running in vibe mode," Plouff said. "The breakdown makes a couple of passes in vibratory mode, the intermediate makes one up in vibratory and comes back in static, and way back is the finish roller, which is just taking out marks in static mode."
When visited, Granite's crew was placing and compacting about 2,000 tons of rubberized warm mix asphalt on the project, which was two lanes wide plus shoulders, just under eight miles in length, for a total of 13,100 tons.
Because at 1 1/4-inch the lift is so thin, Caltrans does not have a density spec for this mix. "Instead Caltrans has a 'method' spec, which specifies how many rollers, and of what weight, are required," MWV's Plouff said. "No rubber- or pneumatic-tired rollers are permitted because the rubberized mix would stick to the tires."
"It's hard to get density for rubber, because it's so 'spongy'," Caltrans' Chang said. "That's why we use three rollers. We've found that if we keep the breakdown roller going with the vibrator on, and the secondary roller off and hanging back a ways, we get better compaction, with the smaller roller doing finish. I'm trying to get up to 95 percent compaction if we can get it; that's why we're trying different methods of compaction."
The rubber used was not a "terminal blend" in which the crumb rubber is added by the liquid asphalt distributor. Instead, crumb rubber was added to the PG 64-16 liquid asphalt at a nearby Granite plant via "super sacks" at a temperature of 380 to 400 deg F, and with the rubberized binder then brought via tanker to the Ukiah North plant. Nominal rubber dosage was 18 percent by weight.
"Rubberized binder does not retain the same performance spec," Plouff said. "You can't apply a lot of the same tests because the rubberized asphalt becomes too elastic. But its elasticity is one of the benefits, leading to noise reduction and enhanced durability."