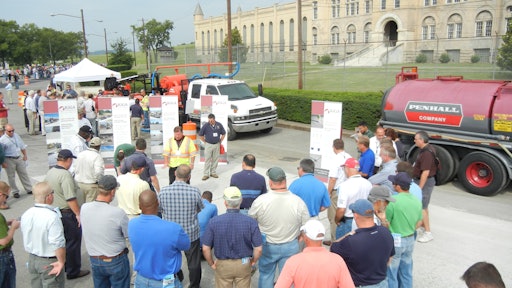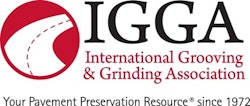 The International Grooving and Grinding Association (IGGA) – a non-profit organization dedicated to serving as the leading promotional and technical resource for acceptance of diamond grinding and grooving as well as pavement preservation and restoration – recently participated in the First National Pavement Preservation Conference and demonstration.
Held Aug. 27-30, 2012 in downtown Nashville, Tenn., more than 540 participants attended the event which included training, meetings, as well as field demonstrations featuring live placement of numerous pavement preservation treatments including dowel bar retrofit, partial depth repair, diamond grinding and joint sealing. All of the demonstrated treatments were placed adjacent to each other in a small, protected area, thereby obviating the need for traffic control and affording the delegates maximum movement flexibility and opportunities to have their questions answered.
The IGGA coordinated the rigid pavement preservation demonstrations, which required the construction of a small concrete pavement that was subsequently treated with varying stages utilizing the following methods:
Dowel bar retrofit (DBR): This method consists of cutting slots in the pavement across the joint or crack, cleaning the slots, placing the dowel bars, and backfilling the slots with new concrete. Dowel-bar retrofits link slabs together at transverse cracks and joints so that the load is evenly distributed across the crack or joint.
Partial-depth repair (PDR): These correct surface distress and joint-crack deterioration in the upper third of the concrete slab. Placing a PDR involves removing the deteriorated concrete, cleaning the patch area, placing new concrete.
Joint sealing: This technique minimizes the infiltration of surface water and incompressible material into the joint system. Minimizing water entering the joint reduces subgrade softening, slows pumping and erosion of the subbase fines, and may limit dowel-bar corrosion caused by deicing chemicals.
Next Generation Concrete Surface (NGCS): This new low noise surface texture constructed on concrete surfaces resembles a combination of diamond grinding and longitudinal grooving. The texture can be constructed as either a single-pass or two-pass operation using diamond tipped saw blades mounted on conventional diamond grinding and grooving equipment. These textures, for both new construction and rehabilitation of existing surfaces, will have the desirable characteristics of a very smooth profile, coupled with good micro texture and excellent macro texture.
Meeting participants were provided a hands-on experience on how best to extend the life of their rigid pavement using the concrete pavement preservation system.
"This event was a highlight for the pavement preservation industry as a whole," said John Roberts, Executive Director, IGGA. "Bringing this many people together to share information and experiences regarding this important subject will most certainly help drive our message that preservation of our vast roadway network is vital to the future of America's transportation system and the economic well-being of this great nation."
Forty-seven departments of transportation (DOTs) were represented, as well as the District of Columbia, Puerto Rico and four Canadian provinces. The Federal Highway Association (FHWA) and members of academia and industry were also present.
Conference sessions featured seven tracks utilizing a multi-faceted approach to pavement preservation ranging from the details of individual treatments to the intricacies of managing large and small networks; educating and informing the public and elected officials; innovation and research; economics; and environmental protection. Sessions included topics such as rigid and flexible pavements, existing and innovative materials, communications and marketing, best practices, and short and long-term planning.
In addition to the demo and conference sessions, four concurrent meetings were held comprised of the constituents of the Midwestern, Northeast, Rocky Mountain West and Southeast Pavement Preservation Partnerships. Keynote speakers included Robert E. Skinner, Jr., Executive Director of the Transportation Research Board (TRB); Walter (Richie) Beyer, President of the National Association of County Engineers (NACE); Baxter Burns, President, Board of Directors of the Asphalt Institute; and Michael Lewis, Vice President, AASHTO.
Companies in this article