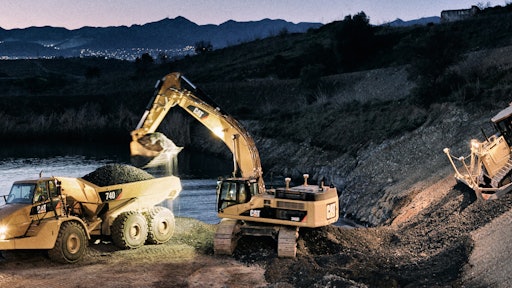 By Lonnie Fritz, Heavy Construction Market Professional, Caterpillar Inc.

One of the best parts about my job is meeting a new generation of construction professionals — particularly the young men and women who are moving into leadership positions in businesses their parents or grandparents started many years ago. It's fun to hear their stories about growing up around the business and inspiring to learn about their plans for the future. As we discuss longer-term fleet requirements, it's clear there are changes in the works.
More rental
Rental is growing in popularity as more people embrace the idea that access to assets can be as valuable as ownership. It's a way to flex capacity fast without a big investment and allocate resources efficiently while saving on maintenance and financing costs. The American Rental Association expects equipment rentals to reach $49.3 billion in 2017, up more than 4% over 2016. The growth rate may hit 5% in 2018 and 5.8% the following year. That should translate into more rental assets on jobsites everywhere.
More multi-taskers
We've raised a generation of multi-taskers, many of whom expect their equipment to have the same kind of flexibility. There's a growing interest in buying or renting one machine that can do many types of jobs, plus a quick coupler and a few work tools for even more revenue-generating potential. As business owners swap out single-function assets for multi-taskers, we'll see more skid steer loaders, excavators, compact track loaders and backhoe loaders in construction fleets.
More tech
While their parents and grandparents may have been reluctant to embrace technology, this generation appears to be all in. They welcome features like advanced control joysticks, intuitive controls, touchscreen displays, one-touch power modes and integrated machine technologies such as grade, payload, compact and detect. And they're counting on telematics systems to capture critical performance data and make it available for decision making — anytime, anywhere, from any device.  
If there's a common thread in these changes, I believe it's rental. Rental allows fleet owners and managers to make quick changes in capacity, try multifunctional machines and work tools, and get comfortable with new technology. It's always been a good option for contractors and other earthmoving professionals, but expect it to become even more popular as the next generation takes charge.
For more information about how rental is changing the face of today's construction fleet, visit cat.com/flexyourfleet.