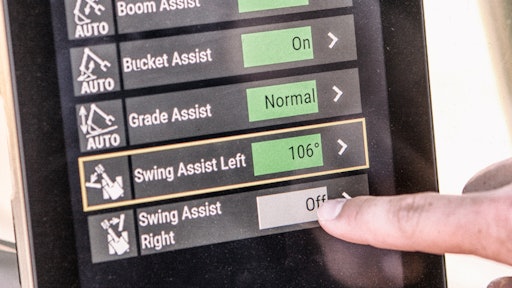 Caterpillar Inc.
Scott Hagemann, Market Professional – Grade Technologies, Caterpillar Inc.
Got a self-driving car in your garage yet? Probably not. But if you're driving a late-model vehicle, chances are it can parallel park itself or hit the brakes if a deer crosses your path. Just as these "driver-assist" functions are becoming mainstream, so too are "operator-assist" features becoming more popular on construction equipment. Here's a look at five of the most common technologies and their benefits:
1. Automated blade and bucket control
Looking for a faster, more efficient way to grade? Automated blade and bucket control help minimize errors, improve accuracy and reduce operator fatigue. On dozers, this technology holds the angle of the blade while the operator manually controls the height — a great way to build pads, spread truck dumps, or work on slopes or embankments. On excavators, the operator sets depth and slope, activates single-lever digging and lets the system automate boom and bucket movements. And on motor graders, the operator sets target cross slope in the cab while the system automatically controls one end of the blade.
2. Depth and slope guidance
If you want to maintain accurate grades and slopes in your excavation and trenching applications, consider adding depth and slope guidance to your next excavator. It gives operators precise, real-time bucket positioning relative to the desired grade right in the cab, reducing the number of passes and errors, as well as fuel and material use. Plus, this technology is like having a grade checker right in the cab, which means you can cut down on — or even eliminate — the need for personnel on the ground.
3. Lift assist
A great tool for site safety, lift assist keeps excavator operators firmly grounded when they're picking and placing heavy objects, like pipes, manholes and trench boxes. Visual indicators on the cab monitor guide the lift, with sensors detecting if the load is within the excavator's safe working range. If the machine approaches its maximum working load, an alarm in the cab alerts the operator.
4. Onboard weighing
Your loading and hauling operations can benefit from assist features, too. With onboard weighing, wheel loader, excavator and truck operators can track payloads in real time in the cab. That tells them exactly how much material is in the bucket or truck, so they can fill loads to target every time — no more costly over-loading or wasteful under-loading.
5. Cameras and RFID tags
You may not think of them as "assist" features, but that's exactly what many of the safety tools built into today's machines are. Rear- and side-view cameras, CCTV systems and RFID-tagging systems help reduce blind spots and improve visibility, so operators can work more confidently, quickly and safely.
Autonomous machines may someday remove the operator from the cab altogether in situations that might be harmful, but for the foreseeable future, assist features like these are a smart way to bring the benefits of automation to your operation — particularly if you're trying to bring new or inexperienced workers up to speed quickly, with fewer errors and accidents.
Looking for a good place to start? Check out all the grade control options available for your Cat equipment.