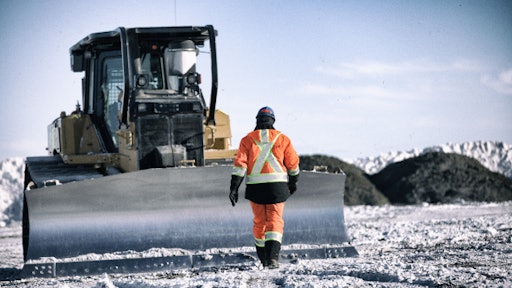 Caterpillar
Lonnie Fritz, Market Professional, Construction Industry, Caterpillar Inc.
More than once I've put off winter preparations and learned the hard way why it's so important to winterize equipment. Whether you're going to store your machines or use them to work through the winter, you want to make sure that when you're ready to use a machine, it's ready to go.
Failing to follow recommended winter maintenance can result in damaged components, increased machine downtime and unexpected repair bills. Check out these quick tips to make sure you've got your fleet covered.
Winter prep to-do list

Here are the critical machine maintenance tasks that should be performed whether you plan to store or use your equipment in colder or sub-freezing temperatures.
1. Conduct a thorough visual inspection.
Whether you're planning to work a machine in winter conditions or put it in storage, it's recommended to perform a thorough visual inspection of the machine and the necessary maintenance or repair tasks in advance. Cat® Inspect can help you with this process. Pay special attention to hydraulic hoses and fittings. They are more susceptible to cracking and failure when strained in cold conditions.  
2. Keep batteries charged and warm.
To ease the startup process on the battery, keep it charged and warm throughout the winter months. If the temperatures in your area drop to freezing levels, remove the battery from the machine and store it at room temperature when the machine is not in use.
Read more: Winter Kills Off Summer-Weakened Batteries

3. Maintain a full fuel tank.
To prevent the fuel tank from freezing and to prevent algae buildup, refill the fuel tank and drain and clean the water separator after each use. With a clean fuel system, the machine will be better equipped to handle even the coldest of winter seasons.
4. Prevent diesel exhaust fluid from freezing.
When temperatures drop to freezing levels, diesel exhaust fluid (DEF) will freeze. To prevent this from happening, store DEF containers in a temperature-controlled environment. When storing DEF, make sure the container itself is non-expansive. DEF fluid has a limited shelf life in comparison to other fluids. Be sure to monitor the expiration date of the DEF.
If operating machines equipped with DEF in freezing temperatures, be sure the onboard DEF heating system is functioning properly.
5.
Lubricate any moving parts, including hinges

.

Keeping moving parts lubricated reduces friction and protects them from the damage that ice, salt and cold temperatures can cause.
6. Check the condition of the oils and select one based on the temperature range.
Ensure all fluids are topped off. Lower viscosity oils perform better in colder temperatures because they flow smoothly. Change lubricants before the weather turns cold.
Of course, change your oil filter(s) and air filter(s) when changing the oil, regardless of if you will store or use your equipment. Please follow manufacturers recommendations for best results.
7. Add antifreeze rated for your climate to the engine.
Whether you will store or use the equipment over the winter, the radiator could still freeze if you have plain water or warm-weather coolant in it. Using the proper concentration and grade of antifreeze in the engine will prevent an expensive mishap when you next use the machine.
8. Stay plugged in and warm up.
When equipped, an engine block heater is the most effective way to preheat the engine. Block heaters circulate engine fluids to warm the interior components. To expedite the warming process, block the flow of the engine fan from the radiator as you warm the machine.
An additional best practice prior to machine operation is to run the machine at idle until the engine reaches full operating temperature. Exercise each of the machine's functions for approximately one minute, or for as long as required, to distribute warm lubricants throughout the machine. Doing so, will minimize excessive wear in cold environments.
While these are good general guidelines, be sure to check your operation maintenance manual (OMM) for specific instructions on taking care of your equipment in colder temperatures.