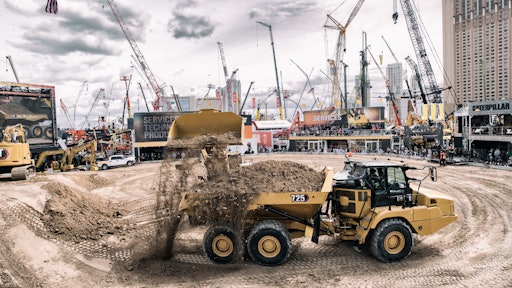 Caterpillar
I've been going to trade shows for more than a decade now, and there are some consistencies in the experience. First, never doubt the amount of planning and hard work trade show teams invest in delivering the best experience possible. As a show worker, I truly enjoy customer questions and conversations. I want our exhibits to spark new ideas for people.
I can also confirm that trade shows are the best venue for seeing new products and technology all in a single location. Whenever you are looking to take your business to the next level, build a trade show into your plan, even if you can't go in the near future; you will learn a tremendous amount in a short period of time. 
And, finally, no matter what else is going on, there is always ample time and space for fun at the show. This year did not disappoint. At CONEXPO-CON/AGG 2020, you could golf down a fairway, pet a robotic dog and even ride a mechanical bull.
Global Operator Challenge
A little rain couldn't dampen our spirits at the finals of the Cat Global Operator Challenge. My co-host Mike Rowe and emcee Rutledge Wood kept the conversation lively while elite operators from around the world put their skills to the test. Check out the competition.
Global Champion
Jaus Neigum from Canada emerged victorious after a tough test of skill and determination. He won both the Load and Carry Challenge and the Trenching Challenge. To learn more about Jaus, click here.
Cat Operator Stadium Demos
Caterpillar's Operator Stadium, a CONEXPO-CON/AGG first, was also home to live equipment and technology demos. Customers really enjoyed time in the dirt and asking questions. I hope that we'll see more of these types of exhibits in the years to come. Watch the demos.
Technology
Technology and productivity were a top theme throughout all the exhibits. Many OEMs are partnering with technology companies to offer you more ways to increase productivity and efficiency. Customers got a chance for hands-on remote control in the Cat Technology exhibit. Remote control is fast becoming a way to get work done without putting operators in hazardous situations. Learn more.
It's three years to our next CONEXPO-CON/AGG; no one knows exactly what it will bring. One thing I am certain of is that innovation in construction has momentum, and it will continue. I encourage you to start thinking now about all you could learn from a trade show experience — it's probably worth it to start planning now.