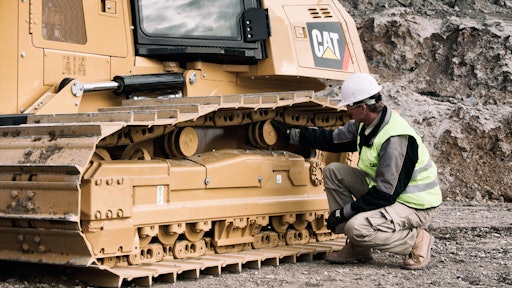 Caterpillar
Over the winter months, weather often keeps you from starting new contracts and forces you to shut down construction jobsites that will resume work in the spring — or in this year's case, you may have slowed down due to concerns over the pandemic.
It's easy for offices, storage areas and jobsites to become disorganized during busy seasons, but the longer you wait to put these areas back in order, the less ready you will be when it's time to get to work. Here are some tips for doing some spring cleaning in your business.
Organize your files and business systems
This may seem very basic, but when your operation is busy, it seems like organizing email and keeping records and billing in order can fall behind. Before your work schedule is full, take some time to clean up your systems. Delete or archive old files. Update customer information.
If you need new software or updates, this is the time to get them ready for action. Take this opportunity to explore, procure, implement and train staff on digital solutions to increase business efficiency. It also may be a good time to catch up on any information you'll need for tax season.
Inspect and organize jobsites
Organizing jobsites is a lot less appealing when it's cold or rainy, so as the weather breaks, take time to check on jobsites and "tidy" them up.
Excess materials or bulk materials should be inventoried, inspected, properly tagged, organized and stored in safe areas of your site.
Hazardous materials should be sealed, labeled and properly stored to avoid spillage or contamination. Waste materials should be properly disposed.
Access roads and entrances should be maintained in good condition to provide safe access and egress
Ensure jobsites are supplied with personal protective equipment (PPE), fire extinguishers, emergency plans and contact numbers, first aid kits, washing stations, technology infrastructure and necessary security surveillance equipment.
Inspect tools and equipment
All tools and equipment should be inspected and restored to good working condition. Spotting potential problems before they are working in the field will save you time and money.
Take care of your most versatile machines first. Be sure hydraulic, engine and transmission systems are clean and leak-free. Make sure undercarriage is inspected and measured to identify repair and replacement needs. If buckets need repair, additional protection or ground engaging tools (cutting edges, adapters, teeth, ripper shanks and tips) replaced, spring is a great time to get that completed.
Inspect technology systems' hardware components and software for maintenance, repair and update needs. Whenever possible, it's also a great time to engage your employees in taking an active role in inspecting and caring for equipment. Consider implementing a digital machine inspection platform such as Cat Inspect to conduct thorough machine inspections and send completed inspections directly to the back office at the touch of a button.
Before machines are hard at work, it's a good time to review telematics platforms to identify fault codes and machine alerts. Additionally, perform machine diagnostic checks to identify machine maintenance needs. There may be system updates available or parameters and settings that need to be updated. You can also pair up your technology inspection with some technology training to refresh your operators' skills.
Inventory and stock routine maintenance material
Keeping equipment in good running condition to maximize uptime is important to your continued productivity. Making sure routine maintenance items are stocked will ensure that maintenance gets done. Greases, oils, filters and cleaning products should all be stocked and handy for easy use.
Completing your spring cleanup will get you organized and ready for work. You'll be on the fast track for maximized uptime, production and efficiency, and winning the next bid.