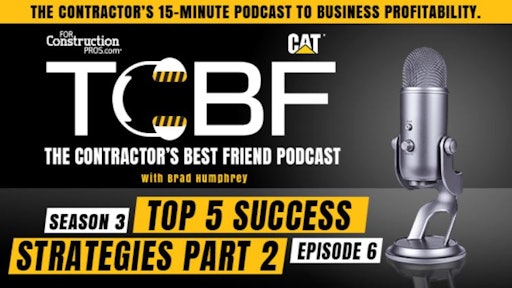 Embracing the Demands of the Job
Raise your hand if you can remember the last time you've had two similar days on the jobsite. A contractor's job is challenging, includes unexpected situations and is never the same. That can lead to burnout and difficulties balancing life's other challenges outside the workplace.
Brad Humphrey and Caterpillar's subject matter experts are back with part two of the Top 5 Success Strategies. In this episode, they discuss how critical a 90-day plan is, work life balance tips that every crew struggles with, perseverance and grit.
Tune in and hear from the veterans of the construction industry.       
Moderated by:
Brad Humphrey, The Contractor's Best Friend, Pinnacle Development Group - Founder
Brought to you by:
Jason Hurdis, Caterpillar Inc, Global Market Professional – Quarry & Aggregates Industries
Lonnie Fritz, Caterpillar Inc, Market Professional – Construction Industries
NEW EPISODES EVERY OTHER WEDNESDAY
Subscribe on iTunes: itunes.apple.com/us/podcast/the-c…d1406479825?mt=2
Listen on Stitcher: www.stitcher.com/s?fid=205707&refid=stpr
Leave a review: itunes.apple.com/us/podcast/the-c…d1406479825?mt=2
Tell us what you think of the podcast series, take our survey: www.surveymonkey.com/r/DSVVLX9
Listen to more construction news on the Construction News Tracker at www.forconstructionpros.com
Caterpillar experts are here to answer your questions: https://www.cat.com/en_US/by-industry/construction/tipstechandtools.html