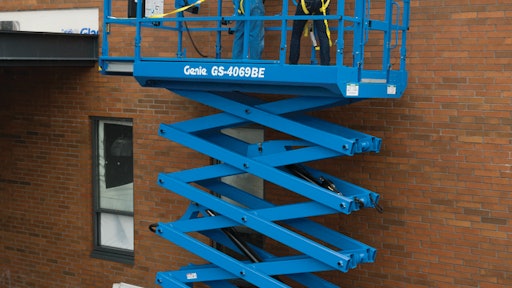 After browsing the displays at industry trade shows this spring, it's easy to spot the predominant trends in aerial product designs. Two in particular stand out: super-tall boom lifts with working heights over 180 feet, and hybrid scissor and booms.
To infinity and beyond?
To date, two of the industry's leading aerial manufacturers have introduced self-propelled boom lifts with vertical heights of 180 feet and above, a full 30 feet higher than the previously tallest booms. Designed for use in applications including steel erection, energy-related construction and stadium and convention center projects, these booms offer a safer alternative to other means of reaching up to 19 stories. And because they require no oversize permit, they remain easy and cost effective to transport.
"There's a trend towards going taller and I think it's a very efficient way of getting up in height," says Matt Fearon, president of Terex Aerial Work Platforms (AWP). "The 150 was the tallest machine and the alternatives to get above 150 feet either weren't as safe or they were a lot more expensive. So that opens the door for the 180, which compares to a truck mount. But there's a big price difference. If you look at some of the alternatives, like putting someone in a bucket on a crane, it's not anywhere near as safe, so the [SX-180] is a really good solution to a real problem." 
Breaking through all industry records at 180 ft., the Genie SX-180 was introduced at the bauma 2013 trade show in Munich, Germany last April, and unveiled to North American audiences in January. Quickly following that debut, JLG Industries followed suit with the introduction of its 1850SJ Ultra Boom, now the tallest self-propelled boom in the world with a vertical height of 185 feet. 
With cycle speeds allowing the boom to extend from ground to full height in less than five minutes, both the SX-180 and the 1850SJ promise operators the ability to quickly get to their work. They can also be driven at full height, with travel speeds varying according to boom position. 
Genie's SX-180 uses the company's patented X-chassis which extends and retracts to provide both stability on the job and a narrow profile for transport. This X-chassis design is also used on the Genie ZX-135 articulating boom, allowing the SX-180 to share many design features, providing parts and operating commonality.
JLG's 1850SJ features an exclusive updated platform LCD display providing information to optimize service and operator productivity. A graphic display of the operator's position in the work envelope aids in positioning, and the communication of service codes, engine status, fuel levels, and other messages assists the operator and service provider with operation, diagnosis and troubleshooting.
Leaders at JLG and Genie say there's a real demand for these their towering lifts, which are generating considerable interest in the market. But not every leading manufacturer plans to offer one just yet. 
"We need to fill out our boom line at some of the smaller heights first," says Brad Boehler, president of Skyjack. "If you look at the percentage of units that are actually sold, the 40- and 60-foot range is a big portion of overall unit volume. That's really what most of our customers are looking for. The larger booms absolutely have a place, but if we can meet the needs of our customers under 100 feet, that's enough for us to be a full-line supplier to them. Ultimately, we have to work our way up into those higher heights. So, we'll work our way to that, and we'll make some decisions along the way about where we go. Until we fill up that under-100 foot range, we're not going anywhere over 100 feet."
Like Skyjack, JLG develops its product line according to what it believes customers want and need. "There's a lot of work behind the scenes to try to give our customers the products and the services they need to continue to be profitable," says Frank Nerenhausen, president of JLG. "We love healthy, profitable customers and we want to fill that pipeline with the things they need and continue their growth as well. 
The hybrids have it
While perhaps not as sexy as the new class of 180+ booms, hybrid technology can be seen popping up in product lines this year, as Skyjack introduced its SJ6832 RTE electric rough-terrain scissor lift, JLG launched its H340AJ boom lift and Genie unveiled its BE69 scissor lift series.
The new SJ6832 RTE from Skyjack allows users to easily switch between indoor and outdoor use while its emission-free operation makes it well-suited to projects, regions or countries where machinery pollution restrictions are in place. To simplify operator and service training, the SJ6832 RTE was built on the same chassis as the existing diesel and dual-fuel SJ6832 RT units. This decision allows those already familiar with the highly popular traditionally powered SJ6832 RT lifts to experience a seamless transition to the electrically powered unit.
The only machine in its category with four-wheel drive and 45-percent gradeability as standard design, the SJ6832 RTE provides end users with a zero-emission scissor lift built with the low running costs and high up time associated with the Skyjack "simply reliable" AWP design philosophy.
Maintenance costs and time are also reduced with the RTE due to the elimination of servicing air filters, fuel filters, oil filters, oil changes, belts, coolants, etc. Almost all non power-plant related parts are common with the internal combustion 6832RTs. The standard Skyjack color-coded and numbered wiring system, along with full access to all serviceable components and a tilt-out hydraulic manifold adds to the ease of user maintenance for the SJ6832 RTE.
"An electric version of one of Skyjack's most popular machines is a great addition to the options we can offer our clients," says Boehler. "The SJ6832 RTE offers the best of both worlds with a zero emission machine that doesn't require any special training to run because it's built on the standard lift frame that many of our clients are accustomed to using. You can take this machine from rough terrain to indoor projects seamlessly without any extra noise, emissions or costs."
The range-extending gasoline powered genset option adds versatility to the SJ6832 RTE, allowing it to be reliably used at green field construction sites with no AC power, or when multiple shifts do not allow sufficient downtime to complete a standard charging cycle. The generator can either be manually controlled from the platform or set to come on automatically at 50-percent battery capacity. Mounted on a rotating and tilting table, the generator option packaging allows for easy oil, filter and spark plug changes, all without removing it from the machine. The SJ6832 RTE offers the ability to have a zero fuel emissions lift without sacrificing simplicity of use, ease of maintenance, or return on investment. 
"At the end of the day, we need to continue to make a simple, reliable product that's easy to use, easy to maintain and brings a return to the people who buy it," says Boehler. "And we need to do that in a way that's easy to do business with. Those are our core models. If we give our customers the best alternative for an overall cost of ownership and return on their investment, then that's what they'll choose. I've been asked by several people, even by our board of directors, whether there's any customer loyalty any more, because to a certain extent, parts of our business are almost commoditized. But when everything else is equal, if you're the people who are easiest to do business with, and you're the most pleasant people to do business with, there is loyalty. If you have an environment that fosters the ability to have loyalty, then you'll get it."
Combining diesel fuel and an electric power system, the recently launched JLG H340AJ provides the power and durability of a diesel-powered machine while saving operational costs. In fact, compared to an all-diesel machine, the H340AJ provides substantial fuel savings, is quieter (less than 69 decibels), and produces fewer carbon emissions.
"This innovative lift is designed to perform on par with its diesel-powered alternative. It's an extremely hard-working machine," explains Jeff Ford, JLG Industries global product director, aerial work platforms. "The JLG H340AJ has four independent electric-drive motors that provide unprecedented rough-terrain performance and relies on an environmentally friendly, Tier 4 diesel-powered generator for recharging.
Electric power is stored in eight 6V maintenance-free batteries, eliminating water-level maintenance required on lead acid batteries. Because the machine can run on all-electric power, it uses less diesel fuel than an all-diesel machine, reducing overall operational costs.
Customers also benefit from the H340AJ's durability. With standard four-wheel drive the hybrid boom can operate in harsh environments, including muddy and rugged terrain. A steel hood increases the boom's durability.
Brushless AC motors require zero maintenance. The variable-speed motors operate smoothly and quietly, and feature proportional control. When the operator adjusts the controls in the platform, the hybrid boom makes a smooth, gradual transition from start to maximum travel speed (3.1 mph) and anything in between.
Direct AC electric drive reduces the number of hydraulic hoses and fittings as well as the potential for leaks by 40 percent over hydraulic-powered counterparts. Battery-only operation allows the H340AJ to be used indoors or outdoors and in other emissions-free areas. In terms of access, the hybrid boom features a platform height of nearly 34 feet, a 17-foot up-and-over reach, and a platform capacity of 500 pounds.
"The H340AJ gives customers the power, durability and versatility they need in a machine of this caliber," Ford added. "It's not only the right machine for the job, but it's also a cost-effective and environmentally friendly alternative to all-diesel machines."
"I think the hybrids are going to be a long-term play," says Fearon at Terex AWP. "As engines get more expensive, having a good hybrid electric performance, with a smaller engine to charge the battery, is going to make sense." 
For its part, Genie introduced the next evolution of the current Genie 69-inch RT and DC scissor lift series, the new Genie BE69 models, offering exceptional jobsite versatility. The new Genie GS-2669, GS-3369 and GS-4069 BE hybrid scissor lifts were scheduled to be available in early second quarter in all global markets.
"The new Genie hybrid scissor lift provides users with a true 'start to finish' machine," says Mark Powell, scissors product manager, Terex AWP. "In the early stages of construction, the scissor keeps itself charged and can supply full AC power when onsite power is not available. As the jobsite progresses it can switch to hybrid or electric to meet rough-terrain or indoor slab environments. This type of versatility ultimately leads to higher utilization for rental companies."
The Genie BE scissor lift series features two operating modes. This selectable feature meets the needs of both outdoor jobsites with no onsite power, and indoor jobsites with sensitive noise and emission environments. When the power management hybrid operation is selected, the system automates the charging function of the integrated generator, maintaining the battery charge and allowing the operator to focus on getting the job done. All models are also equipped with an onboard charger for wall power charging. A standard feature supplies 120V, 15A power from the integrated generator to the platform and chassis. End users can power additional tools from the scissor without needing onsite power.
The series' AC sealed electric drive motors provide full performance in both operating modes. "Compared to DC motors, these AC motors contain fewer parts and require zero maintenance due to a brushless design," says Powell. "They run cooler and cleaner which translates to longer life and high reliability for internal parts such as wiring, brakes and bearings."