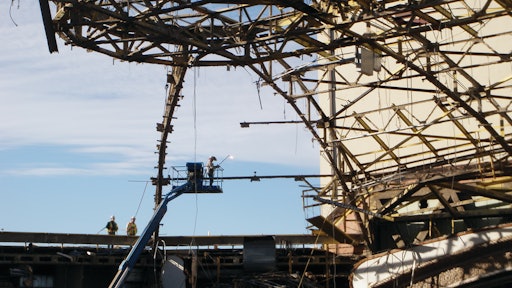 Information from this article was first published in Demolition Magazine and is being reused with permission from the National Demolition Association.
The new Tobin Center for the Performing Arts was planned to be built within the nearly 90-year-old San Antonio Municipal Auditorium. The iconic facade of the building will be incorporated into the new design of the Tobin Center. The 28-month-long construction project began in June 2012.
The demolition phase consisted of removal and salvage of exterior stone façade and other architectural features, interior stripping of all remaining floor space, extensive selective structural demolition in the main entry, removal of the domed roof, removal of all of the "rear of house" facilities including a 10-story stage house, and removal of all concrete foundations, slabs, footings and basements up to the "cut line." J.R. Ramon & Sons, Inc., the demolition company, was also responsible for the storm water pollution plans, traffic control and universal waste removal.
Historic preservation efforts
Extensive salvage of the exterior stone facade was performed for reuse in the reconstruction. The salvage and recovery of elements in the exterior stone facade was meticulously documented as each and every stone was removed, numbered, palletized and later delivered to an off-site location for long-term storage. Architects worked hand-in-hand with community historic preservationists to preserve as many elements of the original structure as possible, going as far as to design a reconstruction of some of the historic architectural features removed from the outside of the building to incorporate them into an interior dividing wall and display of heritage.
Bracing for demolition
Because the historic front facade, main entry, turrets, rotundas and what later became referred to as crab claws, (the east and west walls), were scheduled to remain, considerable temporary bracing had to be engineered to satisfy the dynamic forces that may be applied to the 90 year old existing structure during not only demolition but construction of the new 9-story building that will be placed inside and around the remaining elements.
Crews drilled, placed, bolted and welded over 15 tons of temporary bracing and shoring to accommodate wind loads, ground hydraulic forces and construction loads anticipated within the two year building schedule. It was critical that all temporary shoring and bracing be in place prior to any mass demolition or dismantling of any component of the structure.
Some areas of the original facade and architectural components had developed hairline cracks from the building's long history. These cracks were identified, documented and monitored during demolition with crack monitors placed at each individual crack and periodically checked to see if the structure was moving or shaking. Vibration monitors were also used on concrete floors and basements to verify that the heavy equipment or the impact of falling debris were not causing extensive vibrations in the stone facade or remaining concrete and steel structure.
Dome removal and mass demolition
Timothy Ramon, J.R. Ramon & Sons vice president and member of the National Demolition Association, said that during the initial site visit they realized the dome roof could be dismantled without the need of a central shoring tower. The dome's roofing materials - a compilation of over 16-inches of lightweight concrete, foam insulation, built-up roofing material and thin copper sheeting - were removed manually.
Howell Crane of San Antonio supplied two mobile Grove cranes, a 350- and a 550-ton, which were used to gently pick and lower the sectioned Dome roof to the ground. Men in lifts – at heights of 125 feet off the ground – rigged and cut loose the components of the steel skeleton. Weight calculations of each pick were critical as the nearest crane position available was 130 feet from the pick point. Some picks reached out as far as 165 feet from crane center point.
"We opted to bring in two cranes to not only shorten the removal time needed but more importantly to sequence the sections removed in an alternating pattern in order to keep the remain loads of the dome skeleton in equilibrium as much as possible," said Joe Ramon III, project manager. The contractor completed the dome roof removal in 12 working days.
The "rear of house" structures included a 10-story stage house that was scheduled to come down. "This task was a little tricky," said Aaron Flotte, project superintendent. "Because of existing live underground electrical duct banks, the structure to remain and the proximity of San Antonio Riverwalk (35 feet away from the 10-story structure and publicly occupied), the crew had a very small space to drop the building into. The structure had no intermediate floors. It was all one large open cavity. We were also very cognoscente of the impact vibrations that could disturb the delicate stone facade on the structure to remain."
It took thee days to strategically prep the structure to be tripped down. With the use of the Komatsu High-Reach and Stanley LaBounty UP 25 SV, the final member was cut from a safe distance. The structure came tumbling down, and all debris fell into the building's own footprint."
Salvaging and recycling
The Municipal Auditorium yielded over 1,500 tons of ferrous metals, 10 tons of non-ferrous metals and approximately 6,000 tons of concrete and other inert materials.
In addition to architectural features and fixtures salvaged for the owner's reuse in the new structure, many other components were carefully removed and packaged for resale.
"We achieved a 90.07 percent recycle rate of all debris generated from this project. Many people perceive demolition as a destructive act. We are glad to do our part in showing that historic preservation is another facet of the demolition industry," said Timothy Ramon.
Equipment and Crews
Over 55 employed throughout demolition process including: skilled labors, equipment operators, riggers, burners, truck drivers and safety
Company-owned Komatsu equipment including: PC-18 mini-excavators, SK 1020 skid steers, WA-250 loader, PC-35MR mini-excavator, a PC-138, three PC-300's and two PC-400's, one equipped with a Jewell built custom High-Reach boom with 95 feet of reach
Demolition attachments were used to cut, break, gather and load materials
Komatsu PC-400 with 20 year old Pemberton mechanical concrete pulverizer
PC-300s with a Stanley LaBounty-built grapple, Pemberton Live thumb and a Stanley LaBounty UP40
Allied Hydraulic breakers ranging from 400 up to 7,500 pounds assisted with concrete breaking
Brokk 180 and Atlas Copco hydraulic breaker and concrete crackingjaw helped with some structural selective demolition in the front entry (i.e. removing two 18-inch-thick concrete pedestrian ramps that accessed the upper levels)
Safety
Under the scrutiny of six reviewing entities throughout the demolition operations, safety was the most integral aspect of the demolition project. The owners had hired construction managers, engineering firms, architectural firms, safety inspectors, quality control firms, and even photography and video documenting companies to "oversee" the project. The scrutiny placed on safety ensured that all workers were not only properly trained in their tasks with current certificates of training but had sufficient experience in their jobs to identify and abate any potential safety hazards.
Required training for workers included crane operators' certifications, welding certifications, 10-hour OSHA, 30-hour OSHA, fall protection, lead awareness, asbestos awareness, HAZWOPER, spill management, CPR, and first aid. Routine evacuation drills were performed throughout the project, and evacuation routes were discussed at every daily tool-box safety meeting to accommodate the ever-changing site conditions
J.R. Ramon & Sons completed the project with no time lost injuries or incidents.