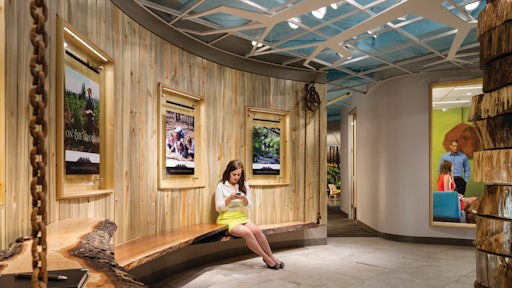 From the moment you walk into the new headquarters for the American Forest Foundation (AFF), you realize the sustainable office space truly reflects the mission of the non-profit organization … to sustain America's family forests for present and future generations.
The suite at 2000 M Street NW in Washington, D.C., incorporates a large amount of American-grown wood donated by some of America's 22 million family forest owners. The space includes longleaf pine, black walnut, eastern red cedar, pecan, Douglas fir and loblolly pine – just to name a few species. You'll see the wood utilized in the most unique applications, from shelving to coffee tables to mural paneling.
The first area you see when you walk in the front doors is the reception area. You notice immediately that it is centered around a replica of a tree made from genuine tree trunk sections (totem pole) and backlit branches mounted to a ceiling system.
As you walk through the 11,000-square-foot-space, you'll see several other natural features including an exposed ceiling system painted sky blue with floating ceiling areas, extensive use of curved walls, laminated beams, flooring patterns/colors that add to the sense of nature and murals depicting forest scenes.
A circular build
The layout of the build-out was one of the keys of the project's success, explains January Adkins, Vice President, Regency Commercial Construction. As the general contractor, Regency worked closely with interior design firm Bill London Design Group to construct the new offices within the confines of the existing office building.
"The entire space is built from a radius 'wagon wheel' layout centered on the wooden totem pole," explains Adkins. 
"The wagon wheel dictated the placement of radiused partitions, drywall, millwork, glass and even the carpet design. As you move to the open area, the ceiling is made of Tectum with exposed areas painted blue to mimic a clouded sky."
Sustainability was an important element of the project from day one. "The decision to pursue Green Globes was made at the very start of the project," says Adkins. "A lot of time was spent upfront in the planning/drawing stage to make sure every product specified met Green Globes standards."
Three Green Globes achieved
The AFF headquarters project used the Green Building Initiative's (GBI) Green Globes program to guide and assess its new office project in seven standard categories: energy, water, materials and resources, emissions, indoor environment, site and project management.
Green Globes is a web-based program for green building guidance and certification that includes an onsite assessment by a third party. Green Globes offers a streamlined and affordable alternative to LEED as a way to advance the overall environmental performance and sustainability of commercial buildings.
The program has modules supporting new construction - Green Globes for New Construction (NC), existing buildings – Green Globes for Continual Improvement of Existing Buildings (CIEB), and Healthcare buildings – Green Globes CIEB for Healthcare. It is suitable for a wide range of buildings from large and small offices, multi-family structures, hospitals, and institutional buildings such as courthouses, schools and universities.
The AFF headquarters project received GBI's second-highest rating of three Green Globes using the Green Globes for New Construction (NC) tool, demonstrating leadership in applying best practices regarding energy, water and environmental efficiency.
"This was our first Green Globes project," says Adkins. "However, as a company we perform sustainable practices every day in our operation and work on LEED projects frequently."
"This project was very hands on with a lot of back and forth between parties," she recalls. "It was a people-oriented project and the assigned third-party representative was a huge help. They walked us through the process step by step and we never felt like we were on our own."
Beyond certification
In addition to using Green Globes, the team applied strategies from AFF's environmental education program Project Learning Tree (PLT) to ensure energy efficiency. Light-harvesting technology incorporated in the building limits electrical usage.
Nearly everything in the office incorporates at least some recycled materials — from the furniture upholstery to kitchen countertops.
"The countertops in the kitchen are made entirely from recycled milk cartons; and river stone can be found on the backsplashes," notes Adkins.
Carpeting was installed using less adhesive to reduce the amount of volatile organic compounds (VOCs) emitted into the air; and low-VOC paints and varnishes were selected.
The wood fibers in the ceiling panels are made of a material called Tectum, which is made from Wisconsin-grown aspen trees. "The 3Form panels even have twigs from American farms embedded in them," says Adkins.
Throughout the office, there are finished products made from donations of wood from family forest owners — coffee tables, benches, conference tables and a unique coffee bar made from a 200-year-old oak tree.
"The sustainability initiative on this project wasn't typical," she explains. "The project team worked well together to implement AFF's goal to have their space tell their story."
WOOD SPECIES USED
Pine live wood slabs (pantry)
Tamarakwood (CEO office wall)
Beetle killed wood boards (entry radius wall)
Walnut live edge wood (bench)
Western red cedar live edge wood (lobby shelf)
Laminated timber columns, Glulam (conference beams)
MDF limbs at reception
Particleboard countertops with PLAM Abet Laminati (kitchen) 
Butcher block top Island (open areas)
Large tree cookie peacon (coffee table)
300-year-old cedar (conference room shelf)
200-year-old pine (kitchen accent)
Small twigs for acrylic panels at conference room (from local farms)
Log stump tables (harvested locally on this coast)
For a complete, interactive version of this article, click here to download the Spring 2014 issue of Sustainable Construction.