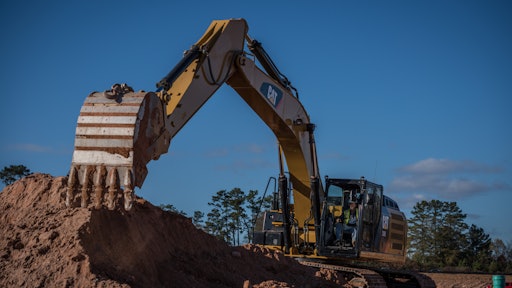 Every jobsite has its own unique challenges, and as a sustainable contractor you need technologies and services that can be combined in ways that make the most sense for you and your business. Cat Connect, a new framework for construction technologies and services, helps you monitor, manage and enhance your operations -— which ultimately gives you more control over your jobsite.
Using the data from technology-equipped machines that don't have to be Caterpillar-specific, you'll get more information and insight into your equipment and operations than ever before.
Working with your Cat dealer, you can find the right combination of Cat Connect technologies and services. Whether your goal is to maximize production, reduce costs or improve safety, Cat Connect gives you the options you need to build the successful, sustainable business you want.
Cat Connect technologies and services are designed to meet the specific needs of your unique fleet and business. You can choose a single product or service, if that's all you need, or connect multiple options across your jobsite.
A goal with the introduction of Cat Connect is to make technology and the benefits it delivers easier to understand and apply. In many cases, expanding the use of Cat Connect technologies only requires the addition of proprietary software, and in some instances, easily installed sensors or electronic components. In addition, a key commonality across most Cat Connect technologies is the Web-based user interface, VisionLink. By providing visibility to items like equipment location, status, availability and health, VisionLink helps people in the office analyze information quickly to respond accordingly.
Continue reading for three customers' experiences with different components of Cat Connect. 
Strack Inc.
When the sun comes up in the Southeast, Strack, Inc. crews are hard at work improving Georgia communities. Fiercely competitive and focused on large-scale, fast-track projects, the company relies on Cat equipment, technology and machine data to uncover new ways to win more work.
Founded in 1948, Strack is considered a major player in the trending pipeline business across the Southeastern corner of the United States. Strack President Jonathan Strack turned to local Cat dealer Yancey Bros. Co. to help with the company's fleet replenishment and expansion initiative.
"We develop partnerships with our customers," explains Paul Holloway, Yancey Brothers Product Support Representative. "We're not just a dealer there to sell tractors; we're there to help our customers to succeed.
Strack depends on Cat excavators to serve their pipeline industry needs. They soon determined the 336E H and 374D excavators would provide the best return on investment.
"We wanted the fastest machine and the 374D provides excellent cycle times for a machine its size," Strack notes. "We can move the same amount of material per hour with the 374D than with other manufacturers' larger machines."
He adds, "A huge difference we're seeing already is the fuel costs for the 374D. We're burning around 220 gallons keeping it busy, and before we were using 350 gallons a day with another manufacturer's larger excavator. We're getting the same results and moving the same amount of material with the 374D as with the other machine, and it's saving us 130 gallons of diesel a day. If we were to take that out over the course of a year we will see a potential savings of $91,000 in fuel cost on this single machine."
The 336E has also helped the company reduce fuel costs.
"We can run two full days with the Hybrid Excavator — that's 40% less fuel per day," Strack says.
According to Avalon Project Superintendent Joe Gooden: "What I'm hearing on this Hybrid, and what we've experienced out here, it's going to be a 
big deal on the bottom line at the end of the year."
"The 336E is very quick," says Strack. "We are pleased with its speed and power. I also like the camera as it gives us an extra level of safety on all our jobsites."
Caterpillar VisionLink technology helps Strack monitor equipment, generating reports such as idle time vs. run time. "I'm heavily focused on technology in the business," notes Strack. "I love the VisionLink product. I can track our fuel burn and where our equipment is to know exactly what our fleet is doing."
Strack and Yancey Brothers have found ways to raise profit margins and lower fuel costs. "Any edge we can get over the competition, we'll take it," Strack stresses.
Timmy Hall Construction
For Timmy Hall Timber and Construction Inc., onboard guidance and control technologies have kept the mid-size company, located in Robertsdale, Alabama, one step ahead of the competition.
"Technology's what kept me in business," says owner Timmy Hall. "In this business you've got to be competitive because your competitors know when you get the job, they want to know how you've done the job and be successful doing it at a lower cost."
Thanks to his Cat dealer, Thompson Tractor Company, Hall has found new ways to work faster and smarter. "Timmy has noticed increased fuel efficiency and more productivity with these Tier 4 products," says Lin Roberts, a sales representative at Thompson Tractor.
Hall agrees, saying, "Fifteen percent is what we're actually saving with Tier 4 engines versus the older engines." That's important when a tight schedule and narrow margins are involved on a project, like the new four-lane interstate interchange that Hall's company is working on that will conveniently link travelers to the Gulf Shores and alternatively serve as a hurricane evacuation route.
AccuGrade Grade Control System and AccuGrade GPS are two other construction technologies and services that are helping Hall monitor, manage and enhance operations, and gain more control of the jobsite. "New modern technologies keep his workforce in place and they are more satisfied where the operator can run all day and not be stressed out and fatigued," says Roberts. Operators also like the revolutionary equipment because it's easy to use and increases grade accuracy. 
"New technology is a lot simpler with the AccuGrade," says Operator Derek Ashley. "Being able to lay out a platform of our job is a lot better." 
Warm Springs Constructors
Warm Springs Constructors is cashing in on the benefits of using the new Cat hybrid excavator, the Cat 336E H, as the construction company lays track for a 16-mile extension of California's Bay Area Rapid Transit (BART) Silicon Valley regional rail system.
"The previous machine was using 100 gallons (of fuel) a day, and this new machine is using 70 gallons a day," says Thomas Brown, Heavy Equipment Operator. "That's 30% less fuel consumption." 
Not only is the 336E H sustainable, but it also lowers customers' owning and operating costs. "That machine is going to make you money and it's going to save you a lot of money in the long run," Brown adds.
As the industry's first hydraulic hybrid excavator, the 336E H is designed to use recovered energy while performing the same amount of work with less fuel. And the hydraulic hybrid technology sacrifices nothing in terms of performance, power, speed or production. "The design is absolutely flawless," says Brown. "It's the smoothest machine I've ever ran."
Troy Porter, who's also operating the 336E H at the site, particularly likes the ergonomic interior of the cab. "It's quiet inside. It's comfortable," he says. "You can work a lot longer shifts when you're comfortable inside the cab."
The 336E H is just one of almost 25 pieces of Cat machines being used on the three-year rail project. When completed in early 2015, the new track will offer a new transit option for commuters, connect residents to the rest of the Bay Area region and improve the environment. 
"Here in California sustainability is a big word because how do you keep doing what you normally do without hurting the environment or spending as much as our fossil fuels at the same time," says Jeff Stoos, Construction Manager. "So a piece of gear like this helps us manage those and do both things at once." 
For a complete, interactive version of this article, click here to download the Spring 2014 issue of Sustainable Construction.