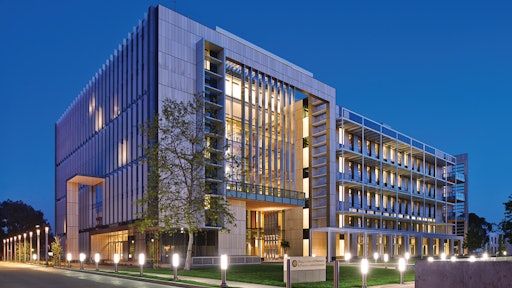 Here you will find a variety of sustainability messages, from manufacturers and contractors of all different sizes. We invite you to share with us YOUR company's sustainability message.
McCarthy Building Companies Inc.
McCarthy Building Companies believes the choices it makes are not just for today and not just for its clients. The choices the company makes will leave a legacy for those who will follow and create new footprints on this earth.
McCarthy's never-ending goal is to be the "Best Builder in America." Inherent in this statement is the responsibility to serve as stewards of the environment entrusted to us. The company's sustainability commitment revolves around four basic principles:
 Weaving sustainability into the fabric of all company operations.
 Encouraging every client and building partner to seriously consider sustainable building.
 Bringing viable green solutions to the table.
 Educating and training employees to provide them the tools they need to lead the way.
McCarthy's business is to build. Sustainability is not only a focus of the company's building approach; it is engrained in McCarthy's culture. McCarthy has implemented key initiatives to make foundational changes and apply sustainable practices throughout its organization. These include:
 Reducing its carbon footprint by 5%.
 Addressing green operations on all projects.
 Establishing corporate reporting around international standards (Global Reporting Initiative).
 Currently employing approximately 320 LEED Accredited Professionals and 100 LEED Green Associates.
Through leadership in the greater green movement, with the U.S. Green Building Council, McCarthy employees are active participants in the green dialogue. In addition, our in-house? green training program ensures all McCarthy builders are at the forefront of this ever-changing industry.
Click here for more sustainability information from McCarthy Building Companies.
Atlas Copco
Atlas Copco is an industrial group with world-leading positions in compressors, expanders and air treatment systems, construction and mining equipment, power tools and assembly systems. The company develops products and services focused on productivity, energy efficiency, safety and ergonomics. The company was founded in 1873, is based in Stockholm, Sweden, and has a global reach spanning more than 180 countries.
Atlas Copco ranks 46th among the 2014 Global 100 Most Sustainable Corporations in the World index – a list presented on Jan. 22 at the World Economic Forum in Davos, Switzerland. This is the eighth time that Atlas Copco has appeared in the Global 100 rankings. 
"Atlas Copco has always incorporated sustainability initiatives into global business and manufacturing practices because it creates value for our customers and shareholders and makes good business sense," says Jim Levitt, president, Atlas Copco North America LLC. "Being included in the Global 100 list for the eighth time shows that our social and environmental efforts really do make a difference." Creating business value through sustainability is at the core of Atlas Copco's products and service. Atlas Copco sustainability initiatives, both globally and in the U.S., include:
Boosting customer energy efficiency by at least 20% between 2010 and 2020 by continuously designing and developing more efficient products.
Membership by Atlas Copco Compressors with the U.S. Green Building Council.
An initiative between Atlas Copco Secoroc and the U.S. Department of Energy, as part of President Obama's challenge to generate 80 percent of U.S. electricity from clean energy sources by 2035, to develop a down-the-hole (DTH) hammer design capable of low-cost, high-production drilling in the high temperatures of deep geothermal wells.
Reducing Atlas Copco's water consumption and promoting clean drinking water in countries in need. The employee-run Water for All organization will pass $200,000 in donations in the U.S. in 2013.
Also, in 2012, the Atlas Copco Group invested approximately $330 million into research and development to ensure that products remain at the leading edge of energy efficiency, safety and ergonomics.
Click here for more sustainability information from Atlas Copco.
For a complete, interactive version of this article, click here to download the Summer 2014 issue of Sustainable Construction.