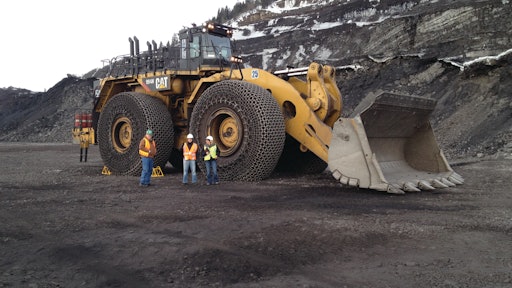 Equipment used to mine the Canadian Oil Sands generates approximately 7,000 used tires a year. Where does all that discarded rubber go? Historically, the used mining tires have been shredded, shipped overseas in shipping containers, and burned. The future of used mining tires is changing.
Titan Mining Services business (a subsidiary of Titan International Inc.) has started Titan Tire Reclamation Corp. (TTRC), a company that plans to recycle these used mining tires. TTRC will use a licensed pyrolysis-type process to reduce the rubber mining tires to oil, steel and carbon black. The resulting material will be reused and sold, making the process sustainable.
The reclamation process can accommodate tires in sizes up to 63 inches (that's more than 5 feet in width) commonly used on mining haul trucks, as well as conveyor belting used by mining companies.
"We have partnered with Green Carbon LLC [a part of Rome, Georgia-based? OTR Wheel Engineering Ltd.]," says Maurice Taylor Jr., Chairman and CEO of Titan. Green Carbon has developed a hybrid recycling process that can break down tires of any size.
Taylor explains the process briefly: Mining OTR tires and conveyor belting will be put into a reactor and heated in a vacuum environment until the tires break down and emit gases. When the process is completed (about eight hours), a 59R63 super giant tire becomes 450 to 500 gallons of oil, approximately 4,000 pounds of carbon black and approximately 1 ton of steel. (Just to provide a comparison, a passenger tire can product 7.5 pounds of carbon black under the Green Carbon process.)
The OTR tires used on mining trucks typically have a greater percentage of natural rubber vs. synthetic rubber used on passenger and truck tires, Taylor notes. This natural rubber is a perfect fit for the Green Carbon reclamation process.
Although the Green Carbon process differs from pyrolysis, it shares the goal of breaking down tires into their component parts for reuse. Green Carbon's technique processes the whole tire, with automatic separation of carbon black, oil, gas and steel. Unlike pyrolysis, which destroys the structure of carbon black and turns it into char, Green Carbon's process creates carbon black that can be incorporated into tire manufacturing.
The Green Carbon recycling process also creates a gas that generates a large percentage of the energy the recycling process needs, creating more energy than it consumes.
Sustainable benefits for all
The recovered oil, carbon black and steel can be recycled into bio-diesel fuel. Carbon black can be converted to green rubber products and steel into mining components such as bucket teeth.
Depending on the country in which TTRC is operating, the company will receive carbon credits, allowing Titan to market its products as Green Carbon certified. In addition to the return on oil, carbon black and steel, TTRC will be paid a fee for its services by participating mining companies.
"We expect that many mining companies and contractors in the Canadian oil sands will sign up with TTRC next year due to the importance of recycling tires," notes Taylor.
The first system is currently being installed at a large oil mining firm in the Canadian oil sands per a 10-year contract. Taylor explains that TTRC's plans are to install processing plants adjacent to the mining company's production facilities. Each processing plant will average about 5,000 square feet in size.
"The process is a win-win situation," says Taylor. "There is a continuous supply of used mining tires in the oil sands. We serve a purpose for mining companies as well, since they are interested in sustainable practices such as recycling their used tires.
"We are also planning units for Elko, Nevada; Gillett, Wyoming; Chile and Australia, where are there are large amounts of used 63-inch tires to be recycled," he adds. The company is already using the Green Carbon process internally in a portable system within its Rome, Georgia, tire manufacturing plant.
The process is the same for both the portable plant and the semi-permanent plant the company is building in Canada. The difference, according to Taylor, is the number of reactors; the portable plant is a single reactor. The plant being built in Canada contains six reactors.
"We are excited about new opportunities that lie ahead for Titan in the future," concludes Taylor. "We are enthusiastic about the profit opportunities and process of going green." 
For a complete, interactive version of this article, click here to download the Summer 2014 issue of Sustainable Construction.