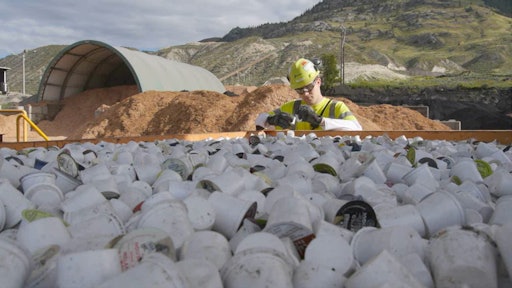 Lafarge Canada Inc. and Van Houtte Coffee Services Inc. have partnered to reduce the environmental footprint of both organizations by replacing a portion of Lafarge's fossil fuel energy at the Kamloops, British Columbia Cement Plant with used K-Cup® packs.
Clients of Van Houtte Coffee Services Inc. enjoying beverages via K-Cup packs have yet another reason to enjoy their drinks as 70,000 pounds annually of used K-Cup packs will have a second life as an alternative fuel source rather than hitting the local landfill.
K-Cup packs have been specifically identified and permitted as an alternative fuel for Lafarge's cement plant in Kamloops, BC.  The manufacturing of cement requires high heat and energy input, typically reached with fossil fuels. 
"As part of its worldwide Sustainability Ambitions to minimize fossil fuel use and their related greenhouse gas emissions, Lafarge is proud to be the recipient of used K-Cup packs which are helping manufacture a critical building material," Bob Cooper, Vice President of Cement for Lafarge in western Canada says.
K-Cup packs are currently being collected by Van Houtte Coffee Services Inc. from its commercial accounts in the BC interior and they have been doing so for almost a year. 
"Innovation is at the heart of our actions and addressing the environmental impact of Keurig brewing systems is a critical priority," Morten Schroder, Van Houtte Coffee Services Inc., District Manager British Columbia says. "The partnership between Lafarge and Van Houtte Coffee Services Inc. is a great example of what is possible when like-minded companies start working together towards a common environmental goal."  
 [Cementing a Plan]
Workers at the plant wanted to help Lafarge reduce their carbon footprint, so the idea to use K-Cups as a source of alternative fuel was generated by plant employees. 
"Lafarge is aiming to make great strides in alternative fuel substitution across the world and the Kamloops plant was looking for small steps to take in that direction," Jennifer Lewis, communications at Lafarge says. Each Canadian plant has a unique alternative fuel handling system and some are more flexible than others. Lafarge Kamloops drove this initiative locally.
"Looking at our site-generated waste stream, the K-Cups seemed like a great idea. A local distributor of the K-Cups, Van Houtte Coffee Services, was approached to discuss whether they had interest in working with us. They were very enthusiastic about an option to divert K-Cups from landfills."  
With their help, a larger supply of K-Cups was collected from other commercial accounts to be added to Lafarge's own used K-Cups. The plant proceeded with the tests and permitting needed to gain government approval for this alternate fuel.
 "Our Kamloops Plant works with the Ministry of Environment (MOE) to approve all fuels," Lewis says. "All potential fuels are characterized and tests are conducted to determine it's suitability as an alternate fuel as well as physical and chemical composition. This is all a part of a complete safety and environmental risk assessment that is submitted to MOE. The entire permitting process can last 2-6 weeks depending on the type of material. The approval process for K-Cups took four weeks."
Once the K-Cups are received, they are stored in large containers under a kiln to dry. From there, the containers are emptied into the alternative fuel stockpile of wood chips and processed through a small shredder before being blown into the kiln through the burner pipe.
"The substitution level has been increasing as more and more local companies and neighbors find out about the program and begin to contribute used K-Cups," Lewis says. 
Keurig Green Mountain is committed to ensuring that 100% of its K-Cup packs are recyclable by 2020 and is pursuing multiples avenues to achieve this target. As part of its community outreach, Lafarge is also welcoming the public to drop off used K-Cup packs at the plant located at 9750 Shuswap Road, Kamloops. While the plant is at a rate of using 70,000 pounds annually, Lewis says they can use more K-Cups if they become available. 
"Our partnership with Van Houtte is working well and we think it could expand easily to other sites," Lewis says. 
[Energy from multiple sources]
Lafarge is also using recycled plastic bottles as a source of biofuels in addition to the wood chips and K-Cups. 
"We are currently working on permitting construction demolition waste as an alternate fuel source as well," Lewis says. "We are open to considering any material of appropriate heat value that qualifies within Lafarge standards and MOE requirements. Some examples of approved fuels currently used are non-recyclable plastics, wood waste and carpet fiber."