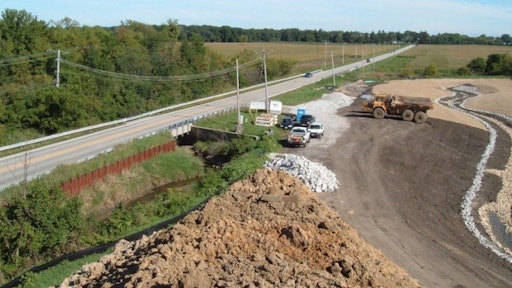 Green building is no longer in its infancy. Reducing environmental impact is a much more common factor and interest point in construction and design than it was a decade ago. Many owners and building codes now require it. However, owners and contractors alike still wonder how to place value on "green" design and maximize ROI when making sustainable decisions. 
As a result, construction management firms have added sustainable best practices to their service offerings to help the entire project team capitalize on the benefits and efficiencies that can be gained from green building. At Cotter Consulting, a leader in construction management, we have implemented sustainable best practices that are key to delivering on ROI for projects across the Midwest for over 25 years. 
Thinking green from the very beginning
To maximize benefits and minimize costs associated with sustainability, collaboration among the design team, architects, engineers, contractors and owner is key at all project stages. Construction management plays a crucial role in helping team members get their minds in the game and troubleshoot for sustainable opportunities from the start. 
Brainstorming early in the project gives the team the opportunity to identify efficiencies together and prevent a siloed workflow. An initial brainstorm meeting also allows the owner to set expectations and goals. All of this early preparation is essential to optimizing the benefits of sustainable design, and can be key to gaining desired levels of certification from sustainability rating systems, like Leadership in Energy & Environmental Design (LEED) and Green Globes. The request to meet LEED Silver or Gold requirements may expose the team, including contractors, to new technologies and solutions. Plus, such certification adds a great intangible benefit – bragging rights. 
To get the most out of it, hold the brainstorm session very early in the project's design process – well before construction starts.  Invite all of the stakeholders! This may include the owner, their maintenance staff, and building users as well as the design team, and construction team, if they are already engaged. Be sure to invite anyone who has a role in design or use of the building's energy and water systems, including mechanical and civil engineers and people who work on the building's HVAC and plumbing. This brings different perspectives to the table regarding sustainable decisions and creates a setting where lessons learned and efficiencies that may improve ROI are part of the earliest discussion, adding a practical, problem-solving perspective to the conceptual discussions. For contractors, it also means fewer on-the-fly decisions, change orders and call backs.
Things to consider 
From the materials you use to the conservation techniques you implement, there are many sustainable approaches and even small tweaks you can make that will go far to improve your building's envelope and the overall ROI – for the project owner and for your time and overall experience on the project.
Materials
Use local materials. This strategy is more sustainable, has the potential to reduce transportation costs, and provides a way to reinvest in the surrounding community. Also consider potential tradeoffs and layered benefits when deciding what materials to use. Sometimes a little extra cost up front is worth it if the product lasts twice as long. For example, an asphalt parking lot may be cheaper, but concrete is more durable and requires less maintenance, while reducing the heat island effect around a building, and thus saving energy. 
Be sure to take into account any opportunities to connect a project's building (capital) and maintenance (operational) budgets when budgeting for sustainable features. An investment in more efficient materials may offer long-term energy savings.
Energy efficiency
High-tech and low-tech strategies can help save energy and maximize your ROI. Install quality lighting, such as LED lighting or long-life fluorescents, which are more energy efficient and save costs in the long run. Consider "daylight harvesting," where as much natural light as possible is allowed to shine in and building lights automatically dim depending on the amount of available sunlight. Many municipalities offer incentives and tax credits for energy efficiency like this. 
Explore approaches like photovoltaic energy (solar) and geothermal energy (using the ground as a heat exchange) to reduce the use of utility energy. You can use the building's orientation and glazing techniques to passively regulate internal temperatures and reduce loads on the mechanical systems you already have installed or manage as contractors. 
To counter the heat island effect common in metro areas, green (vegetated) roofs offer another simple strategy. Green roofs are more protected from leaks, reduce energy used to pump and treat sewage, decrease sewer load and associated overflows, and save energy for heating and cooling by adding layers of insulation to the roof in the form of soil medium and low-maintenance plants. This helps to hold down the temperatures on and around a building, thus reducing the mechanical cooling load.
Conservation
Construction produces a lot of unusable material, but before you throw it all in the dumpster, keep in mind that recycling can cost less than landfilling and many easily recycled materials may be in demand. Landfills are limited places, and the slower we fill them, the better. Recycling or reusing an average of over 70 percent of materials for each project is a realistic conservation expectation in the construction industry. 
Water also is a resource to watch. Even in cities that have an abundance of water, like those surrounding Lake Michigan, there is growing concurrence that this resource should not be taken for granted.  Conserving our water resources is practical in the short term as well – it saves money.  Water saving plumbing fixtures are prevalent in the industry, and their ROI is virtually immediate. "Green" storm water management helps conserve energy, decreases the risk of basement floods and reduces sewer flow, which helps the overall public maintenance budget in any city. Also consider harvesting rain water for flushing since states like Illinois are considering regulations in this area as part of their state plumbing codes. Government funding may be available for projects that implement innovative conservation techniques.
Landscaping strategies
Even something as small as the seed mix used for transportation embankments can have an impact on your project's carbon footprint and ROI. Low-mow or no-mow plants that are salt resistant and don't require frequent watering reduce water and maintenance costs and last longer. Native species of plants are typically low maintenance and don't need a lot of water to survive. 
Overall, we suggest taking an integrative approach to sustainability early in a project's life cycle to determine – and maximize – ROI. If you work sustainable features into the project's budget and timeline as soon as possible and operate in a more integrated and organized fashion, you're well on your way to reducing environmental impact without hurting your bottom line. 
Written by:
Nahid Afsari, PE, LEED AP, vice president of Wisconsin group at Cotter Consulting, Inc.
Afsari is the leader of Cotter's business activities in the State of Wisconsin. As a vice president, she is responsible for division and staff management, strategic planning and business development for all markets in Wisconsin. She joined Cotter in 2010 and brings nearly 15 years of professional experience to her multidisciplinary role. Her extensive experience providing project controls and management services on numerous transportation and building projects coupled with her in-depth knowledge of owner and agency procedures makes her an invaluable resource. Afsari is dedicated to delivering value and quality services to all the clients she works with. 
Deeta Bernstein, LEED AP BD+C, group manager of sustainable services at Cotter Consulting, Inc.
Bernstein has been a part of the Cotter Consulting, Inc. team since 1993, and has led Cotter's sustainable services group since 2011. She has undertaken various public and private sector projects and assignments for Cotter, including her most recent assignment, beginning in 2007, as sustainability manager for the Public Building Commission of Chicago's Program Management Office. Bernstein presents regularly on a variety of sustainability topics at panel presentations and national conferences as part of her role as sustainability manager.