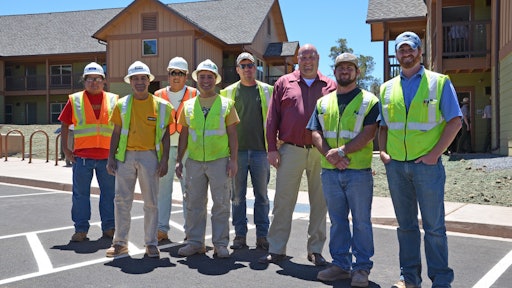 "You can always count on Americans to do the right thing, only after they've exhausted every other possibility," – Winston Churchill.
We know this to be true. We've exhausted many of our resources and are now looking for ways to try and reverse the damage that has been done by the ways of our past. Unfortunately, we're not changing fast enough.
According to the Associated General Contractors of America (AGCofA), construction employment totaled 6,314,000 in January of this year. The highest level of construction employment in nearly six years.
That's a lot of bodies out there impacting our environment. Whether you employ three or 300, your crew can take steps to ensure that the job they're doing is no longer hurting the environment, but actually helping it.
Thankfully, the AGCofA is ready to help. They have partnered with the Environmental Protection Agency (EPA) to upgrade the Construction Industry Compliance Assistance (CICA) website, which is designed to help contractors comply with environmental rules.
"Getting a construction project underway is challenging enough without having to figure out which environmental rules apply and how to comply with them," said Stephen E. Sandherr, the chief executive officer of the Associated General Contractors of America. "This newly revamped site will make it a lot easier for contractors to take the necessary steps to comply with all environmental regulations for their projects."
As part of the partnership, the construction association will help finance upgrades to the website, originally launched in the mid-2000s with AGC's assistance, designed to make it easier for contractors to comply with environmental regulations governing construction projects. As a result of the upgrade, contractors will now have comprehensive tools and the latest information on state and federal environmental requirements as well as green construction and environmental management programs.
The new website can be found at http://www.cicacenter.org.
Sustainable construction happens when contractors are aware of sustainable practices and materials that can lower emissions, decrease fuel burn, reduce the wastage of materials and more. Awareness of sustainability has to start from training the workers who give shape to the buildings and roads we use every day.
The AGCofA also says 80% of construction firms are reporting they plan to expand their head counts in 2015. Day one on the job seems like a good place to start. Train your crew from the day you hire them on regulations, new efficient technology, material selection, idle time reduction and proper equipment maintenance. All these small steps can contribute to your bottom line, and help the environment.
What's more, instilling the value of sustainable practices in your workers can actually grow your business as more and more job owners are looking to hire green firms.
A better future can start with your team. Read more about how construction firms like yours successfully got their crews on board with sustainability in the educational resource section of this issue.
Have more tips? Let me know at jstoikes@acbusinessmedia.com