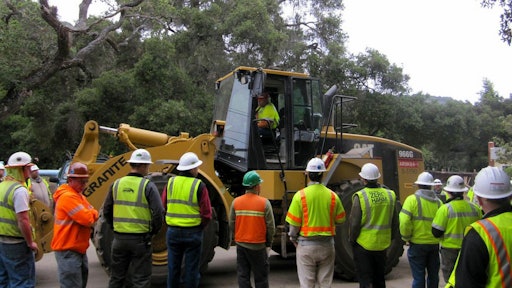 There are over 6 million construction workers employed in the U.S. today. Imagine the impact those bodies have on the environment hauling loads of asphalt, excavating jobsites and constructing the buildings we live and work in.
If each company motivated their workers to make a small step to reduce their carbon footprint, the environment could be improved dramatically. Successful construction firms around the country have made sustainability a key value in their daily practices. Not only do they invest in green practices and equipment, they instill the meaning and value of these green practices in the workers they hire. Their efforts have absolutely helped the environment, but have also improved the lives of their crew members at the same time.
"At its very core, sustainability is about people - maintaining and improving quality of life while contributing to the success of generations to follow," Erin Loza, environmental systems & sustainability specialist at Granite Construction says. "It represents the intersection of economic prosperity and social responsibility and how those forces align to meet social and environmental challenges. It means providing great places for people to work and finding better ways of doing things—not just accepting the status quo. Undoubtedly, significant challenges lay ahead, but by recognizing what is at stake and engaging our employees, we can be part of the solution."
[Constructing a solution]
In March 2007, Granite outlined their vision and strategy for delivering value to stakeholders through environmental responsibility efforts. They saw their focus on reducing their environmental impacts as an opportunity to create long-term value for their stakeholders in new ways.
Many companies are doing the same. Jenelle Shapiro, Senior Sustainability Manager at WEBCORBUILDERS says the 44 year old company really started to focus on sustainability in just the last 15 years. "We have always made decisions with a lean and environmentally conscious approach," Shapiro says. "However, not until the last 15 years would I say there has been a specific focus on environmental concerns. We saw the value in it for our clients, the environment, the local community and our employees.  It is simply a part of who we are."
Webcor's commitment to sustainability extends through all phases of building, Shapiro says. From internal operations to design and construction and material life cycle, the company actively seeks to reduce their footprint and protect the environment through lean practices.
"We strive to construct innovative buildings that promote healthy living and protect our natural resources. This is built into our core values, particularly when we talk about community and building trust to make sure we are a responsible builder."
"Our environmental vision is to lead our industry in environmentally responsible operations that reflect Granite's Core Values and, in doing so, deliver enduring value for our communities, shareholders, and other stakeholders," Loza says. "We are also creating business opportunities that have environmental benefits, primarily in recycling construction materials. That's not to say there are no challenges. We are constrained at times by technology, budgets, and what we don't know. But every day we are learning more about how to address our challenges."
[Crew Responsibility]
Your crew can help. A company can't grow without their people. In order to make sustainable strides, you need the help of your employees.
This is one reason Webcor starts at the very beginning.
"We strive to hire the most innovative and dedicated employees who live by our mission on a daily basis," Shapiro says. "When we hire top notch talent, it's easy to instill sustainable operations as recent college graduates understand the responsibility inherent in being a high performing builder. They are already on board before even walking in our doors."
That's not to say a little training can't go a long way. Since the publication of Granite's first sustainability report in 2007, Loza says the company has made great strides in training their employees on sustainability, what it should mean to them, and to the company as a whole. Granite holds training sessions, lunchtime FAQs, periodic contests and various communication outlets to train their employees on the ever changing world of sustainability.
"There are various incentives we use at Granite to encourage sustainable practices," Loza says. "We send out a monthly employee newsletter that explains how employees can recycle, reduce, reuse and spread awareness both at work and at home with tips and tricks for every season. We encourage our employees to integrate sustainability in their everyday lives."
Shapiro says with a little training, even veterans of the industry, who might initially have been dismissive, are starting to get on board, but it's important for her to be able to provide the necessary resources to the teams in order for them to fully understand the sustainability opportunities for their project. 
"We administer bi-annual LEED training for employees to attain their LEED GA/AP accreditation, as well as bi-monthly LEED Champion meetings with the project teams," she says. "This allows employees to dive into the general contractor-related items they are responsible for on their project and understand how to meet our client goals to achieve certification.
"Once LEED became a "household" name and all developers and owners viewed it as a valuable addition to end users, people began pursuing accreditation and implementing methods to improve their daily operations on site.  For example, all of our project teams are now familiar with the strategies to improve indoor air quality and keep the site debris to a minimum.  As a result, we are able to provide the occupants a healthy building they feel comfortable living or working in."
Incentivizing programs is another way to help get your crew on board.
"We provide monetary incentives to our employees who take less impactful methods of transportation to work (i.e. bike or public transportation)," Shapiro says. "Additionally, when we kick off a project and review startup requirements and logistics for the site, we are sure to integrate the most efficient and lean processes to encourage things like efficient haul routes, waste diversion strategies, noise control, and limited traffic impacts."
[When Changing Equals Saving]
As with any new program, there are going to be costs involved. However, once initial investments are made to update your equipment and train your crew on sustainable practices, these chances can start contributing to your bottom line.
"We are very aware of the cost impacts the innovative and high performing technologies have on our bottom line," Shapiro says. "By working with PG&E, we have been able to help owners identify opportunities for incentives and rebates. By partnering early in the Design Phase, we can identify increased energy efficiency performance in systems such as lighting, HVAC and envelope design, which can equate to up to $200,000 in potential rebates for our clients.
"We make our clients aware of the added value of their Net Zero or energy-efficient implementations. Our estimating teams have been educated on methods of analysis among building envelope types or HVAC systems which will ultimately save our clients more money as well as reduce their carbon footprint and impact on the environment. In turn, our employees benefit because this kind of added value increases our profit margin, which allows us to offer more competitive salaries and larger bonuses at the end of the year."