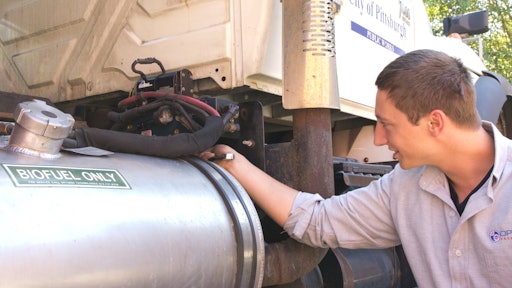 It's a well-known fact that fuel supplies are finite. One day down the road, we are going to run out of the fossil fuels we are so dependent on today. That's why companies such as Optimus Technologies are born: to help discover new ways of fueling the vehicles the industry depends on every day. Founded in 2010, Optimus sought to commercialize a biofuel conversion system for diesel trucks. 
"Optimus is focused on developing solutions that significantly reduce greenhouse gas emissions, that use sustainable fuels and that are economically attractive to businesses," says Colin Huwyler, CEO of Optimus Technologies. "While our solution reduces emissions over 80% relative to diesel, it also reduces emissions by 40% to 50% relative to CNG, while avoiding the production of methane and other greenhouse gases created by CNG extraction and refining."
Biofuels in the 'Burgh
Enter the City of Pittsburgh, which in 2012, implemented the Pittsburgh Climate Action Plan Version 2. The plan tasked the city with reducing local greenhouse gases 20% from 2003 levels by the year 2023. Optimus, which is privately owned and based in Pittsburgh, PA, stepped in with a solution.
Optimus' Vector System is the market's first EPA-approved, bolt-on, biofuel conversion system that is purpose-built for medium- and heavy-duty diesel trucks. Vector is a bi-fuel solution that enables a truck to run exclusively on advanced biofuels (e.g., B100 or B99 biodiesel or Optimus-grade renewable diesel) or petroleum-based diesel. 
Both biodiesel and Optimus-grade renewable diesel fuels are made from a variety of domestic, sustainable sources, including, straight vegetable oil (SVO), filtered waste vegetable oil (WVO), soy, corn, algae, animal fats, etc. Biofuels can be priced 10% to 25% less than standard diesel.
"To optimize fuel savings and emissions performance, the Vector System powers the engine on renewable fuel 100% of the time, other than startup and shutdown," Huwyler says. "It allows fallback to diesel operation if necessary.
"As a bolt-on conversion system, Vector reduces operating costs without rebuilding, replacing or significantly modifying existing engines. Vector is also an intelligent system, enabling tracking and quantitative analysis of cost savings, emissions reductions and petroleum offsets."
The City of Pittsburgh tested the system on five road maintenance and snow operation trucks and decided to move forward with it in March. The Pennsylvania Department of Environmental Protection gave a $95,000 grant toward the Vector Systems. The grant was approved through the Alternative Fuels Incentive Grant (AFIG) Program. The AFIG Program helps to create new markets for alternative fuels in Pennsylvania, which enhances energy security. Investments are made not only in alternative fuels, but the deployment of alternative fuel vehicles, fleets and technologies. 
Keeping Costs Down
Like many alternative fuel options, the problem is always going to center around how a fleet will refuel its trucks. In order to thrive, alternative fuel solutions need to be financially sound and easy for fleets to deploy and manage.
"Optimus' solution is unique in that fleets can retrofit current fueling facilities for as little as $10,000," Huwyler says. "New facilities cost $100,000 to $200,000. These costs are in stark contrast to CNG fueling stations that can cost $1 million to $6 million."
With the launch of 20 recycling and garbage trucks outfitted with the Vector System, the City of Pittsburgh installed an Optimus-designed, 5,000-gallon biofuel storage/refilling station at its main garage that supports over 100 trucks.
"Optimus' solution is different than CNG- or LNG-based solutions for a host of reasons, all of which can be summarized as much lower total costs, a much faster payback and significantly less greenhouse gas emissions," Huwyler says. "Further, with Optimus there is little, if any, impact to fleet personnel behavior, training, certifications, operations processes or maintenance processes."
The system refuels in the same amount of time as diesel, without any special training or certifications needed. The maintenance is simple and requires only a simple bi-annual replacement of a fuel filter within the Vector manifold.
"This system eliminates issues commonly associated with pure biofuels, such as gelling, corrosion and coking," Huwyler says. "[It is] compatible with all modern emissions aftertreatment systems, such as selective catalytic reduction systems and diesel particulate filters.
"Fuel cost savings will vary by fleet and region," he continues. "That said, our research shows that fleets will save at least 10% per gallon of diesel replaced by Optimus-grade renewable diesel. We believe in this so strongly, we are willing to guarantee a 10% savings. In so doing, we can provide fleets with a much faster payback vs. alternative fuel offerings."
Vector prices start at $9,000, not including installation, Huwyler says. As in Pittsburgh, there are various state and federal grants and incentives that are often available to offset some of the costs.
Huwyler says the company has a variety of fleets exploring the use of Optimus biofuel-based solutions, and it is currently expanding the number of engines supported to include Navistar and Cummins engines for a more construction fleet focus.