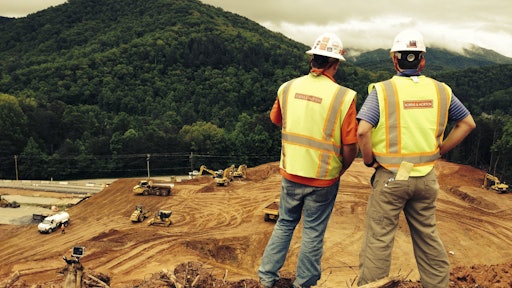 If your company has made an effort to become a green contractor, perhaps it's time to take the next step and become certified. Industry associations like Associated Builders and Contractors (ABC) recognized the impact sustainable companies could have on the industry and decided to start a program to acknowledge that. 
In 2009, ABC's Green Contractor Certification program was started as a process designed to document the merit shop construction community's efforts to develop a sustainable workplace environment—both on and off the jobsite—as well as recognize ABC member firms that are green industry leaders. 
"ABC's Certified Green Contractor program is office specific and pertains to a company's energy and environmental practices within the workplace," says Jeff Leieritz, media relations manager at ABC. "Benefits can include operational cost savings, efficiency and effectiveness, as well as demonstrate a company's commitment to the environment. The program also helps companies implement healthy practices to reduce pollution, waste and greenhouse gas emissions."
Many companies are already on the path to a greener future and ABC's Certified Green Contractor program is a great asset that helps contractors further achieve their sustainability goals. Robins & Morton, an Alabama based construction firm, is just one company that has achieved this certification. Not only has it benefited their company and employees, but their efforts have a significant impact on the environment as well. 
A Good Start
Robins & Morton has practiced environmental stewardship since the foundation of their company in 1946, but really started the push to be more sustainable in their construction activities in 2008. Around that time, Robins & Morton also began certifying their offices with Leadership in Energy & Environmental Design, or LEED, and created a Sustainability Council to green their operations and construction practices as well.
"During our initial push to be more sustainable, we really focused on minimizing energy and water usage and improving air quality," says Jackie Mustakas, Robins & Morton's sustainability manager and a member of ABC National's Green Building Committee.
In 2013, the company came across the ABC Green Contractor Certification program and decided to begin the certification process. 
"We felt like our company had made some significant efforts to reduce our impact on the environment, and we decided to look for a certification that would recognize that commitment and also provide us with additional ideas to green our operations," Mustakas says.
The Next Step
ABC provides contractors interested in obtaining certification with a checklist that contains guidance for achieving certification, samples to assist with green policy language and programs, and access to an ABC team member that provides timely and helpful feedback during the certification process. 
"The program was well-structured and the open communication with their team took the guesswork out of the certification process and requirements," Mustakas says. "As our company had previously implemented many of the sustainability requirements for the certification, the process was mostly documenting our efforts, submitting to ABC, and being available for an assessor to come verify our efforts at our office."
Mustakas says the process may be slightly more difficult if a company needs to make a significant amount of changes before being able to attempt certification; however, she says the majority of the activities and options for achieving certification would result in benefits beyond the effort required to make those changes. 
"Since greening our corporate office in 2008, we have experienced an average savings of 15% of our power usage and 10% water usage," Mustakas says. "We have also realized a monetary savings by minimizing our paper usage, reusing supplies, and by improving our material purchasing requirements. Though these changes may not have initially been made to achieve ABC Green Contractor Certification, they were efforts that were reinforced by the certification and resulted in success." 
Becoming Certified
This certification requires that employees have varying levels of training depending on their role within the company: craft worker, manager, or general staff. As an example, the certification requires at least 25% of eligible managers receive a minimum of eight hours of green building awareness education. 
At the time Robins & Morton began the certification process, 30% of their managers had met the training requirements as a result of their internal training program. 
Their existing Training for Excellence program provided a series of sustainability-focused training classes including Building Commissioning Training, Preparing for a LEED Project, Implementing Sustainable Jobsite Practices, Waste Management, LEED Green Associate Prep Class, Introduction to LEED v4, and Stormwater Management. 
"At the time of certification, our employees had completed nearly 3,000 hours of sustainability education," Mustakas says. "Our extensive training program made it possible to satisfy the educational requirements for the certification.
"We feel that sustainability education is cyclical and continuous and is therefore very important to enhancing sustainable practices within the construction industry; we appreciate that ABC understands the value of sustainability education as well."
Green Means Business
Every year, more and more construction companies are opting to include green buildings in their portfolios. Speaking in numbers, this translates into a $120-$145 billion opportunity in 2015 alone for new nonresidential construction, and the sector continues to grow.
Becoming a contractor that is known for not only having green construction practices on the jobsite, but also in their own corporate operations, can only lead to more business as you begin to market yourself as a green contractor. Sustainability isn't going away. Now is the time to get the education and training your company needs to become a Certified Green Contractor and get on board with these practices. This way, you can express your commitment to sustainability to customers who are looking for these types of contractors and have a green edge on the competition who may not be Green Certified. 
"We discuss our environmental commitment with our clients while encouraging them to consider greening their operations and construction projects," Mustakas says. "We also educate associates and competitors about our sustainability efforts and reference this certification with the ABC Green Contractor Certification logo to demonstrate that commitment."
In their staff of over 600, Robins & Morton also has 70 employees who are certified with the U.S. Green Building Council (USGBC).
"We sincerely thank ABC's National Green Building Committee for developing this program and giving our company the opportunity to demonstrate our commitment to sustainable construction and operations," Mustakas says. "We hope more contractors take the initiative to become certified and therefore improve the green movement of the construction industry as a whole."
ABC's Certified Green Contractor program is only open to ABC members. Each member company can get on board and make a huge impact on the environment and capitalize on their sustainability efforts through this certification. A three year certification will cost your company $495.