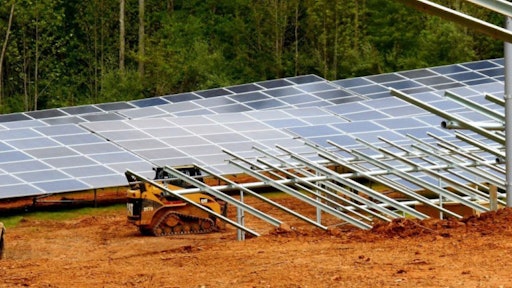 According to Solar Energy Industry Association (SEIA), there are over 1,950 major solar projects currently in the US, representing over 43 GW of capacity.  The SEIA also reports there are over 8.4 GWac of major solar projects currently operating, plus an enormous amount of capacity still in the pipeline. This represents over 27 GW of concentrated solar power (CSP) and photovoltaic (PV) projects either under construction or under development. This can equal huge business for construction companies ready to get involved on these jobs.
Carolina CAT Power Systems, located in Charlotte, NC, recently dove in on one of these projects when they helped complete construction on a new 10-acre solar farm in Shelby, N.C.
The project bid was accepted in September of 2014, and the solar farm opened this July. The site contains 9,828 panels and produces 3MW DC of electricity, enough to power approximately 250 area homes. The energy is being procured by Duke Energy to be added back to the North Carolina power grid.
Carolina CAT Power Systems worked closely with local and national organizations to make this green energy initiative happen. Since project inception, Syncarpha Capital has supported Carolina CAT Power Systems across the project lifecycle, from acquisition, to financing and development, to commercialization. Yingli Solar provided the solar panels, WB Moore built the electrical systems, and Gehrlicher Solar America Corporation supported the project with contracting services.
"We are thrilled to have been a part of the renewable energy movement, especially when it's in our own backyard," says Edward Weisiger, Jr., CEO of Carolina CAT Power Systems. "We've had the privilege of serving the equipment needs of the Carolinas for over 85 years, and this project marks our continued service in the construction, utility and road building industries. Shelby and Cleveland County have been a key part of our success over the years and we are very pleased to be invested there."
Machines That Made it Happen
With a sustainable project such as this, Carolina CAT and the contractor chose to also use sustainable equipment. Since Carolina CAT has a young fleet, most of the equipment used on this project was at least Tier 4i or Tier 4 Final.
Carolina CAT Rental Store supported the project by providing Caterpillar construction equipment to grade and prepare the land for installation.
Starting in May 2015, the group worked with Shelby-based Dicey Mills to get trees cleared, thus reducing shade on the panels and ensuring higher site production. The North Carolina Department of Environmental and Natural Resources, as well as the City of Shelby, helped with planning, permitting and zoning.
A TL642C Caterpillar Telehandler was used to move materials easily around the jobsite while a Caterpillar 259D Compact Track Loader was used to do the heavy lifting. The D Series Loaders meet Tier 4 Final standards with an engine that provides 74 hp with 8% more torque and 6% improved fuel economy compared to the previous models.
WB Moore Co. also used a 305D Mini-Excavator when building the electrical systems.
This project is reflective of the current solar farm boom not only across the country, but specifically in North Carolina. The state ranks third in the nation with respect to the amount of solar power on the state's grid. This is due in part to a state law mandating that, by the year 2020, one eighth of all power produced by Duke Energy must come from a renewable energy source.
"We are proud to be part of this green initiative - by using renewable energy, reducing waste and preserving our natural resources, we are helping to protect our planet, now and for generations to come," says Mike Brown, Carolina CAT Power Systems General Manager. "Being good stewards of the beautiful planet on which we all live and work is crucial.
"We see this as an opportunity for a win all around. By embracing renewable energy, this as a win for our community for generations," Brown continues. "Since the site is in our territory, it is a way to positively impact the local economy. Because we are in the power generation service business coupled with the growth of solar power in North Carolina, we see this as a way to expand our service offerings to new customers who have also embraced renewable energy at these types of sites."
Power Products & Solutions will manage the system maintenance, while Syncarpha will operate and provide asset management services for the life of the project.  
 "We look forward to continuing to work closely with Carolina CAT in the commercialization, operation, and management of this project," says Cliff Chapman, Syncarpha capital managing partner and founder.
In continuation of their renewable efforts, Carolina CAT also has a 250kW solar panel installation on the roof of their Asheville, NC branch building. It has been in place for several years, producing electricity that feeds directly back into the North Carolina power grid.