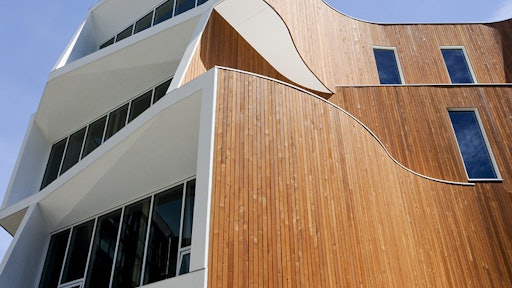 Using sustainable building materials is something that many project owners are requiring. This is especially true in Portland, OR, where the momentum of green building continues to grow. The One North development is the vision of Karuna Properties II Owner Eric Lemelson, who has been a leader in Oregon's sustainability movement. As such, the project has a strong commitment to environmental and community impact.
The East and West buildings of the three-building office and retail development in Portland's Boise neighborhood were designed with Passivhaus principles in mind, but no actual certification or designation will be sought for One North. Instead, the goal for the development is to use systems and approaches that could serve as a model and inspirations for future projects.
Construction on the uber-green commercial buildings started in June 2014 and is on target to be completed this year. R&H Construction served as the general contractor on the project and Holst Architecture as the architect, while Froelich Engineers served as the structural engineer and McKinstry as the mechanical, electrical and plumbing engineer.
"One North's private developer envisioned a different kind of project in One North — one that employed ethical, sustainable and efficiency standards far above industry requirements or current standards," says Adam Petersen, project manager for R&H Construction. "One North will serve not only as a community-centric space for the surrounding neighborhood, but also as an example for approaching commercial buildings in the future.
"What sets One North apart from other commercial projects is the developer's uncompromising commitment to environmental and community impact. R&H has been incredibly honored to work with Karuna Properties, and to be playing a key role in bringing many the challenging elements of the project to life."
The Trouble with Timber
One of those challenging elements is also one of the most sustainable features on the building. For this project, cedar siding was planned to wrap around the exterior of both East and West buildings.
"Wood was intentionally chosen because it's a renewable resource and we want to support the timber industry in the northwest," Petersen says.
However, the majority of the Forest Stewardship Council (FSC) certified cedar used in the region comes from British Columbia. The development team was concerned that the wood is sometimes taken from First Nation native Indian land and that often only large companies benefit financially from harvest and sale.
The project team was able to find First Nation suppliers out there that benefit the native communities, but they could not provide the quantities needed for the project. R&H Construction took on the task of finding such a provider and found a small co-op of private landowners called the Northwest Resource Group that used sustainable logging practices in Washington State.
Petersen noted that it was difficult to source the cedar siding to meet the developer's standards. "Typically, lumber is sourced in mass from one supplier, with little to no knowledge of where it's from and how it's farmed. We wanted to make sure the wood was grown in a sustainable way and R&H's team was committed to realizing the developer's vision and engaged with the Northwest Resource Group of private landowners in Western Washington," he says.
Lemelson, the project owner, specifically wanted to use second-growth rather than old-growth trees, despite the additional cost, because of the negative environmental impacts of using old-growth cedar, a rare species in the Pacific Northwest. However, this type of wood often comes with knotholes and imperfections. By working with the co-op, the project team members were able to handpick what they felt were the best pieces for the project as well as specify which portions they did or didn't want to use.
"The Northwest Resource Group is made up of relatively small tracks of privately held land that operate their own mills," Petersen says. "We were able to go to one property and tag trees for select harvest. When they didn't have enough trees on the property to maintain the quota for sustainable harvesting, we reached out to others in the co-op and visited their lands and did the same thing. We put together a pretty cool story about going around and being really selective in the trees that we harvested."
Along with being able to know exactly where the materials came from, it was important for the owner to employ the group o flocal workers to log, mill, dry and transport this wood as well.
"This way of doing things was not without struggles, and we paid a premium for this process, but it was really valuable to the owner to go the extra step to understand where the materials were coming from and the process that it took for the materials to get from forest to building," Petersen says.
Reducing Construction Time By 10%
While the cedar was an added cost to the project, R&H was able to cut costs elsewhere using prefabricated materials.
The building features distinct curves and apertures that make it standout visually as well as allow sunlight and shade to be optimized for the lighting and temperature, saving energy and enhancing comfort levels for occupants.
When faced with the challenge of making the architectural curves a reality, R&H Construction enlisted RadiusTrack, an advanced cold-formed steel-framing specialty firm from Minnesota.
"Initially, these apertures were going to have a heavy red-iron steel cage that formed the structure," Petersen says. "We then were going to form the curves and unique geometry of the design using light gauge metal framing. However, this was an extremely expensive, very slow process that would add a phenomenal amount of weight."
Not to mention the amount of quality control that would be required to ensure that each piece was in the right spot when hanging off the building. Petersen had worked with RadiusTrack before on a project at Lewis & Clark College in Portland and suggested they work with them again on One North.
"RadiusTrack took over the engineering and fabrication of these light-gauge decks and trusses that ended up replacing the heavy red-iron," Petersen says. "It was a huge win for the project, saving us over a month of construction time where we weren't fussing around with the heavy cage and over-framing. It allowed us to prefabricate to an exact tolerance offsite and assemble very fast.
When compared to traditional, red iron framing, the prefabricated system is nearly 60% lighter than typical red iron framing and reduces structural loads and waste, time and cost. By employing RadiusTrack on the One North project, R&H estimates a more than 10% reduction in the overall construction timeline due to this critical components efficiency.
Petersen says that R&H used both Revit Autodesk and BIM modeling for the entire structure to help expedite scheduling and increase accuracy on the project.
"These programs allowed us to prefabricate a lot of components offsite and essentially build faster," he adds.
R&H also used a self-erecting tower crane. These machines do not require the same sort of foundation as a traditional tower crane requires. This allowed them to move faster through the project, also allowing for more prefab work. 
Defining Green Standards
When the development team sought to build the project, they wanted to make something that was a step above normal building construction, but did not want to create a "laboratory" green environment, built to such a high standard that it was not replicable on future projects.
"We wanted to find a happy medium for our environment and for our product type that struck a balance between being green and not diminishing return by using such high sustainable standards," Petersen says.
R&H along with the developer and Holst Architecture conducted several studies to determine what products were appropriate to achieve those goals without spending unnecessary amounts of money.
"For example, we looked at both curtain wall and store front systems for the windows. We determined that curtain wall was more appropriate for air performance and energy performance of the building," Petersen says.
Next, they looked at how they should glaze the windows and cavities and what would work best for the structure both financially and for the benefit of the building. The option of glazing was between double-glazed units or triple-glazed. Double or triple-glazed glass window panes reduce heat transfer across a part of the building envelope.
"Through the energy model, we were able to see that the performance increase between double-glazed and triple-glazed panes was almost negligible, but the cost to go with triple-glazed was exorbitant," Petersen says. It was determined that triple-glazed windows were then unnecessary for this project.
The project team purposely oversized the walls, something that may have cost more initially, but will lead to cost savings down the road when it comes to heat retention.
"Structurally we may have gotten away with 2'x6' walls, but the design team increased it to a 2'x8' wall to increase the amount of insulation that could be put in the walls," Petersen says. "The insulation was installed with fiberglass spaces to further reduce the amount of thermal break through the insulation. We have insulation everywhere."
Additional sustainable features on the project include solar panels on both buildings, on-site stormwater infiltration and natural air mechanical systems. These building efficiencies were inspired by Passivhaus guidelines, but were not incorporated to win any certifications.
"The project team didn't see value in pursuing any sort of certification on One North. We came up with what we thought was the best program for this project," Petersen says. "More and more we're seeing clients that don't want to pay for the LEED certification but want to incorporate green principles in their project. They want to track where materials are coming from or how much waste we're diverting, because it makes them feel good and is the right way to build, not because they are trying to market with a plaque on their door."
By designing and building in accord with Passivhaus principles however, R&H estimates that the East and West buildings will use about half of the energy used by buildings designed and constructed traditionally.
The One North development will house office and retail tenants, including a digital creative agency that will lease three upper floors as well as additional space on the ground floor of the East building. Both the East and West buildings face a dedicated and landscaped public green space, which will be open to both tenants and the community. It will encourage education, collaboration and engagement with the larger neighborhood through organized programs and events.