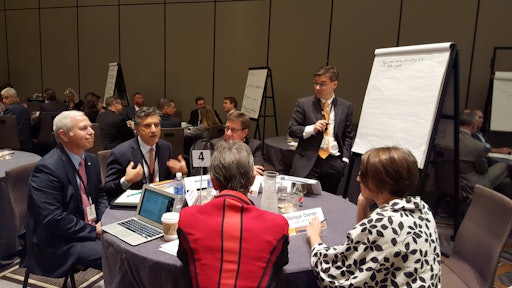 Depletion of our natural resources in the name of progress has been our history. That has changed. What we can do to counteract those actions of the past has been the overarching theme across all disciplines in recent years. Sustainability doesn't just mean trying to undo the action of our past, it means creating a more resilient future that can stand up to increasing demands on our limited resources. 
"The idea of doing less bad things doesn't cut it anymore," says Tim Lindsey, global director of sustainable development at Caterpillar, Inc. "That only ensures devastation into the future. We need to turn the trend. It's not about minimizing our footprint, it's about leaving behind a handprint for future generations."
This will become more important as the world's resources are stretched from supporting 7 billion people today, to the need to support 10 billion by 2050. As the population increases, demand for resources and infrastructure will increase, too. Sustainable progress to meet these needs and support economic growth will remain absolutely necessary. Recognizing the benefits of healthy natural infrastructure – including improved storm resiliency for cities and regions, increased land productivity for a growing population and a productive carbon capture and storage option is where the restoration market of natural infrastructure comes in to play.
"All the growth of the past is associated with a thriving construction industry, but this demand for resources has severely impacted our natural infrastructure," says Karl Weiss vice president of earthmoving at Caterpillar Inc. "We can't ignore the fact that we have seen declines in land quality, water quality, etc. and we know we need to make up for lost time. Conventional wisdom has changed. It's widely understood that land, our natural infrastructure, needs to be restored, something that hasn't been cared for in the past."
Restoring the health and productivity of our natural infrastructure, the land that supports us, will become paramount as the population grows from 7 billion to 10 billion over the next 30 years. 
"The move to restore natural infrastructure is growing, but at a very slow pace," Weiss says. "Action and a broader awareness is needed to provide mechanisms for funding, jobs and economic growth."
Caterpillar took that a step forward in raising awareness by hosting the first of its kind national summit on restoring natural infrastructure in New York City last month. The summit convened leaders from the engineering, construction and financial sectors, as well as thought leaders from academia, non-government organizations and government officials to engage in a discussion on the need for and the benefits of restoring degraded natural infrastructure – such as forests, prairies, agricultural lands, estuaries, coastal landscapes and wetlands – as well as the opportunities it offers with respect to the global sustainable development goals.
"We are taking a step towards building a new industry here, I know that may sound daunting, but all of us have a great opportunity, and maybe you would say a responsibility, to do it," Weiss says. 
The Need for Natural Infrastructure
The global need for natural infrastructure restoration is staggering. The United Nations estimates that over 25% of the earth's lands (an area approximately the size of the North American continent) are now considered to be "highly degraded" due to poor management practices that have resulted in deforestation, desertification, wetland destruction, severe erosion and contamination. 
Restoration of natural infrastructure can play a significant role in ensuring the future. For example, tropical forests store the amount of carbon equal to the emissions of 25 years of global fossil fuel. Destructive development of these lands contribute to the heat island affect and can be as much as 10° F warmer than before deforestation. 
"Instead of destructive development, we can meet our needs while restoring the land. We can create something that makes a contribution to the ecosystem," says Phil Duffy, president and executive director of Woods Hole Research Center. "What does it take to create something that functions? Replacing a tree and the soil is just one step. We are learning more everyday as to what it takes to restore these degraded areas, but the potential is huge."
Healthy natural infrastructure offers many economic, environmental and social benefits – including productive fisheries along our coasts, increased biodiversity, improved storm resilience, recreation and tourism opportunities, improved water quality and enhanced scenic beauty. Healthy lands also offer the most productive means for removing carbon from the atmosphere, placing it where it can become a valuable component of soils, plants and ecosystems. 
"We can restore land that's no longer of use to us by seizing opportunities to make things better," Duffy says. "These are opportunities, they aren't burdens. The byproduct then is helping with climate change." 
Turning deserted mines into grazing land for animals or restoring a coastal wetland are examples of natural restoration projects that will become paramount in removing carbon from the atmosphere. These projects return the land to productive use. 
"The private sector can make more things happen faster than the government," Duffy says. "However, we need the government to set the rules and operating procedure and incentives for doing these things. If we can make this into real opportunities for the private sector to become engaged, they will figure out a way to make this happen." 
Recently, Caterpillar Inc. did just that when they announced a $250,000 investment in The Nature Conservancy's Coastal Resilience program, with specific efforts targeted to Ormond Beach in Ventura County, Ca. The program will demonstrate how using traditional build infrastructure along with the Earth's natural infrastructure – beach dunes, floodplains, estuaries, marshes, wetlands and reefs – can productively sequester carbon and effectively reduce the environmental and socioeconomic risks of sea level rise.
The investment will assess the vulnerabilities of human and natural resources related to rising sea levels and promote the use of natural infrastructure as part of an effective defense for protecting people and property from storms and floods. 
"We know that when the environment is supported and strong, so too are the economies which it encompasses. This exciting Coastal Resilience program will provide the science and tools to help communities become more resilient as they face changes in their coastal conditions and to mitigate associated hazards," says Pablo Koziner, vice president with responsibility for Solar Turbines in San Diego, Ca. "Caterpillar is proud of this investment with our long-time partner, The Nature Conservancy, as it addresses the point where ecological concerns meet economic realities." 
What's Holding the Industry Back?
How do you put a price on nature? That's what's holding this industry from moving forward at a rapid pace. There is acceptance that these restoration projects are needed, however no one has a clear picture of how projects of this nature will be paid for, so there is hesitation in taking the risk. 
"Restoration, resiliency and sustainability are meaningless to most people unless you add a metric to them," says Mike Donahue, vice president of water resources and environmental services with AECOM. "What are we restoring? Defining the term very clearly is a real challenge out there. Those that finance want that metric or end point so they know that you've achieved success and can move forward."
Donahue says that in order for the industry to gain traction, there needs to more involvement from all stakeholders. This will mean more Public Private Partnerships (P3's).
"You can take the most well-funded project with the best funding around, but if you don't have the stakeholder buy in, it's going to fall flat. Make sure investors are involved in a meaningful way so they can ultimately become an advocate for what you're doing. When you provide them with information, they feel invested."
Another challenge facing those trying to catalyze this industry is out of date regulations placed on companies. 
"Regulatory reform is a big challenge," says Todd Bridges, sr. research scientist for environmental science at the U.S. Army Engineer Research and Development Center. "Environmental regulations are a generation old. The problems we had in the 70's are different than the problems we have today. We have a system of regulations that are based on prohibitions. How do you expand upon the range of conflict between intentions and regulations that are based on the 70's approach to environmental management and regulations?"
Out of date laws and regulations force those trying to do good to work within a box they shouldn't necessarily be in anymore. 
Finally, an overarching theme that holds back any form of progress from happening is funding. Projects like this need long-term, sustainable and reliable funding.
"We're taking financial resources now and putting them into someplace, the land, that will eventually create value," says Mark Tercek, president and CEO of The Nature Conservancy. "It's a challenge. How do you measure it? How do you track it?  Are there instances where we're making money while experiencing ecological recovery? Yes. Not wildly commercial, but partially replenishing economics," Tercek says. 
However, there are funds being set up that are working. There are champions out there that companies can get funding from to move this forward. These projects help nature, help society and build a competitive advantage. 
"We live in an arrangement where projects are funded on a year to year basis," Donahue says. "Some of these restoration projects run on a 50-100 year basis depending on what needs to be done. We need to think outside the box and look at our policies and programs to see where we can provide incentives for those involved."
There are natural infrastructure restoration pilot projects that have already been identified that need funding behind them. It seems as always, we are farther ahead intellectually than we are in our pocket books. Caterpillar is working to bridge this gap, in an attempt to catalyze this emerging industry for their customers.
Contractors should keep their eyes and ears open for these emerging projects. When there's a lot of land to move, there's a lot of money to make. This emerging market trend could mean big business for your companies.
"As the leader of the earthmoving team at Caterpillar, we interact with a deep and wide group of customers who are critical to this emerging industry," says Weiss. "We can all play a role in making sustainable progress possible. We can help bring all the players together and move natural restoration from a great idea to a sustainable business model. We can do things differently moving forward and do them better as we work to meet the need of the next 2 billion people who will inhabit this earth."