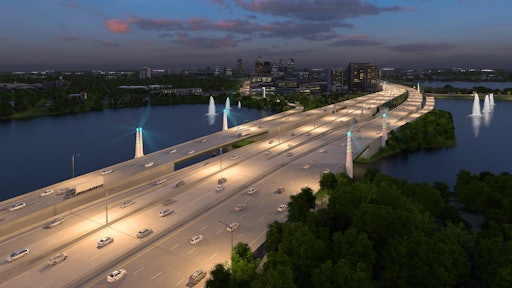 Just like there are standards to gain credit for sustainable buildings, there are also green rating systems in place for sustainable infrastructure on the civil construction side of the industry. The Envision Sustainable Infrastructure Rating System provides a holistic framework for evaluating and rating the community, environmental and economic benefits of all types and sizes of infrastructure projects. It evaluates, grades and gives recognition to infrastructure projects that use transformational, collaborative approaches to assess the sustainability indicators over the course of the project's life cycle.
Skanska's involvement with the Envision program started four years ago when Ryan Prime, Skanska project engineer, cold called Harvard University's Zofnass Program for Sustainable Infrastructure to receive more information.
It seemed only natural to Prime that infrastructure be sustainable, and therefore companies should seek to minimize negative effects on communities and the environment while pushing to maximize resiliency, public benefits and flexibility over generations of use.
"We've committed in our business plan to have profit with purpose," Prime says. "Skanska's desire to be a leader in green construction motivated me to share with company leaders what Envision meant for our industry and how our company might support this initiative. Envision is a tool we can use to plan and execute our work in such a way that's in line with our core values."
Today, Envision is quickly becoming the industry standard by which to measure, guide and improve the long-term sustainability of civil infrastructure. Skanska's senior leaders see the value in Envision, and have made it a priority to target Envision certification on key design-build projects, such as the I-4 Ultimate public-private partnership highway undertaking in Orlando, FL.
"Beginning February 2015, Skanska's latest public-private partnership project, Florida's I-4 Ultimate, begins construction," says Brook Brookhire Skanska vice president. "The joint venture's $2.3 billion design-build contract encompasses widening and reconstructing 21 miles of interstate highway and building or modifying 15 interchanges, an incredible 143 bridges and a vast amount of safety improvements."
This massive project is needed because I-4 – a crucial trans-Florida link connecting Tampa and Daytona Beach – becomes an expanse of red brake lights during the Orlando area's rush hours, a situation worsened by the highway's outdated 1960s-era design.
"The real premise behind it is because of the congestion through the Orlando area," Brookhire says. "We will take the general use lanes that they have now, reconstruct and move those three lanes to the outside. This will create space in the middle to put four express lanes which will use congestion tolling to better manage the traffic."
When the Skanska team completes construction in 2021, the Orlando stretch will be a better-functioning highway – with safer curves, improved access to connecting roads and all new driving surfaces – and a more aesthetically pleasing corridor through artful bridge design, lighting and landscaping.
The I-4 Ultimate stands to be the largest and highest-ranked project certified by the Envision sustainable infrastructure rating system to date.
What is Envision?
To help differentiate Skanska's proposal from all the other design builders back in April of 2014, their team committed to achieving the highest standard possible under Envision. I-4 will be one of the first projects pursuing this certification, it's the largest to be doing so and the Skanska team is targeting Platinum certification making this project very significant
Envision has five areas under which points are assigned: quality of life, leadership, resource allocation, natural world, and climate and risk. Much of what Envision requires is already part of how Florida Department of Transportation (FDOT) defined and planned this project. Still, key aspects of achieving enough points to attain Platinum status include such construction best practices as re-using nearly all waste materials and balancing earthwork operations so excavated materials can remain on site.
"If you can build sustainability into the design side of a project, that allows for the construction of a sustainable feature," Brookshire says. "Some of the evaluation criteria, say for the quality of life section, would be noise and vibration. Through the use of noise walls or different types of pavement that may use a different type of aggregate that would dull tire noise, those are things that could be designed into a structure to minimize noise."
Another area Skanska focused on was minimizing light pollution. "FDOT charged us with basically lighting the entire corridor," Brookshire says. "The types of lights that we can design in to the project will help to minimize noise pollution and reduce energy consumption. In the short term, the choice of LED lighting for the corridor will cost more initially, but really over the long-term, the LED lighting will be an overall savings that use much less power than typical halogen or mercury vapor light."
Envision is managed by the Institute for Sustainable Infrastructure (ISI) through a manual and reference documents. Projects that want to pursue an Envision award register the project and submit various documents through the Envision website. Users score themselves in each category and then submit documentation that back up those achievement levels.
Once you've completed all the credits, the documents are submitted to ISI and a third-party verifies all the documentation on your project.
"I always tell people to submit the project only once they have all their documentation," Prime says. "If you're going for a credit that says you're going to reduce ambient noise in the community pre and post construction, you have to wait until the job is complete to conduct another ambient noise study to prove you did that."
Beyond recognition, Envision will provide a framework for Skanska to share sustainability best practices.
Envision is More than Green-Washing
Envision's real power is that by following its guidelines – which are a list of best practices – you help positively shape projects. This leads to environmental benefits, certainly, but it also aids project teams in better mitigating risks, more efficiently managing resources, lowering costs through operational efficiency and delivering projects that best meet both client and public needs.
"The actual certification at the end is an ancillary benefit," Prime says. "Even with Envision providing so much value, I spend a great deal of effort dispelling misconceptions, including that Envision is just about the environment, or that it adds costs, or that it's only a paper exercise or a marketing tool with no value to core design and construction activities.
"There are a lot of sustainability rating systems out there and a lot of talk about green construction. Let's face it, when something is marketable, people are going to take advantage of that, so there are a lot of systems out there that take advantage of the "green-washing" aspects of what we do."
Prime sits down face to face in training with those who doubt the usefulness of Envision to help them see the program not only helps to provide opportunities, but also helps to mitigate risk on projects.
"By using Envision, you're getting in at the beginning instead of being thrown in at the end as a marketing tool for sustainability," Prime says. "Once you start talking about what you're building, how you're building and what it's useful function is going to be, the conversation goes away from people not wanting to just waste money putting solar panels on a building or spending excess money installing non-invasive plants. They see no benefit in that"
Prime equates sustainability today with what safety was 20 years ago. Something that was nice to have, but not required. Leaders in the industry stepped up to make safety a standard and not just an option. Not for personal gain, but to make the industry better all around.
"The end goal here is to make the entire industry sustainable," Prime says. "We are delivering assets to a much bigger part of the world. If the industry comes on board, it makes it all that much more appealing. If we're the only horse in the race, that doesn't really help us to be out ahead."
Skanska has further demonstrated their commitment to Envision by becoming a charter member of the Institute for Sustainable Infrastructure (ISI), the non-profit now managing the Envision system.
Moving into Construction
Most projects today achieve Envision status before construction even begins just based on the design alone. Envision's next phase will extend it beyond its current planning and design focus and into construction. To that end, ISI is drafting a Construction Module that focuses on key issues during the relatively short typical construction duration; such issues include reducing excavated material taken offsite and mitigating temporary noise impacts. This will build upon big-picture topics such as climate adaptability and alternative transportation covered by the current Envision version. ISI has set up technical workgroups in each of the five Envision credit areas to review this module  
Prime is heading up the Resource Allocation workgroup along with leading the Construction Workgroup that is overseeing the entire Construction Module, including the credit reviews done by the five workgroups.
"We're taking the original base manual and we're going credit by credit and asking ourselves if these fit with construction or if they are purely planning and design," Prime says. "We look at the levels of achievement and make them more in line with a construction project."
The technical committee for these groups just began in November 2015 and plans for a working draft will be at least a year out. However Prime says there are plans to apply some of these credits to the I-4 project such as soil management, diverting waste and using Tier 4 Final equipment.
"The planning and design scope that is Envision today looks at the project over the course of its life cycle," Prime says. "Construction is going to focus on what are your impacts on a much smaller time frame. A lot of it will be geared towards how you're building the job.
"It is quite the honor to be involved with redefining the boundaries of design and construction in this way, and in addition my colleague Beth Heider, Skanska USA's chief sustainability officer, also has a role to play in all this by contributing her expertise to ISI's Envision Review Board, which provides general oversight for Envision."