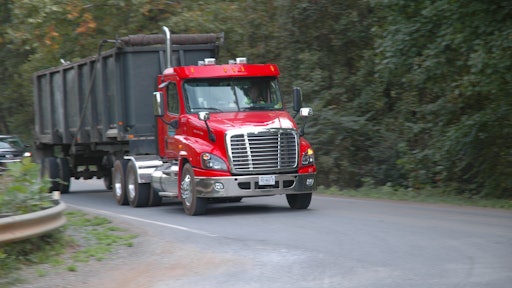 The success of RLJ Thompson Trucking proves how important it is to constantly evolve and integrate technologies that cut operational costs and increase productivity. The company currently runs more than 100 tractors, 75 dump trucks and 450 trailers. To achieve its goals, it has developed a close relationship with its truck supplier, Virginia Truck Center, Roanoke, VA.
"I rely on the dealer because technology is changing every day," says Rick Thompson, president. "There is no way in the world, with me trying to run a business, that I can keep up with today's technology. It used to be that technology changed every four of five years." That time frame has been dramatically shortened. "You could spend your whole life reading, trying to figure out what is best for which applications."
But a collaborative approach only works if the dealer understands your business. "I have known Rick for almost 30 years and I have done a lot of business with him," says Kermit Jones, Virginia Truck Center. "I have grown with Rick's company through the years. He trusts me to provide him with what he needs. He wants me to keep up with what his company is doing and spec the best truck for him. He puts a lot of faith in me and I have a lot to live up to in order to keep him happy."
Adapting the Fleet
Given RLJ Thompson Trucking's business model, selecting the best truck presents unique challenges. "We diversified over the years," says Thompson. "We started out as basically a dump truck operation about 45 years ago. We diversified into hauling scrap metal and trash with tractors and trailers. But we still do quite a bit of aggregate business for most of the local contractors in Virginia."
The company started with dump trucks, but has been converting to tractors and trailers. "Over the last 15 to 20 years, the ratio has gone to about 70% tractors and 30% dump trucks," says Thompson. "The main reason is you are able to use the tractors just about every day. Rain and weather affects the dump truck business quite a bit. So with the tractors, it is more of a continuous business."
Currently, RLJ Thompson Trucking has a mixed fleet with several different brands and models in the yard. The most current additions are Freightliners, including 114SDs, 122SDs and Cascadias. Several more of these models are currently on order.
A changing business model means the truck fleet must adapt. "The biggest challenge throughout the years is building the trucks that work best for [Thompson]," says Jones. "As his business has changed, we had to adapt to it. One truck does not fit all here."
The trucks in the fleet are required to perform multiple tasks. One day they may pull roll-off trailers or open-top refuse trailers, and another day they may pull aggregates in a short trailer or scrap steel in a 44-ft. trailer.
The diversity makes it difficult to standardize. "One day, we hope to standardize on one truck," says Thompson. "But I have never been able to do that yet. For me, what is best today may not be best tomorrow. It is an evolving world."
Meeting the diverse needs requires a lightweight tractor that is durable. This is more complicated than it sounds. "You cannot go in one direction without sacrificing something," says Jones. "So we try to get in the middle of the road and build something that is going to last."
Keep Drivers Happy
The two primary factors that influence RLJ Thompson Trucking's purchase decisions are fuel mileage and pleasing the drivers. The company goes as far as letting drivers choose the colors of their trucks.
As for fuel economy, that is part of the reason Thompson has been converting the fleet. "To be honest, the Freightliners have given me the best fuel mileage of any truck that I have on the road right now," he says.
Despite the focus on fuel efficiency, Thompson has resisted the temptation to downsize the engines in the fleet. "We use the Detroit DD13s in the dumps and the DD15s in the tractors," he notes. "They are fairly high horsepower. A lot of that has to do with the drivers. If you don't keep the drivers satisfied and you don't have drivers to put behind the wheels, it doesn't matter what kind of truck you have or how much business you have."
Keeping drivers behind the wheel has also led to a move toward automated mechanical transmissions. "We have gone to the UltraShift transmission simply because many of the younger drivers do not know how to use a clutch," says Thompson.
Thompson is currently experimenting with an integrated powertrain on an Evolution tractor. This includes a Detroit DD15 paired with a DT12 automated mechanical transmission and Detroit axles. That truck is currently delivering about a 1/2-mpg better fuel economy than anything else in the fleet, but is limited due to a lack of PTO capability. "We are waiting for the DT12 transmission to come out with a PTO and Thompson is ready to go with that," says Jones.
Always Looking for an Edge
Thompson is always experimenting with new technologies, such as disc brakes. "We tried them about six months to a year ago. It was amazing the difference in stopping distance," he says. "We don't know yet, but supposedly we can go about 400,000 miles before we have to change the pads, and there is no such thing as brake spur adjustment. So on a DOT check, that certainly helps. Maintenance takes about 20 minutes."
A new 122SD with a sleeper cab had just been delivered when we visited RLJ Thompson Trucking. "This is actually the fifth sleeper cab that we have purchased," says Thompson. "With the new DOT regulations, it is just easier for the guys, when they run their 10 hours and get stuck and have to spend the night out, to have a small sleeper where they can take a break."
"The hours of service rules have changed so Rick has to do something to keep up with the industry and we are trying to be right there for him," says Jones.
Trying to be competitive in the current environment sometimes means thinking "outside of the box." This is why Thompson chose to try a Cascadia aero tractor, which typically isn't used in this type of application. "Fuel economy came into play," says Jones. "All of a sudden, no matter what you were pulling, fuel economy became a big consideration. So we tried more Cascadias. He has several of them now and they are doing a great job."
But the point of trying new technologies is to identify a competitive advantage. "The cost factor always comes into play," says Jones. "You try to build the best product you can, but eventually it is going to get down to that cost. So you have to show the customer that sometimes you are going to spend a little more money here, but it is going to pay off in the long run with the durability of the truck."
A More Complicated Game
The 2010 truck engine technology has changed the game. At first Thompson tried to avoid selective catalytic reduction (SCR) technology that required diesel exhaust fluid (DEF), but he quickly realized the technology offered the best fuel economy.
That doesn't mean the technology comes without challenges. "We had to circumvent where we put pumps and where we space bodies on the cab, so it has made quite a difference," says Thompson.
"One of the challenges we have is frame space," says Jones. "We try to put three lift axles under some of the trucks. We have battery boxes and SCR tanks and you need a certain amount of fuel capacity. So everything we do is a challenge just trying to get the truck spec'd out so that it will do what [Thompson] needs it to do."
Meeting Expectations
Thompson remains focused on customer needs. "Dependability and customer service is what we have always been about," he says. "If you are dependable, give a fair price and a customer can depend on you being there when you say you are going to be there, that grows your business."
Similarly, Thompson expects the same level of support from his vendors. "The Freightliners are dependable. If they do have a problem, we get them fixed quick. You can buy the best brand in the world, but if you don't have the dealer support, it is not going to do you any good," he states. "Freightliner and Kermit Jones have always been an integral part of our business and over the years have really stepped to the plate when we had issues."
Companies in this article