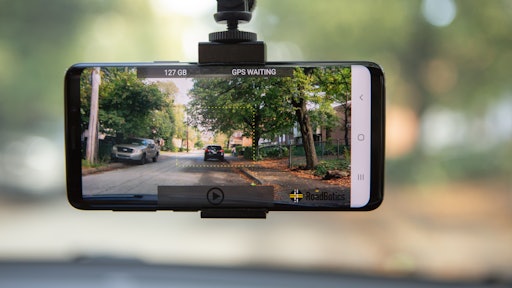 Using technology to asses the condition of our roadways is a relatively new concept. In the past, most asset owners have relied on visual verification of their roadways in order to track repair needs. This is not only a dangerous task, it's also time consuming and inefficient.
New technology that includes artificial intelligence (AI) not only speeds up the process of pavement assessments for asset owners, it also provides a massive amount of objective data that can be used to get real results. RoadBotics is one such company that offers AI software to monitor and manage roadways around the world, which enables asset owners to better meet their pavement challenges.
"RoadBotics empowers cities to assess roads using AI," Todd Saulle, project manager at RoadBotics says. "We automate inspections and generate objective, actionable data about road networks. Governments, private road owners as well as civil engineering firms can then use this to plan and prioritize maintenance needs so they can fix the right roads at the right time."
Whether their customers are maintaining 150 center-line miles in their road networks or 1,500 miles, everyone has limited resources to maintain - let alone improve - the conditions of their pavements. RoadBotics steps in and gives them the tools they need to accurately visualize the the status of their assets, so that they can use data to plan maintenance accordingly.
"The current ability for government and private sector asset managers to have a strong understanding or a thorough, comprehensive understanding of the road network is very challenging" Saulle adds. "What our data and technology really gives them is, often for the first time, a transparent view of their entire road network. With these powerful insights, they can allocate resources in a more targeted, cost saving way than ever before..."
Accurate, Timely Data
Many small municipalities have relied on their employees or even summer interns to visually inspect their roadways and provide a subjective view of the road condition. RoadBotics eliminates that.
"Right now the method tends to be manual visual inspections where you're just driving the roads, maybe walking the road, which is very time consuming, very subjective and dangerous potentially," Saulle says. "This system eliminates all of that entirely and allows you to see all the roads you have from your desk with ratings that are provided from a third party machine learning system. It really gives them both a comprehensive view but also an objective view, which is hugely valuable to them."
In the past, cities might opt for a third party road assessment every few years to once a decade; however, the road condition data would often be outdated (9-12 months) by the time it was received by the road assessment company. With RoadBotics, asset owners are getting all the data at once with time stamps and images just 30 days after the road imagery is captured. This allows them to see the exact condition of the roadway and compare that to previous data to see how that roadway has deteriorated year over year.
Traditionally, the RoadBotics team has deployed their trained drivers to drive the entirety of the network. However, the team is moving towards a self-collection model for municipalities. 
"The reason we're moving to a self-collection model is because it's easier for cities to do it themselves," Saulle says. "They know their roads well and they can go out and collect the data at their convenience. All they need to collect the data is a smartphone and a dashboard mount. The phones can either be rented from us or they can purchase the phones themselves."
RoadBotics then helps the municipality by putting them through a short training period with a series of videos and tutorials. The asset owner would then go out and drive the entirety of their road network based on the routes that RoadBotics has provided for them.
"We have a very comprehensive routing and navigation system that we have in house," Saulle adds. "This gives turn by turn directions so that the entirety of the road network can be collected in the most efficient way possible." 
Saulle says the data collection of a 100-mile road network can be completed in just a few days as opposed to a few months with traditional methods. 
Once the data is collected and analyzed, asset owners are given login information for the RoadBotics software platform called RoadWay. They are also offered a tutorial with the RoadBotics team to walk through the RoadWay platform so they understand the data they are seeing. 
"We're able to show them not just how the data is presented, but also the other tools that are there. Asset owners are able to toggle between good roads and bad roads and can focus on just the areas that really need improvement. We also show them where they can find trouble areas within otherwise good segments of road. This helps them pinpoint areas they may have otherwise missed along a section of good roadway. We're always available if they have questions and we try to keep an open line of communication with them after delivery as well." 
Actionable Data
With all this data at their fingertips, asset owners are better able to present the condition of their roadways to those that make the financial decisions about road funding. This is a huge opportunity for cities with limited resources.
"Asset owners can take the data and show all the work that they've done in the last couple years as well as the work that's yet to be done and that can help justify budget," Saulle says. "North Huntingdon, which is just outside of Pittsburgh, was able to get another $500,000 in their budget for fixing roads as a result of showing this data. They were able to diminish their roads rated poor at a 4 or 5 by about 10% in a three year period. This happened because they were able to create a thorough pavement program database that removes the guesswork and wrong data generally associated with pavement assets and they knew exactly where to pinpoint their efforts and justify their monetary needs."
The City of Savannah, GA is another success story for this technology. Previously the City of Savannah recruited, trained and managed six interns to assess their roads. They were able to cover one-third of the city's roads each year, so it took the city three years to complete one road condition assessment. Because of the complexity of the task, interns rated the roads differently regardless of the training that was provided. Despite their best efforts, using 18 different interns to assess roads over three years also led to highly subjective assessments. The city had difficulties making city-wide pavement decisions with this data and the long data-collection cycle often forced city officials to use outdated information when planning for road paving and maintenance activities.
The intern approach resulted in a total cost of approximately $130,000 over three years.    
In 2018, the city contacted RoadBotics. The city's roads were evaluated in two phases - the first 350 miles were completed in under three months in 2018. The second half of the project was completed in early 2019. The City of Savannah used RoadBotics' objective data to make informed decisions on their pavement maintenance and prioritize the use of limited infrastructure funds.
RoadBotics provided a comprehensive assessment of Savannah's entire 700-mile road network for the City of Savannah, GA at a price of $50,000. The city saved over $80,000 and received a higher quality product in a shorter amount of time. The cost-savings on the road assessment provides the city with more resources to focus on maintenance of roadway infrastructure.
Benefits Outweigh Costs
The cost to deploy RoadBotics and receive the objective data varies depending on the size and complexity of the road network, but having access to this data can be priceless for municipalities.
"The thing that our customers value the most is having any image available for their assets," Saulle says. "It really gives them an extra leg up when it comes to resident complaints and constituent service type work. We've had a couple instances where there was a liability issue and question about a city ruining a driveway during paving. The city was able to go back and see that the issue had occurred well before the paving."
RoadBotics offers an annual subscription model for their software platform, RoadWay, and many asset owners are opting for a subscription-based model. 
"Asset owners want to make sure that whoever they're contracting with right now to complete paving work is actually doing a good job," Saulle says. "If in three years a brand new subdivision that was just paved is blowing up, then somebody did something terribly wrong, so RoadBotics offers a great way to hold people accountable for their work. If your roads should be lasting you 10 years and you see deterioration within three, you can see that before it's too late, potentially."
Yearly road assessments are also especially helpful in colder climates where roads undergo freeze-thaw cycles. In these areas, many cities are opting for multi-year agreements so they can take a look at how pavements in particular areas are holding up and make better educated decisions for their maintenance schedule the following year. 
"Public Works directors are some of the most overworked and underappreciated people out there," Saulle adds. "If they can see the road condition from just this past summer, that's really useful to them. They can then add relevant pictures from the RoadWay platform to an RFP of a road that needs work and that's something they really could never do previously."