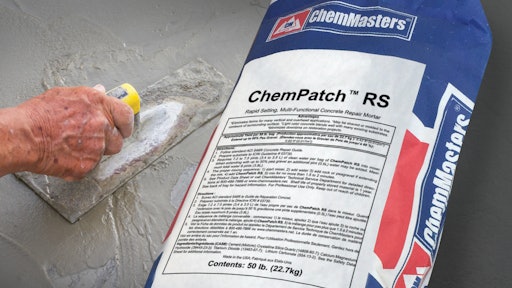 ChemPatch RS is a versatile single component cementitious repair mortar for a wide variety of horizontal, vertical and overhead repairs to concrete substrates. ChemPatch RS is specially formulated to produce a light color concrete mortar that blends well with surrounding concrete, with accelerated set and high early strength. 
ChemPatch RS can be used to create a smooth, broom, float or trowel finish. It may be shaved or molded to match substrate contours,  eliminating the need for formwork, and contains no added gypsum for enhanced durability and extended resistance to severe weathering conditions.
The mortar may be used for interior or exterior repairs of precast panels, steps, columns, beams, concrete pipe and silos, or surface blemishes in formed walls such as snap-tie or spreader holes, cracks and honeycombs. 
Request More Information
Fill out the form below to request more information about
ChemPatch Rapid Setting Works as Multi-Functional Repair Mortar