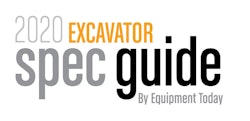 Manufacturers continue to up the ante with today's excavators by adapting power sources to customer and jobsite needs. Equipment Today's May/June 2020 issue features a comprehensive assortment of excavators available for the construction market to help you find the right combination of power and capabilities for your projects.
Click here to access the digital edition of this issue.
Click here to access a downloadable PDF of the spec guide.
Click here to sort by brand and the specs featured using the interactive, customizable version of this spec guide.
You can also find the latest products, articles and related content on mini-excavators and full-size models in the New Equipment Directory.
Read More:

5 Steps to Select the Right Excavator for Your Applications