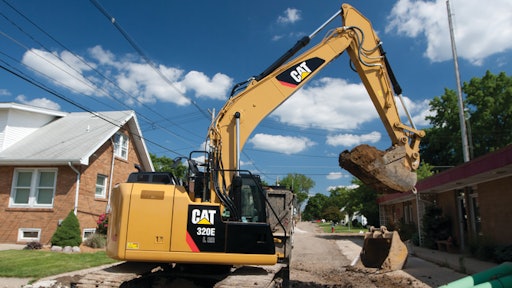 On a jobsite, using the right machine for the application can improve efficiency, reduce hazards and increase productivity. The difficulty lies in determining which machine will work best for a particular task.
Full-sized excavators offer zero tail-swing, reduced tailswing and conventional tailswing configurations. On a zero tail-swing design, the excavator housing doesn't extend beyond the tracks as the housing rotates. With a reduced tailswing machine, the housing typically extends only a few inches beyond the track. All three configurations have specific benefits. Deciding which is best for your application should be based on a jobsite evaluation.
An Advantage in Tight Places
Reduced and zero tailswing models have become popular due to their easy maneuverability in urban and residential areas where space is limited. With a minimized counterweight radius, the excavator has a decreased chance of damaging property when working close to buildings and other obstructions.
"Reduced and compact radius machines compensate for less length with more weight out back. They lift like their standard size counterpart out front and even more over the side," says Kent Pellegrini, global application specialist, Caterpillar Inc. "As U.S. cities expand, working space has become much more restricted. It's important to have machines capable of performing well in congested areas. One of the great benefits of a reduced or compact radius [model] is the ability to work in a single lane closure."
Brad Stemper, solutions marketing manager, Case Construction Equipment agrees. "In road construction, and utility service and maintenance that happens along roadways, the goal is to perform the work while creating minimal interference," he says. "Reduced and zero tailswing models allow this work to take place along the road with less interference, including the possibility of keeping more lanes of travel open, improving safety for workers and drivers alike."
While he agrees that a reduced or zero tailswing design allows for more flexibility in confined work areas, John Waldron, product manager, Volvo Construction Equipment, believes that is the configuration's primary advantage over a conventional tailswing. "The [reduced or zero tailswing] can work up next to a building, they can work next to traffic and they can work in tight areas... Other than that, the conventional machine will out dig it and out lift it," he says.
Differences in Application and Maintenance
Waldron finds many advantages to a conventional tailswing excavator over a reduced tailswing model, including added lifting capacity and bucket and arm breakout force. "If you think about it logically, the counterweight is hanging out more, so you have more leverage with a conventional machine than you do with a reduced tailswing machine," he asserts. "There is more room in the cab and they're easier to work with. Plus, the initial purchase price is usually less for a conventional machine than a reduced tailswing machine."
Stemper adds, "If you work in a wide open application where the machine is dedicated to nothing but loading trucks and moving dirt, you can still certainly use a reduced or zero tailswing model. But a conventional excavator will provide you the greatest flexibility in strength and operation."
Yet, Pellegrini believes the difference in capabilities between configurations is minimal. "There should be no significant operational differences between a standard size machine and a reduced or compact radius machine," he states. "The 320E and the 320E RR, for example, have the same dig depth, reach, cutting height and loading height. They also have the same engine and hydraulic horsepower."
That said, he notes, "Standard size machines offer excellent digging and lifting capability. With many undercarriage, front linkage and work tool options, they are the best all-around choice for most general construction applications."
In terms of ease of maintenance, Waldron again sides with the conventional configuration. "[Reduced or zero tailswing models] are harder to work on. There is less room for mechanics and service people to access the components on a reduced tailswing machine than on a conventional machine. The doors are smaller, the cab is smaller, and the access areas are smaller because you're trying to squeeze everything into a small space," he says.
However, many companies indicate they have found ways to alleviate maintenance concerns. "[Reduced or zero tailswing models] are smaller, which leads to having less room when it comes to maintenance," acknowledges Marcus Barnes, product specialist - earthmoving excavators, Liebherr Construction Equipment Co. "But Liebherr kept that in mind when designing our R924 Compact. The service areas are highly accessible and all routine maintenance can be done from the ground level."
Caterpillar reduced and zero tailswing excavators offer similar ease of access. "Most service points are located at ground level to provide technicians with quick access to major components and regular service items," says Pellegrini. "The goal of the design is to keep downtime to a minimum."
Choose the Right Machine for the Job and Site
When deciding which of the configurations to use, evaluate both the jobsite and the application. "When spec'ing out a job, contractors have to make sure that the excavator they choose can do the tasks at hand. It's not always about maneuverability; it's whether or not an excavator can do all the jobs on the jobsite," Barnes says.
"You don't want to restrict your capabilities," Stemper advises. "If you own a sand and gravel operation and that excavator is never leaving the pit, a conventional style machine will serve your needs. If you are a contractor that works on a variety of sites, having flexibility to react to the demands of the site will better allow you to win bids and serve the needs of your customers."
Safety is another factor you should take into account. "If the counterweight can cause damage to structures or hurt people, then you want to consider a zero tailswing machine," says Waldron.