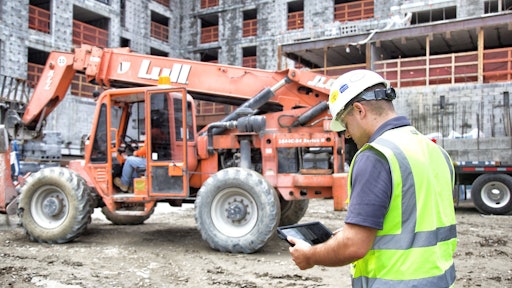 By Nathan Medcalf, Contributing Editor
Triax's Spot-r safety system is a mobile technology that almost immediately improved safety and profit on KBE Building Corp.'s projects.
"In the 60 days since we implemented Spot-r, we have already stopped three conditions where employees were jumping up and down heights more than 19 in., and they were immediately corrected," says Adam Peters, corporate safety director at KBE Building Corp. (KBE).
"It's very difficult to measure the successes of a safety program in construction," Peters continues. "At KBE, safety starts at the top with our owner; owner buy-in is critical for the success of a safety department. Educating your people, giving them the authority to implement your program, and putting in place all the controls you can to eliminate risk is the next step toward success. This is how you establish a companywide culture of employees that believe in your safety program and know the importance of safety at the jobsites.
"We feel at KBE we have some of the best field people and projects in the business so Triax was our next step toward eliminating risk and continuing to have some of the safest sites in the industry."
Early in 2018, KBE invested in Triax's Spot-r safety system.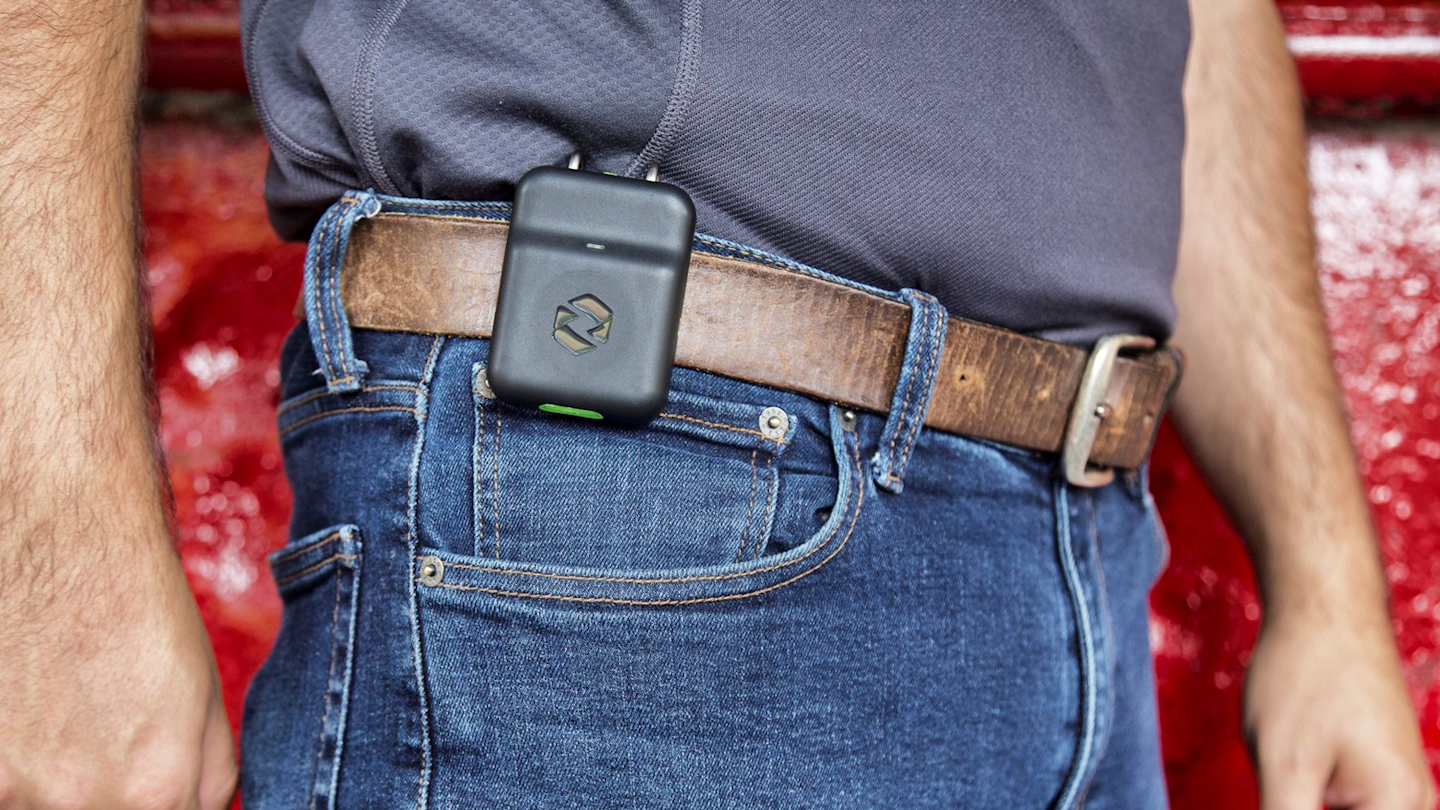 Developed for worker safety, the wearable Spot-r Clip detects worker falls and sends automatic location-based alerts to supervisors, so help can be sent quickly. It monitors worker and equipment location, activity, and safety at the jobsite using sensors worn by workers or tagged onto equipment. The contractor's goal was to help them eliminate false claims and to make the field team aware of employees falling or jumping on the jobsite. "With some of the low-height falls, at first you don't know if they're jumping or falling," says Peters. The Spot-r Clip identifies a quick change in elevation greater than two feet.
"OSHA doesn't allow anyone to access areas that have a change in elevation of more than 19 inches without stairs, a ladder or a ramp. If it picks up that a person fell, it could be that they are jumping off a foundation wall or a loading dock, because there isn't a safer way up or down in place. When this happens, our team becomes alerted of it via the Spot-r dashboard and notifications. Then we can go investigate and fix the condition."
Spot-r works over a proprietary mesh network designed for the construction environment. The network works independently of WiFi and cuts through tough building materials to keep a specific site connected throughout the project.
Developed as a safety sensor, the wearable Spot-r Clip detects worker falls and sends automatic location-based alerts to supervisors, so help can be dispatched quickly. Workers can also use a push-button on the bottom of the device to alert supervisors to an unsafe condition, non-fall injury or other issue. Spot-r does not rely on GPS for location, a fact that improves its job-site performance and can encourage worker acceptance. The mesh network maximizes visibility to devices on site and can't identify sensors outside the mesh network, so workers' privacy is protected when they're not on the job.
The Spot-r system helps automate manual processes, such as paper timesheets and visual safety checks, so managers like Peters can spend less time compiling and analyzing data and more time acting on it.
When an incident is identified, KBE coaches the individual involved on the expected behavior and then has them sign a written warning. "We expect a trickledown effect. The entire crew should learn from the incident, then there will be a culture change. But it starts with recognizing the condition and then educating the employees of what the hazard was."
The Spot-r dashboard not only alerts managers to safety issues on site but creates an objective record of safety incidents, including weather and worker certification information retrieved from the system's data base. The digital record of safety is helpful should a claim arise and can be used to combat potentially fraudulent claims.
Peters said KBE eliminated one false claim at the Brandon Avenue Upper Class Housing project at the University of Virginia. "We had a subcontractor's employee come in and say while he was working onsite the day before, he fell and hurt his back, so we went to the dashboard to check, and it showed no fall. So, when we went to have a conversation with him and his employer and showed the data; he admitted that he had not fallen at this project and had actually hurt himself at home."
Peters also appreciates the value Triax's Spot-r brings to handling emergency evacuations of job sites.
"Our field team can activate the devices of all employees onsite in case of an emergency, notifying them to get into emergency evacuation mode," says Peters. "Not only is this a great way to alert them to get out of the building but we also know who, if anyone, is left in the building via the dashboard. This information can be so helpful for emergency responders; not only knowing how many people might be in the building, but also what zone they are located in. This is huge for the construction industry.
 "Triax has come a long way. I'm their number one fan. I know the company will do well, and I believe in the people that are doing it. It seems like they're constantly developing something new for the devices to perform. I'm glad KBE started using the product, and I can't wait to see what they have to offer in two to three years."
[VIDEO] Spot-r Sensor Redefining Construction Jobsite Safety