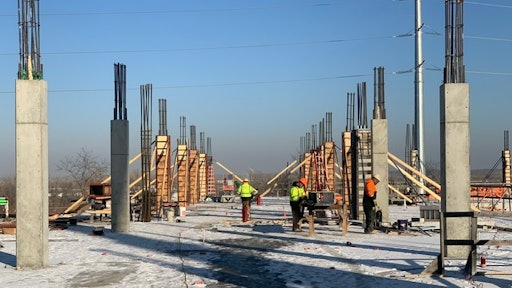 Bottorff Construction Inc., a total-package, cast-in-place concrete company based out of Kansas, adopted Giatec SmartRock wireless concrete sensors two years ago in order to stay off the deficiency list on one of its current projects and to finish projects more quickly due to having access to concrete maturity data in real-time.
Prior to using Giatec, Bottorff was working a 276-unit, super energy-efficient multifamily apartment in Kansas City. The company faced a number of challenges with its schedule during winter when temperatures dropped below 20°F.
Staying off the deficiency list
Construction paused and an inspection agency came in to inspect the work. The agency deemed the concrete to be deficient due to freezing, and Bottorff was instructed to tear it out.
"The customer used a third party to verify work was completed to spec. They used a high/low rating system placed on the concrete floor and determined that the concrete had frozen," says William Pettit, Bottorff.
Bottorff challenged whether field-cured cylinders were following American Concrete Institute (ACI) guidelines for cold weather conditions and accurately reflecting strength of in-place concrete. The company had confidence in its work, but without a means of accurately measuring concrete temperature, Bottorff was at the mercy of third-party agencies.
Read next: Wireless Concrete Monitoring: Embedded vs. Non-embedded Bluetooth Transmitters
"They placed a monitor that measures outside ambient temperature, which is not a true representation of the temperature inside the concrete," says Pettit. "But, no one was checking the checker. No one was monitoring the agency's testing methods to see if they were accurate. No one checked to see if they were meeting ACI guidelines."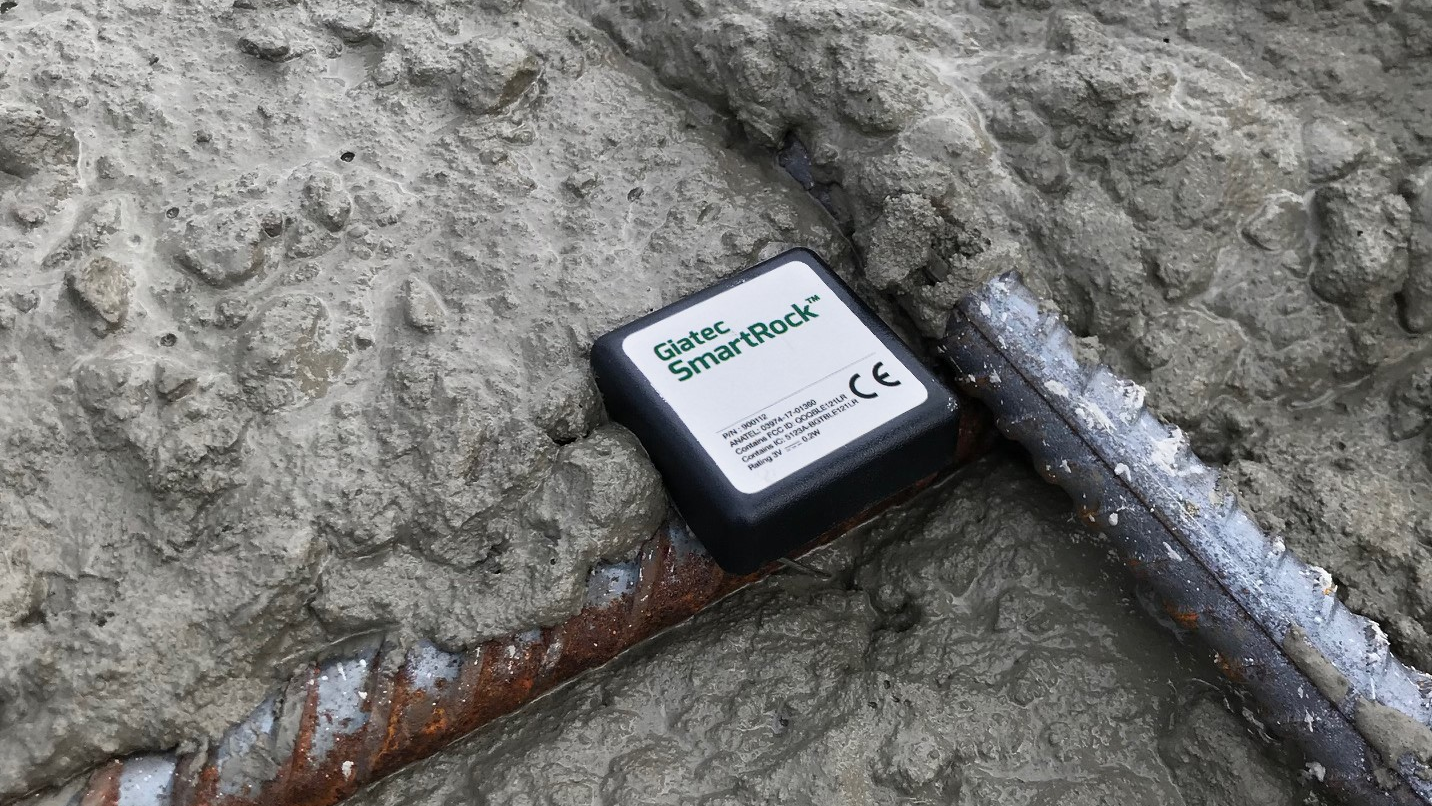 A Giatec SmartRock sensor in place prior to a pour. The device wirelessly transmits concrete data to the cloud, which can be accessed by key personnel.Bottorff tore up the concrete deemed deficient and placed the Giatec concrete maturity testers into the new batch, which was placed under the same conditions as the first batch that was said to have frozen.
"This proved to the design team and to the third party that the concrete was an acceptable temperature," says Pettit.
"Partnering up with one of our SmartRock Plus ready-mix producers, Geiger Ready-Mix, allowed the Bottorff team to capture real-time data on concrete temperature and strength using wireless sensors. This helped them optimize critical operations and make decisions directly onsite," says Sarah McGuire, senior director SmartRock Plus Division.
Taking confidence in accurate, real-time data
Another reason the company adopted Giatec's SmartRock Plus sensors is the expectation that they will know when concrete achieves strength. This is important because without a means of measuring concrete strength contractors tend to wait longer than necessary to be on the safe side. Batch testing is only a proxy on the in-place concrete strength.
So, with the expectation that the company could shorten the wait time but still have the confidence that the concrete had reached strength, Bottorff invested in Giatec sensors.
"We were working on a project and, before forms could be removed, we had to know the concrete had met strength. Using Giatec sensors allowed us to shave off one day for every single pour in order to get our forms stripped and to turn that area over to the next street. In each case, we could strip our forms a day earlier because we knew the concrete had reached strength. In total, we saved 20 working days on that project."
"Now, with the introduction of the concrete maturity monitors, the third-party agency has taken a step back and waits for us to finish the 24-hour break and the seven-day break, and they now use our data in their reports back to the owner."
Giatec sensors have multiple uses on jobs
"One of our customers called and said the main driveway to their facility had to be replaced and that they wanted to drive on the concrete within just four hours," says Pettit. "Scheduling was tight because the testing agency was only available for a short time. So, we replaced their driveway and the concrete contained Giatec monitors, and once we gained the strength we needed, we opened the driveway back up to the facility within the time desired by the customer."
Read next: Wireless Concrete Maturity Sensors Speed Construction Completions
Pettit says that he has noticed other companies around Kansas adopting Giatec's SmartRock sensors. "We are all on board with Giatec; it has done wonderful things for our company, and I see it gaining traction in Kansas."
"We're excited to see the SmartRock Plus program benefiting the market in Kansas City. As we are now scaling this program across the country, and also the world, we're looking forward to our IoT-based solutions making concrete testing simpler than it's ever been," says McGuire.