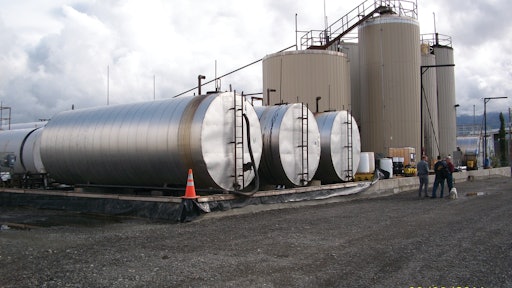 Denali Materials, located in Anchorage, AK, sells virgin asphalt mixes and various polymer-modified grades of asphalt. The area surrounding Denali's facility was victim to the odorous emissions common to the manufacture and transfer of asphalt products. Denali was determined to suppress odor emissions, says Jack Hayden, owner.
To find a solution, Hayden turned to OMI Industries and its Ecosorb 206A additive. Ecosorb products are environmentally friendly odor eliminators that do not employ harsh reacting chemicals or masking fragrances.
"Specific to the asphalt industry, Ecosorb's product offerings are liquid additives designed to eliminate all asphalt odors by suppressing odorous emissions," says Charles R. Timcik, technical director with OMI.
Ecosorb has products that remove odors from all asphalt production, including neat binders, rubberized, and ploymer-modified applications.
Becoming a good neighbor
"Most asphalt production facilities were built before 'urban sprawl,' and without thought of commercial or residential neighbors," says Timcik. "But like so many others, the asphalt industry's desire to be a good neighbor – and an interest in odor control additives – led OMI Industries to develop liquid additives for asphalt production."
Ecosorb additives are usually introduced when the liquid AC (Bitumen) is delivered to the asphalt production facility and is put into storage. "These additives are easy to use, safe for the environment, offer no detrimental impacts on the physical properties of the asphalt and don't put workers in harm's way with the addition of harmful chemicals," says Timcik.
"The loading and unloading of asphalt can be an odorous process," he continues. "Even the transportation of asphalt can be a problem with the trucks going through towns. In a 25-ton load of bitumen, as little as 0.5 gallons of Ecosorb additive can eliminate nuisance odors associated with transportation and handling of asphalt."
Smelling the benefits
Denali Materials uses Ecosorb 206A additive during various stages of production and delivery. During a recent visit from an OMI sales engineer, Hayden noted two men standing downwind of a tanker truck into which a 40-ton load of polymer-modified asphalt was being transferred.
"After several minutes, the two men entered the facility and introduced themselves as city health and environmental inspectors, curious to know what was being used to combat the usual odor," says Hayden. "The OMI sales engineer was able to describe the science behind the natural Ecosorb solution."
By accounts from both city inspectors, the asphalt odor was eliminated from the airstream within seconds of the Ecosorb 206A additive being added to the transfer. The product proved to be 100% effective at eliminating – not masking – asphalt odor gases at the Denali Materials transfer station.
"The real question is, 'Who doesn't benefit from the use of Ecosorb products?'" says Timcik. "The surrounding communities near asphalt production plants, plant workers, road crews, motorists – in essence, anyone who comes into even remote contact with the asphalt industry will see - rather, smell - a benefit from the use of odor-eliminating additives."