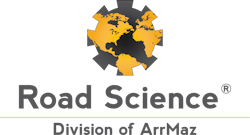 In 2017, ArrMaz is proud to celebrate its golden anniversary as a global leader in the production of specialty chemicals for the mining, fertilizer, industrial ammonium nitrate, asphalt, and oil and gas industries.
With humble beginnings in 1967 serving the Florida phosphate industry, over the last half century ArrMaz has successfully expanded its product offerings, services and facilities across North and South America, Europe, Asia, Africa and the Middle East, now serving customers in more than 70 countries worldwide.
The story and growth of ArrMaz has been truly remarkable. The company's beginnings date back to April 27, 1967, when a small startup called Custom Chemicals was established in Florida, with a focus on the production and supply of defoamers and flotation reagents to the Florida phosphate industry.
In 1976, Arr-Maz Products was established, also with a focus on supplying defoamers to the local phosphate industry. Both companies rose to become leaders in serving the fertilizer market, and in 2003, merged to become the ArrMaz of today. ArrMaz's expansion into new industries and geographies across the globe has been fueled by the dedication of its employees for whom customer success is their number one priority, and customized chemistry and service is in their DNA.
"On the occasion of our 50th anniversary, I'd particularly like to thank our loyal customers for their continued support. You are why we're here and our desire to serve you better motivates everything we do at ArrMaz," says Dave Keselica, Chief Executive Officer. "We'll continue to build on this proud legacy, expanding our capacity to innovate at our technical centers throughout the world, developing new markets, and growing globally to better serve our customers, so that our next 50 years will be even more exciting than the last."
Today, ArrMaz employs more than 400 people in 7 offices and nine plants worldwide. ArrMaz is owned by Golden Gate Capital, a leading U.S. private equity firm based in San Francisco.