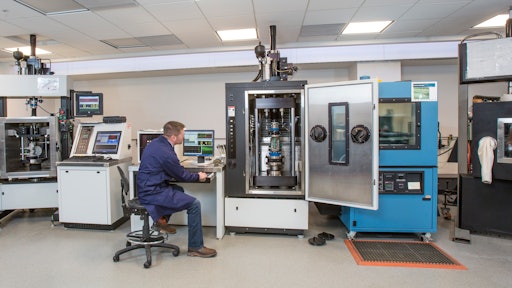 Road Science, a Division of ArrMaz, is pleased to announce that it successfully completed a comprehensive American Association of State Highway and Transportation Officials (AASHTO) On-Site Assessment and Quality Management System Evaluation of its research and development and customer support laboratory in Tulsa, OK. The rigorous review was conducted by AASHTO re:source over a four-day period, the outcome of which confirmed Road Science's Tulsa laboratory's continued compliance with the AASHTO Accreditation Program (AAP).
The scope of the assessment included evaluating Road Science technologists' proficiency in performing an exhaustive list of test methods related to a variety of paving materials including asphalt binder, emulsified asphalt, pavement preservation, asphalt mixture and aggregate. The assessment also incorporated a thorough evaluation of quality system criteria, including equipment calibration and verification records, technologist training and competency evaluation records and proficiency sample rating performance. 
"With our Tulsa laboratory's longstanding AASHTO accreditation, our customers can confidently rely on our data and recommendations to build their products and grow their businesses,"  James Barnat, vice president of innovation at Road Science says. "Achieving and maintaining accreditation for the past 18 years required considerable diligence and resources, demonstrating our ongoing commitment to the asphalt paving industry. The Federal Highway Administration (FHWA) and all State Departments of Transportation (DOTs) require their laboratories, primary materials suppliers and consultants to maintain AASHTO accreditation, and so, as a leading chemical supplier to the industry, we consider it our duty to do the same." 
The Certificate of Accreditation and all accreditation details for Road Science's Tulsa laboratory can be accessed online through the Directory of AASHTO Accredited Labs.
Companies in this article