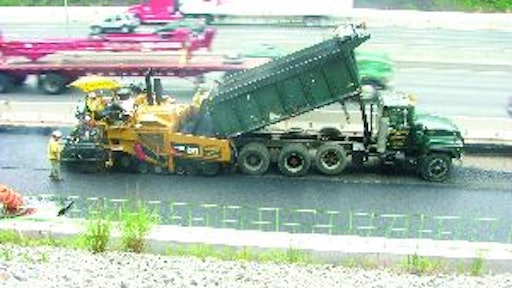 There's probably not a better place to test the performance characteristics of a high reclaimed asphalt pavement (RAP) mix design than the heavily traveled JFK Memorial Highway (I-95) in Wilmington, DE. So, in an ongoing effort to seek out more cost-effective ways to build and maintain its highway system, the Delaware Department of Transportation opted to go with a mix design containing 35 percent RAP to construct a fifth lane in both directions along a two-mile stretch of its heavily-traveled I-95 commuter thoroughfare.
Work currently being done on the interstate is part of a multi-year, multi-project Turnpike Improvement Program that has included work at the Churchman's Road/SR 7 intersection and the Churchman's Road Bridge over I-95; and it will also include the upcoming work at the SR 1/I-95 Mall Interchange.
Increasing traffic volumes and development south of SR 1 have led to deteriorating levels of service within the area. While morning and evening peak commuter times continue to struggle with the volume of traffic in this area, deteriorating traffic conditions have also become a problem during other times of the day and on weekends as well.
The $51.9-million project is adding a fifth northbound lane from the on ramp of SR 1 near the Christiana Mall through the Churchman's Marsh, through the 141 interchange and ending just south of the I-495 ramp overpass. The southbound additional fifth lane runs from the 141 Interchange southbound ramp to just south of the new Churchman's Road Bridge over I-95.
R.E. Pierson Construction Co. is the prime contractor on the project, with Diamond Materials, a Pierson division located in Wilmington, producing and placing all the asphalt for the project.
Work began on the project in May 2007 and is expected to be completed by November of this year. While constructing the additional travel lane, the existing four travel lanes in each direction must remain open to traffic during peak commuting hours. Diamond Materials' crews are required to perform all milling and paving operations between 5 p.m. and 5 a.m. during the week.

Project specifics
Paul Lester, superintendent of asphalt plant operations for Diamond Materials, says the project is a "fast-track" project that originally allowed 1,080 calendar days to construct, but will actually be completed in 540 calendar days.
"Because of our (Pierson's and Diamond's) capabilities as a full-service contractor, we were able to bid the project with a much shorter completion deadline, even with the working restrictions specified in the contract," Lester says. "It's the first DelDOT project using a high percentage of RAP and that's due largely from the work we did to convince DelDOT to raise the RAP percentage for this project. Up to this point DelDOT has allowed up to 20 percent RAP, but we were able to provide the research showing higher RAP would perform as well and save them money in the process."
After placing millings as part of the crushed stone base for the new fifth lane, Diamond paving crews began placing the high-RAP base courses of the new roadway in March. Plan specifications called for two 6-inch lifts of deep base using 25mm stone, followed by two 3-inch lifts of 19mm mix. Both contained 35 percent RAP content.
When the base course work is completed, the existing four travel lanes in each direction will have two inches milled from the surface and then all five lanes will be covered with a 2-inch lift of 9.5mm Stone Matrix Asphalt (SMA) wearing course containing 10-percent RAP.
"We expect to produce 103,000 tons of base course mix and 35,000 tons of SMA mix to complete the project," Lester states.
All the mix for the project is being produced at Diamond's Wilmington plant, which consists of a Dillman Unified drum dryer/mixer, three RAP bins and an Astec screening system used to fractionate the RAP.
"The higher RAP content on this particular job will save DelDOT approximately $2 per ton on liquid asphalt costs, and we'll still meet their PWL (percent within limits) specifications for density (93 percent minimum) and rideability specifications," Lester says.

Time to move forward
Jim Pappas, who heads up DelDOT's materials and research engineering office, says the project could very well be the beginning of how the road agency builds future projects.
"Our specifications have allowed 20-percent RAP up to this point, but the (asphalt) industry came to us with a higher RAP content recommendation and we agreed as long as the performance characteristics were the same," Pappas says. "We've been very involved with the Delaware Asphalt Pavement Association, participating in their quarterly meetings, and we just felt it was time to pursue the approach in an effort to control the rising cost of materials. We would like to implement this new design specification on all our projects if it performs as well as it should. We chose a project that must support a high volume of traffic (200,000 vehicles daily) and the research (loaded wheel test) we received shows that this mix design should support the traffic load without any significant rutting problems."
To ensure that the high-RAP mix meets DelDOT specifications, QA/QC incentives will be awarded, with 70 percent tied to material quality based on air voids, AC content and gradation, and 30 percent tied to compaction density. Density incentives are paid 100 percent if compaction achieves 93 percent minimum and rideability meets the International Roughness Index specifications.
The project is also generated substantial interest from the Federal Highway Administration, which brought in a mobile testing lab to monitor the project. The FHWA testing planned for the project will mirror that of DelDOT and Diamond Materials. Although FHWA testing will not be as frequent as that of DelDOT and Diamond Materials' lab technicians, the results will be shared with DelDOT and will also be used as resource material for a national data base source other road agencies can access.
"We really think this project is going to be very successful and if all goes well we could in fact rewrite our mix specifications for 2009 projects," Pappas says. "And with the price of AC climbing to over $500 per ton, we anticipate a savings of over $200,000 on a project like this. It's a very big project and one that will provide a lot of insight as we move forward in developing more cost-effective ways to build and maintain quality pavements for the state of Delaware."