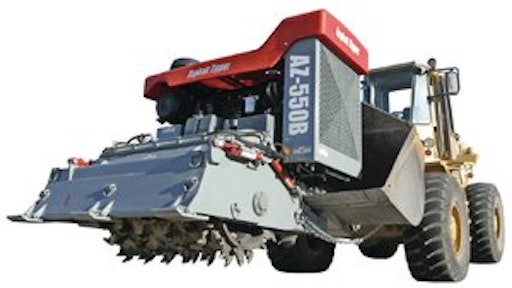 AZ-550 Reclamation Attachment
The AZ-550 full-depth reclamation attachment features a 203-hp Cummins Tier III turbo diesel engine generating 695 ft.-lbs. of torque.
Oil-cooled planetary gearbox for improved production on heavier projects
Up to 12-in.-thick cutting depths
Cold Planer
This cold planer attachment mills frost heaves around manholes, as well as handles full-depth utility cuts.
Restores proper drainage to pavement and textures pavement for skid resistance
Removes traffic lane stripes
Side shifts 24 in. left or right to cut next to curbs and obstacles
High-flow and standard-flow models available
Cordonators
These folding channelizers for traffic control weigh just 14 lbs. and fold flat to 4.5 in. thick even with a light attached.
Built from two equally sized pieces of HDPE plastic exceeding federal crash test standards
Equipped with highly reflective 3M sheeting
Molded-in stacking buttons protect the tape in storage
Can be stacked vertically or horizontally
Accommodate conventional ballast such as tire rings and sand bags
DS-18
The DS-18 features a 13-hp gasoline engine or 5-hp electric motor with a heavy-duty, anti-vibration engine mount, a 7-gauge, solid steel frame, 18-in. blade capacity with dual-arbor cutting along with lifting handles, a lifting bail and prefect balance. Perfect balance is key to perfect performance, long blade life, smooth, even cuts and eliminates excessive wear and tear on the machine.
Leveling Assembly
The latest attachment for the Model 1200/1800 Hydraulic Truck Conveyors is the Model 1218LA leveling assembly.
Allows for more efficient road shouldering operations
Assembly comes in manual or hydraulic operating systems
Hydraulic unit comes with its own electrically controlled manifold, as well as an automatic shutoff to maintain an even flow of materials for consistent coverage
Nite Lite II
The lightweight, durable NITE LITE II plastic reflective fence can be attached to one or both sides of a Type III barricade for improved safety.
Can also be used to delineate fixed objects close to traffic and construction projects near roads
International orange reflective stripes
Rolls easily for storage
4 x 50 standard rolls
Made of UV-protected polyethylene plastic
NorAm 65E Compact grader
The 16,800-lb. NorAm 65E Compact grader features an articulated frame, torque proportioning rear axle, wheel lean and inch control.
110-hp Cummins engine and ZF full powershift transmission/torque converter
A-frame/circle configuration mated to a 10- or optional 12-ft. "rollaway" moldboard
18-ft. turning radius
Standard air ride seat and "lo-effort" hydraulic controls
Available with canopy or cab and air conditioning
Rotary Wheel Asphalt Cutter
The Severe Service rotary wheel asphalt cutter features T-1 steel, which doubles the strength over the standard cutter.
Heavy-duty, high-speed bearing system suited for long, continuous cuts
Chromium cutting wheel offers 300% increased life
Simul-Phase Technology
The 20-kW kWiet Power model DGK25C is Shindaiwas first mobile generator model to be introduced with Simul-Phase Technology, a patented feature that allows the simultaneous use of dual-voltage, single-phase and three-phase current. The feature enables users to have 120- and 240-volt power for lights, electric tools, etc., as well as three-phase 240/480-volt power for motors driving compressors, pumps, etc., all from the same generator. The generator is powered by a quiet Isuzu diesel engine, plus incorporates Ultra Quiet sound attenuation technology. The combination allows for a 53-dB rating at no load and a 56-dB rating at full load.
SIS 1250 Super Illumination System
150,000 lumens per lamp
Whiter light for better visibility
Improved color recognition
Booth #4936
The SIS 1250 Super Illumination System features 1,250-watt lamps that produce 150,000 lumens, a 30% increase in light output and 20% increase in coverage area over Allmands 1,000-watt system.
Designed for use in SHO parallel lamp fixtures
Engineered for mobile applications
Delivers enhanced color index light quality for better visibility and safety on jobsites