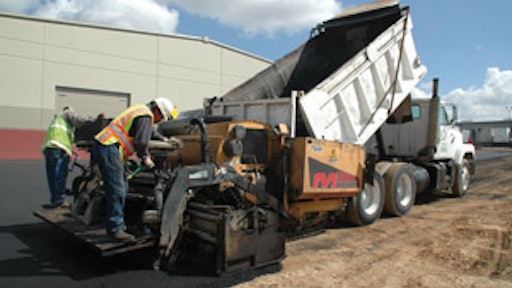 By: Gini and Dan McKain
For a number of contractors in South Central Texas a major ingredient to success in the hot mix asphalt paving business is to scale their size-appropriate equipment spread to the project at hand. Emblematic of this is the thrust made by Ramming Paving Co., Ltd. On a recent major industrial parking lot in San Antonio, Texas, the contractor's well-trained crew was able to put down a 700-ton project in just under 12 hours - and they did it with only three machines.
"In areas where we are very pressed for working space or because the topography is so irregular that it is difficult to employ the normal method of loading asphalt directly from a truck into a paver, we load with a skid steer loader," says Marty Schneider, vice president of operations for Ramming Paving Co.'s San Antonio Division.
"This is not uncommon in our service area with tight conditions. We have found that it is a system that works well for us in a situation in which speed and repeatability is necessary for us."
The purpose behind this somewhat unusual tactic is to enable smaller equipment, such as Mauldin's 1750-C paver and Ingersoll Rand's DD-24 roller, to work more efficiently in confined locations or on the side-slopes of uneven terrain where long straight pulls would be impractical while trying to cut in vital drainage swales.
Good drainage is critical in this area of San Antonio, because stormwater runoff has been known to rise to several feet high in places. It takes place in a matter of hours after quickly overflowing the nearby river drainage.
The loader operator or foreman originally directs the incoming haul trucks to pre-selected, on-ground locations to stockpile the material rather than waiting around to individually load the paver. The loader operator then works directly from these storage areas.
When that operation takes place, the operator appears to have served his apprenticeship, not with a construction union, but rather with the New York City Ballet or Russia's Bolshoi. His dexterity with the 7300-lb. Cat 248B mini-loader was nothing short of amazing. He consistently danced up to within inches of the hopper lip of the paver.
Without once ever making contact with it, he slammed the machine to an abrupt stop, instantly propelling the bucket-load of asphalt forward into the paver's waiting hopper. The loader was on its way back to the stockpile for another load in a heartbeat.
When the opportunity presented itself to time this style of loading the paver against the more conventional method of directly loading from the haul truck, the time difference was negligible. The joints were smooth, and the overall material was protected from time, thermal, and mechanical segregation. The paver was able to lay a smooth, clean mat.
Galvino Gomez, asphalt superintendent, says the Holts Mechanical Services Co. project they were working on required approximately 700-tons of hot mix asphalt that would cover approximately 70,000 sq. yds, 2 in. thick.
"For the safety of everyone, it is imperative that my paving crew all talk and work together and understand each other seamlessly. If they don't, someone is going to get hurt or worse," Gomez says. "The secret to safety lies within the crew and the equipment. It has taken me about two and a half years to put this crew together, but it is now a first-class crew. All the men are cross-trained to operate all of the equipment if need be."
He says the company's equipment fleet makes jobs like this one easy, but he says it's the paver that "makes or breaks" the crew.
"If you are laying a good smooth mat, you are not killing your guys; they have less hand work and less need for using a lute or shovel. And, with the 90°F to 105°F summer temperatures that we usually have, combined with the 300°F-plus of the raw asphalt it is easy to overwork your men if the paver isn't doing its share of the work.
"There's more to hot mix asphalt paving than just pulling a straight line. Your joints must be seamless and smooth. The paver must be maneuverable enough to work in very restricted areas and close against buildings. The paver must also be able to cut in street intersections, sewer inlets, and manholes," Gomez says.
As one of the larger asphalt paving companies in South Central Texas, Ramming Paving knows well that repeat customers are the backbone of profitability in the paving industry and how important it is to retain them. They are also well aware that quality workmanship is essential to project longevity, which is essential to retaining repeat customers. It also follows, as night follows day, that only a highly-skilled crew, using first class, well maintained, equipment can produce high-quality, long-lasting results.
Thomas Murdock, one of the contractor's HMA supervisors, says that's why company owner and founder John Ramming has assembled a reliable high-quality fleet.
Founded by John Ramming in 1992 in Austin, TX, the company operates a San Antonio branch and covers South Central Texas, from Dallas to the Gulf Coast and from Houston to El Paso. They run four paving crews from San Antonio and in Austin run two 500-ton-per-hour hot mix asphalt plants and a modern fleet of tri-axle 16-cu.-yd. and 22-cu.-yd. "belly dump" material transporters.
Because the company covers such a vast area and specializes in many forms, shapes, sizes, and quantities of hot mix asphalt paving projects in its service area, about the smallest job they will do would by a city street patch. Their largest project would be a single major state highway project involving 100,000 tons of HMA.
"One of the most important aspects of our overall operation lies in preventive maintenance and routine overhaul. In conjunction with that goes good dealer service and factory support when it's needed," Schneider says.
He says the company's mix of equipment enables it to handle paving work ranging from driveways to patching and paving industrial parking lots, full-width streets in new subdivisions, remote ranch roads, and aircraft landing strips.
"When you have hot mix asphalt to put down on the ground you have only a limited amount of time to do this," Schneider says. "And that calls for both dependability and reliability in a laydown machine."
Dan and Gini McKain are freelance writers and photographers specializing in the construction industry.