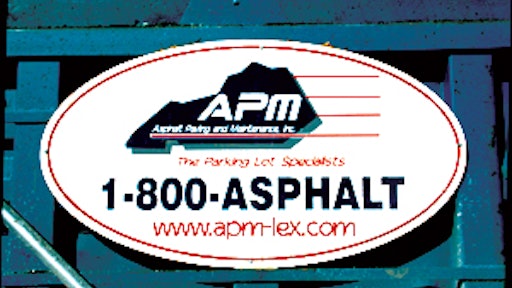 There are three critical phases to the hot mix asphalt business: getting the customers, doing quality work, and getting paid for doing it. That is what we do from beginning to end," says Peter Kramer, vice president of Asphalt Paving & Maintenance Inc. (APM).
"We first must market our company successfully to get the customers. This includes proper estimating and bidding. Second, our crews must be able to economically do the work to the standards of quality and productivity that we have set. And, finally, we must get paid for the work that we do in a reasonable amount of time.
"These three items are all somewhat interrelated. If we fail on any one phase of these, we are not going to be in business very long," he says.
"The parking lot specialists"
APM must then be on the right track. The company was started in 1981 as a part-time sealcoating business, and through savvy equipment purchases, a willingness to learn, and a good grasp of the industry's "business basics" APM has grown into the successful paving and pavement maintenance company it is today. The company offers a broad variety of services, including paving, sealcoating, striping, cracksealing, and pavement repair.
The principal owners of APM are Bill Shaw, the founder and president, along with son-in-law Peter Kramer, and daughter Traci Kramer, who is the financial manager.
At first analysis Shaw and Peter Kramer make the Odd Couple of the asphalt paving industry. Shaw was a flourishing mortgage broker and financial business advisor for over 16 years, and Kramer, who holds a masters degree in biology, had an established career in that field.
But together, with little industry background, they have transmogrified themselves through hard work, perseverance, and cutting-edge technology into a highly successful duo in the extremely competitive field of hot mix asphalt contracting.
Both men agree that their diverse backgrounds have helped the company grow as fast as it has. They also agree that a streamlined fleet of flexible equipment and some loyal, highly-motivated, cross-trained workmen deserve credit, too.
In 1981 Bill Shaw decided to start a company on the side and got into the sealcoating business as Asphalt Maintenance of Kentucky. By 1986, frustrated by working with subcontractors who did not deliver on timing or quality, Shaw expanded his operation to become a full service paving company and changed the name to APM.
"We've gone through the evolution of several pavers since we began this business back in 1981. And I can tell you that our Mauldin 1750-C paver fits our needs just fine."
In the mid-1990s Shaw enlisted the assistance of Kramer, his son-in-law. This has proven to be a very astute move. While inexperienced in the field of asphalt, Kramer brought with him the computer technology and discipline that had served him so well in the scientific field.
The new computer technology has been especially helpful in streamlining APM's information process. Using Kramer's vision for a fully integrated project management software, a software engineering firm implemented a customized project management program that has significantly decreased the time required for bidding projects while, at the same time, increased the accuracy of the bids as well as the information needed by the men in the field to execute the work.
The computer technology in the APM office combined with the use of the 1750-C Mauldin paver in the field and the compaction gained from the DD-24 roller have proven to provide Asphalt Paving and Maintenance Inc. with a winning combination to increase profitability.
A typical paving job
A typical paving project for APM would be a parking lot being done for the Integra Bank in Lawrenceburg, KY, about 45 minutes from Lexington. APM was a subcontractor to the general contractor, LCM Inc., also of Lexington. The parking lot consisted of two parking areas and four drive-through lanes with two opposite entrance locations. It took about 300 tons of Class I surface asphalt mix laid to a full 1-1/2-inch final compacted thickness.
The bank's owners mandated the project be paved on Veterans Day while the bank was closed. Many times the contractor will pave a bank parking area while the bank is open for business, but not this bank. APM also worked within other various constraints, including a very low ambient temperature in the morning. The crew had to wait for the temperature to reach to 40°F, which is the temperature at which the plant will start to produce hot mix asphalt.
The asphalt plant was located in Frankfort, KY, about 20 minutes away from the jobsite. The material was delivered in APM company-owned trucks for better delivery, timing, and control.
APM used a Mauldin 1750-C paver with the Silver-16™ screed to pull a 10 to 12 foot wide pass. A DD-24 Ingersoll Rand was the contractor's roller of choice to work with the paver.
Kramer says that selecting the appropriate equipment to do the work is another part of the business some contractors overlook.
"A critical part of our second element, doing quality work, is that we must carefully evaluate the machines we purchase," Kramer says. "Today's modern asphalt paving equipment, in addition to having become quite expensive, has become appreciably more technologically advanced and multifaceted."
He says this statement applies to both pavers and rollers.
"At best, you will only get what you pay for. But if you do decide to make the investment in advanced, multi-faceted equipment you will significantly increase your onsite paving productivity and the ability to do this using less manpower. That can result in a considerable cost savings."
He says the equipment the company owns, including the new Silver-16™ screed on the Mauldin 1750-C paver, are prime examples.
"One of the things that I especially appreciate is the increased productivity we can achieve with it," he says. "The paver is big and heavy enough to push the fully loaded trucks and yet light and maneuverable enough to work productively in confined areas."
Shaw says that a paver's screed is the key to being a success in the hot mix asphalt paving industry.
"It's been said by some that, if you have a good screed and a pair of mules, you can put down a good asphalt mat," Shaw says. "There is, of course, a little more to it than that. But that saying is not too very far from the truth."
Finding the right customers
All that – the equipment, the technology, the computers – put APM in a position to succeed. But they still had to find customers, do quality work, and get paid for it.
Nowadays much of that starts with the company website (www.apm-lex.com), which is filled with the standard information, company history, contact information and pictures of recent jobs. The site also contains some innovative ideas, including:
A sealcoating bid comparison page
How to write specifications for competitive bids, and
A page customers can use to grade their own parking lot to determine the type of work they might need. And it's all geared toward getting the customers.
"We have learned through experience, that we can't just take every job that comes down the pike," Kramer says. "We must evaluate both the customer and the work. Can the customer afford us and is he willing to pay on time for what we do?
"We must also evaluate the job based on our capability, experience and equipment to perform the work. Can our crew handle the job with the equipment that we have provided them?
"The first red flag that goes up is usually the one where the customer says, 'Be sure to give me a good price' on our initial site visit," Kramer says. "If his criteria in hiring us are based solely on price, we'll probably take a second look before accepting the work.
"We do best when working for a particular type of customer. They all may have a great job but, if they are not a great customer, we're not interested. We have learned through trial and error that we've got to qualify our customer base."
Kramer says the company's receivables report is short, partly because APM qualifies customers "on the front end, we generally have very little problem getting our money on the back end."
But there's more to it than that.
"We strive to be proactive at the completion of a job to make sure the customer is happy," he says. "We offer to have a personal walk-through with the customer to take care of any punch list items before we leave the job.
"Also, our terms are generally net 10 days which helps us identify problems early on."