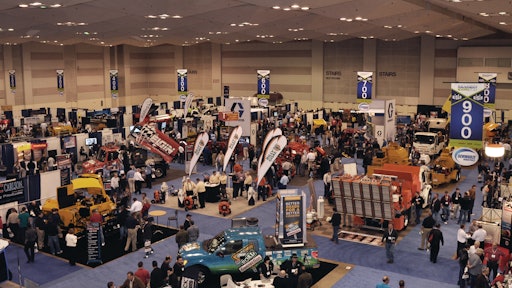 As National Pavement Expo continues to show renewed growth while the construction economy slowly rebounds, Cygnus Business Media announced that next year it will shift the hours of its trade show to highlight the exhibit floor and give contractors an early look at what's in store for them.
The 2013 NPE, set for Jan. 23-26 in Nashville, will host a networking reception on the exhibit floor on the evening of Wednesday, Feb. 23, following a full day of conferences. "Typically the first day of NPE has been conference-only but there is quite a bit of interest to open the exhibit floor for a 'sneak peek' that evening," said Amy Schwandt, publisher of Pavement Maintenance & Reconstruction and co-manager of NPE. "Contractors will be able to get a taste of what's on the floor and then can spend more time out there on Thursday and Friday."
Because the floor will open on Wednesday the exhibit hall will close at 5:00 on Friday afternoon, Jan. 25. There will be no exhibit hours on Jan. 26 but NPE will still offer the full round of 10 Saturday morning seminars.
"Details still are being worked out but contractors can bank on getting a look at the floor that first day," Schwandt said. "We're looking forward to showcasing the best companies in the industry."
More than 2,000 paving and pavement maintenance professionals attended the 2012 NPE Feb. 15-18 in Memphis, an increase of 5% over 2011, which was up significantly over 2010. "NPE has always had a reputation as the 'must-attend" event for paving and pavement maintenance contractors, and that's still the case," Schwandt said. "The combination of the broad-based exhibit floor, varied networking opportunities, and a high-quality conference program that offers everything from technical know-how to management insights for owners and supervisors makes NPE the focal point of the paving and pavement maintenance industry."
She said exhibitor comments indicated an increase in business being done on the show floor over 2011, and in the National Pavement Expo post-show survey one exhibitor credited the show with more than $1 million in sales. "The overall vibe at the show was that exhibitors and attendees were beyond pleased," Schwandt said. "Our on-site registration was through the roof. The energy and excitement for the pavement maintenance industry in 2012 and beyond looks promising and contractors are ready to purchase new equipment."
One of the highlights of this year's event was the extensive conference and seminar program. More than 50 seminars and workshops – including 33 new sessions -- were available for attendees, with some seminars boasting a standing room only crowd.
"Without a doubt one of the best-attended conference programs we've had in years," said Allan Heydorn, conference manager and editor of Pavement Maintenance & Reconstruction. "Paving and pavement maintenance contractors really took advantage of the opportunity to learn from other industry professionals and consultants and they took home great put-to-work information they apply right away."
For information about NPE 2013, Jan. 23-26 in Nashville, visit www.NationalPavementExpo.com.