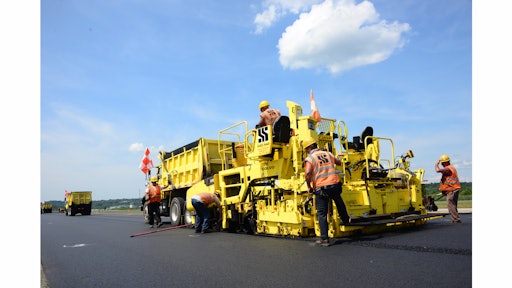 Morristown Municipal Airport, centrally located in northern New Jersey, is a public reliever airport designed to provide relief or additional capacity to an area when the primary commercial airport reaches capacity. Owned by the municipality of Morristown, it sits three miles east of downtown in the Whippany section of Hanover Township.
On average, the Morristown Municipal Airport has over 72,000 aircraft operations per year, or about 198 per day. It covers 625 acres and has two asphalt runways: 5/23 is 6,000 feet long by 150 feet wide while 13/31 is 4,000 feet long by 150 wide.
Recently, Runway 5/23 needed some attention. The airport needed to rehabilitate the center 50-foot-wide keel of its pavement.
To match available funding, the project is being completed over several years. "This is the second year – Phase 2 – which includes 1,200 feet of the runway's 6,000-foot length," says David Jones with Delta Airport Consultants.
Because the runway was carrying heavier loads than it was initially designed for, the pavement was severely cracked due to both wear and age. The centerline crown was fractured and failing, says Jones.
"The goal of the project is to rehabilitate the keel by removing and replacing the previous two overlay lifts that exhibited signs of excessive voids and aggregate cracking, and restore the center 18-inch crown which had fractured and was settling excessively," he says.
Project details
Smith-Sondy Asphalt Construction Company, Wallington, NJ, was chosen to tackle the runway rehab in early August of this year. Established in 1946, Smith-Sondy is a high-volume paving contractor responsible for road reconstruction, bridge-deck repairs and paving throughout northern New Jersey and sections of New York. The company is a member of the National Asphalt Paving Association, National Utility & Transportation Contractors' Association, and the New Jersey Asphalt Paving Association.
"Most of our work is here in northern New Jersey," says company president Joseph C. Smith, whose father founded the paving company with Joseph Sondy. "We've always had an excellent reputation as a residential and commercial paving contractor and we have passed that reputation on to the municipal and state markets as well."
Riverview Milling was the subcontractor working under Smith-Sondy to complete the milling portion of the project, which included milling a 9-inch depth with 1-foot edge steps and 5- to 15-foot steps at the end of every 3 inches of thickness for transitioning into existing pavement.
Other details of the project included repairing any cracks as required, placing an asphalt overlay fabric, placing three 3-inch lifts of asphalt, providing temporary marking, grooving the pavement after 30 days of cure, and creating final markings with glass beads.
According to Jack Meyer, project superintendent for Smith-Sondy, 3,500 tons of asphalt was laid for Phase 2 of Runway 5/23's rehab. The specification required an FAA P-401 SP Superpave mix, supplied by Tilcon, with a total thickness of 9 inches, laid in three 3-inch lifts.
"This runway was wavy," says Meyer. "A lot planes didn't like to use it because it was bumpy."
A fabric underlayment was also installed to help prevent reflective cracking coming up through the new asphalt.
Smooth moves from the new paver
Smith-Sondy had recently invested in a new Volvo P7110 tracked paver from Penn Jersey Machinery, a Volvo dealer located in Frenchtown, NJ, that was used on the Morristown Airport project.
"Most important to me in a paver is reliability and secondly is serviceability and the ease of operation of the equipment. I have been a Blaw-Knox customer since I bought my first used paver in 1978 and have bought Blaw-Knox (and Volvo) ever since," says Smith.
He adds, "We usually buy a new paver every five years, but this time we waited seven. We were concerned about the new Tier 4 engines and the fact that with the new engine design the pavers were being built higher, which caused obstruction with trees during municipal paving."
The P7110 has several features that help it deliver the power, precision and quality needed on a job like repairing Runway 5/23. It's powered by a 235-hp Volvo D8 Tier 4i engine that employs a diesel particulate filter (DPF) and an active, semi-automatic regeneration process that doesn't interrupt productivity, operation or performance. The 7000 series pavers have a low profile, single level platform design that provides an unobstructed view of the material flow from truck, to auger tunnel, to end gate.
Four standard ultrasonic sensors automatically regulate the hopper delivery and flow of material to match the paver's speed and ensure smooth and consistent paving. This system can also run on two sensors when using the optional flow gates.
"The sonic feed sensors helped monitor a smooth, consistent feed of material from the hopper to the screed," says Meyer.
Volvo offers a range of screeds with front- or rear-mounted extensions. Smith-Sondy used an electric-heated Omni 318 screed with vibratory tampers.
"The vibratory screed gave us good initial compaction," says Meyer. Following the paver were a Caterpillar CB54 and Ingersoll Rand DD118 and DD110 rollers.
A Topcon automated grade system from Cleary Machinery was also mounted to the paver and used for joint matching. "Using this grade system meant perfectly matched joints, which aid in consistent joint density and smoothness," says Meyer.
Overcoming challenges
One of the challenges of repairing the wavy runway could have been an uncooperative Mother Nature. Weather delays would have wreaked havoc on the schedule, says Meyer, but they actually finished early.
"We had a 13-day window in which we were allowed to work any time we wanted," he says. "Liquidated damages on the project were substantial, so no time could be wasted. We took advantage of the good weather and worked longer days and finished four days ahead of schedule."
Meyer credits a well-coordinated team effort and well-running equipment for overcoming any challenges and successfully rehabbing Runway 5/23.  "Mel Oxenreider was an integral part of the project, assisting in the coordination efforts," adds Meyer.  They worked closely with not only the survey crew to constantly monitor grades, but all of the many components of this project to ensure a quality product.
Meyer was excited with the P7110's performance on this job. "We chose this paver based on our past 35 years of experience with Blaw-Knox equipment," he says. "Volvo has embraced the Blaw-Knox paver and upgraded the machine to today's standards while keeping the basic systems intact."