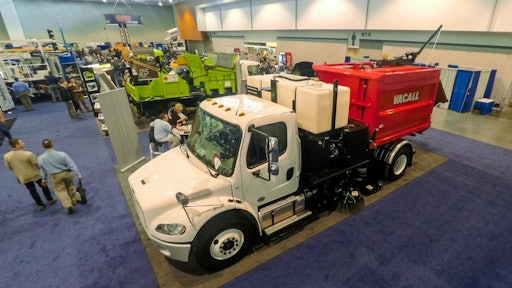 National Pavement Expo has been at the forefront of the industry for 30 years showcasing the latest trends and upgrades to pavement & pavement maintenance contractors. This year was no different as several exhibitors waited until the show floor opened in Nashville to let the industry see what they have been working on to help you improve your business. Whether your business focuses on striping, paving or total pavement maintenance, it was easy to find new equipment and upgrades that can help you work faster and more efficiently. 
Titan: Upgrades PowrLiner Series
The new smart features on the Titan PowrLiner series offer users more control, convenience and comfort over previous models.
The SmartArm system is a folding gun boom that folds in and out on the striper, allowing for easy transportation, set-up and storage. This new feature also gives users two ways to adjust both the gun height and fan width with a crank of a handle.
A new control panel on the PowrLiner series places the throttle and pressure controls front and center on the unit. This eliminates the need to stop to make adjustments so you can keep spraying and complete jobs faster.
Also introduced for the PowrLiner Series is the Speeflo Hydradrive which incorporates a hydraulic pump which is ideal for heavy-duty, long-term use on bigger striping projects. The smooth hydraulic operation can extend the operational life of the sprayer.
Finally, convenience meets with productivity with the additional options of a storage tray, cup holder and 12-volt plug-in that can charge your cell phone.
Video: Titan Upgrades PowrLiner Series
Product Details: PowrLiner 2855 
Ray-Tech: 2-Ton Mini TMV
Celebrating 25 years in business, Ray-Tech introduced their new Total Maintenance Vehicle, (TMV) to the industry at NPE. The combination reclaimer and infrared pavement heater enables the user to make year-round, permanent restorations.
The 2-ton TMV is mounted on a Ford 550 chassis making it smaller than typical maintenance vehicles. The smaller size means operators do not need a CDL to drive the unit.
Five propane tanks in the back to run the 8' x 6' infrared unit do not require any special HazMat permits. 
"This vehicle is great for municipalities that need to make repairs on smaller city streets, but do not have CDL staff on hand at all times," Wes Van Velsor of Ray-Tech.
Product Details: 2-Ton TMV
Carlson Paving Products: Joint Density Attachment & LED Blade Light
Whether you're paving a road or parking lot, joints are consistently the most common point of failure in pavement. The cold side of the joint does not properly bond with fresh, hot asphalt, leaving air voids and causing density issues. At NPE, Carlson Paving introduced their new Joint Density Attachment with one solution to joint density problems.
Through the use of a higher angle of attack and an electrically heated element, the 4" bolt-on forces increased material into the side cut, greatly reducing voids and yielding higher density numbers at the joint. This enables contractors to hit specific job requirements by increasing the overall density of the joints, to create a longer lasting and more dense joint while maintain consistent heat with the main screed and extensions.
The universal attachment is easily adjustable and can be fitted on the right or left hand side.
Carlson also introduced the LED Blade Light. Utilizing an innovative mounting system that allows simple adjustments to direct light to where it is needed, the LED Blade Light eliminates shadows and extends the distance for delivering light so operators of machinery are able to better see their surroundings while the dangers of approaching drivers distracted by flood lighting is significantly reduced.
The LED uses 90% less power needed than a traditional 2000 watt halogen balloon light and has a life span of 50,000 hours. Available in one or two blade configurations, the LED Blade light is available in a 120/240VAC version or a 12/24VDC version, allowing it to be mounted on a wide array of equipment including rollers, pavers, milling machines, and any machinery equipped with a generator, or just an alternator
Because of the revolutionary design and energy efficiency of the LED Blade Light, Carlson says you could see up to up to $1,000 in annual fuel savings when compared to a traditional 2000 watt halogen light system. Combine this with the common replacement costs associated with halogen systems and you could see savings up to $2,000 annually.
Product Details: Joint Density Attachment
Video: Joint Density Attachment
Product Details: LED Blade Light
Neal: Upgrades DA-350
Neal Manufacturing showcased a blower upgrade to the DA-350 sealcoating machine at NPE. The addition of a high-powered blower helps users quickly and easily prepare surfaces for sealcoat application. The blower produces more than 6,000 cfm, equal to more than three walk-behind, for fast and thorough dirt and debris clearing. The blower unit rotates, allowing contractors to lock it in an upright position for transportation or move it down for operation. The nozzle on the blower articulates 360 degrees enabling the contractor to blow debris in the optimum direction. Once the blower cleans the area, a 40-gallon fogger system cools surfaces prior to application to ensure optimal adhesion. 
The new 8-foot, diamond-shaped squeegee assembly features internal baffles that help distribute material more evenly than squeegee assemblies without baffles. After applying a coat with the squeegee, contractors can apply a second coat with the DA-350's six-nozzle spray bar. A spray coat also can be applied with a 6-foot hand wand connected to 75 feet of reinforced hose for added versatility on the jobsite. 
An upgraded control panel allows users to access all electrical controls from one centralized location. Since many sealcoating jobs are done at night when there is less traffic, Neal also added LED working lights to the front and back of the upgraded DA-350 so contractors can easily work into the darkness. 
Product Details: DA-350 Sealcoating Machine
Video: Neal Introduces New Blower Attachment for DA-350
Elgin: New Peterbilt 220 Cab-Over Chassis
Elgin introduces the medium-duty Peterbilt Model 220 cab-over chassis option for its line of air and mechanical street sweepers. Elgin showcased a Crosswind regenerative air sweeper mounted on the Peterbilt chassis at the company's exhibit at NPE.
The Peterbilt chassis features a 16% shorter turning radius and a 40% closer forward visibility than conventional models. With a wheel-cut angle of up to 53 degrees, the Model 220 has a curb-to-curb turning radius of 22.5 feet on a 156-inch wheelbase truck, and a 17.5 foot curb-to-curb on a 121-inch wheelbase.
The chassis is equipped with a 6.7-liter PACCAR PX-7 engine with up to 260 horsepower and up to 660 ft-lbs of torque. The engine delivers superior performance, minimizes operational costs and maximizes uptime. The standard automatic Allison transmission has a push-button shifter for easy engagement. 
The cab features a completely redesigned interior, providing operators with improved comfort, safety and productivity. An expansive, 2,500-square-inch windshield and extra-large side windows provide the operator with a panoramic view of the surroundings. Other standard cab features include air-ride seats, power windows, heated remote mirrors, daytime running lamps, 18-inch diameter tilt steering column, and AM/FM/MP3 stereo.  
A curved dashboard features easy-to-read instrumentation and an interactive, 5-inch color display module that monitors vital vehicle and engine functions, as well as driver performance. The Driver Performance Assistant coaches operators with real-time driving tips to improve fuel economy and reduce component wear. Instrumentation and switches are located within easy reach of the driver.
The Peterbilt right-hand steer only chassis is available for Elgin Sweeper's air and mechanical sweepers. A dual-steer version of the Peterbilt chassis option will be available for the company's air and mechanical sweepers later in 2015.
Product Details: Elgin Introduces Peterbilt 220 Cab-Over Chassis
MRL: 1-120AA Paint Truck
Mark Rite Lines Equipment Company introduced the brand new 1-120AA Paint Truck at NPE. This new highway paint truck sits on a 2014 HINO 338, 26,000 GVW, 187" Wheel Base with a 260 hp 6 cylinder turbo diesel engine,  Allison 2500 RDS 6 speed automatic electronic transmission, 90 gallon fuel tank and 135 amp alternator.
The truck has two 120 gallon capacity 30" diameter A.S.M.E. certified stainless steel paint tanks with hydraulically driven stainless steel agitator assemblies installed inside.
A thermostatically controlled paint heating system will be installed that includes: "slave heat" drawn off the air compressor diesel engine and an insulation wrap installed on paint lines from the manifolds to the spray guns.
CENTERLINE GUN CARRIAGE: With auto lift in reverse feature.
Three (3) Kamber 38-15 spray guns with "flush on the fly feature"
Three (3) 12-volt linear actuators with dust covers to raise and lower the spray guns
Two (2) MRL bead guns with adjustable width duckfeet.       
EDGELINE GUN CARRIAGE: With auto lift in reverse feature.
Two (2) Kamber 38-15 spray gun with "flush on the fly feature".                                 
Two (2) MRL bead guns with adjustable width duckfeet.
Two (2) linear actuators with dust cover to raise and lower the spray guns
GLASS BEAD SYSTEM
One (1) 1,500 pound capacity, 30" diameter, A.S.M.E. certified bead tank with Three (3) sight glasses
Venturi vacuum load system on tank. Venturi exhausted below the deck through muffler.
Product Details: 1-120AA Paint Truck
Vacall: Single Engine Vacuum Sweeper 
Brand new to NPE and the industry is the Single Engine Vaccum Sweeper from Vacall. At their first sweeping related show with this line of equipment, Vacall hopes this addition to their industrial vacuum product line gains traction in the industry.
The unit is available in 10, 13 and 16 cu. yd. capacities. Unlike most sweepers, this new item runs off a single engine for both the cab and sweeping operations. While sweeping, the unit operates in hydrostatic drive, which is a technology that was developed by Vacall's parent company, Gradall Industries. 
Video: Vacall Introduces New Single Engine Vacuum Sweeper at NPE
Graco: GrindLazer 630
The GrindLazer 630 is new to the Graco product offering, give contractors a solution to remove all types of lines found on parking lots and roadways. The GrindLazer 630 now also gives users the ability to do inlay and grooving jobs with the same piece of equipment.
Combined with the Graco LineDriver, the GrindLazer 630 features a 21 HP V-Twin Vanguard engine with a Donaldson dual clean air filtration system.
InstaCut Technology provides up to four times less vibration, providing operators a more comfortable ride while the DialDown Depth Control System allows you to precisely adjust cutters for optimum depth.
Cimline: Magma 150
Celebrating their 45th Anniversary, Cimline upgraded the Magma 150.  The Magma has always been Cimline's quickest production cracksealing model with its fast heat up time, but now it's also the greenest with the addition of an afterburner.  The technology, which was introduced at the show, removes and cleans all the smoke and fumes from the Magma cracksealer to create an odorless exhaust.
"It's cleaner on your neighborhoods and cleaner on your operators," Steve Johnson with Cimline says.
Product Details: Magma 150
Video: Cimline Introduces New Afterburner for Magma Machines 
Heat Design Equipment: RAP-100-SM Asphalt Recycler
The RAP-100-SM is a skid mount model asphalt recycler based on HDE's powerful infrared heat, rather than conventional torch technology.
This model is designed for small- scale production of recycled asphalt for pothole repair. The 100,000 btu propane fired infrared heater emits high intensity infrared heat from it's 4' x 16" full surface infrared heater, allowing re-heating RAP or waste chunks of asphalt at the rate of 1-2 ton per hour.
A half ton batch at a time can be processed, and with full heating capacity and minimal moisture conditions of the rap a batch can be re-heated in as little as 15 minutes.
The unique HDE infrared heater needs no battery or blower for operation, naturally fueled by propane pressure in a standard propane tank. The unique feature of the heater is the ability of adjusting the degree of infrared emission for jobsite control by simply adjusting the regulator from the propane tank.
The no flame technology of infrared is controlled via a certain gas pressure through a standard size orifice so gas consumption can be accurately predicted. Gas consumption for the 100,000 btu capacity heater is rated at 3 US Gallons per hour. 
Product Details: Rap-100-SM Asphalt Recycler