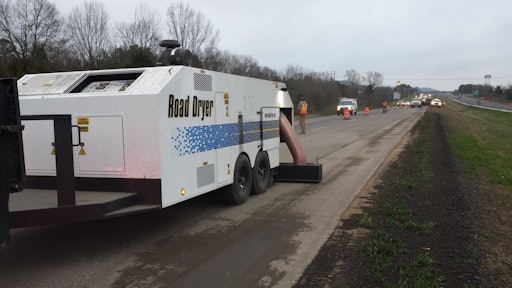 How many paving hours – or days – do you lose each year to damp pavement? And what's the impact of that lost time on your productivity? Profit? Customers?
Those are questions that for years plagued Blackstone Construction, a hot mix asphalt producer and paving contractor based in Russellville, AR. According to Stephen Baughn, general manager, the company, which employs up to 50 people during peak season, generates 80% of its paving sales from highway paving and 20% from paving city streets, commercial parking lots and other private work.
Baughn says Blackstone operates a 5-ft. paver, an 8-ft. paver and several 10-ft. mainline pavers. "We have a lot of pavers for the size of contractor we are but that's for diversification," he says. "We are flexible enough we can take on any paving job."
He says Blackstone's crews are trained to be able to operate all the units. "They have to be diverse enough to be able to work on parking lots and highways," Baughn says. "We don't have a highway crew and a parking lot crew. Everyone works on all type of jobs and that enables us to be a lot more productive and makes scheduling easier."
He says Blackstone's two asphalt drum mix plants produce about 150,000 tons of HMA in a normal year but last year produced twice that much because they had the work. Virtually all the mix is used by Blackstone on its jobs but up to 5% is sold to other contractors.
So with all that capacity to produce mix and with two paving crews and a milling crew to keep busy – and with private, commercial and state contracts to juggle, any disruption in a paving schedule can have significant ramifications for many aspects of the company.
"Once you've got a crew on the payroll you want to get them in and out as quickly as possible before overtime starts eating into your profits," he says.
Baughn says that as recently as 30 years ago he was working on a project in northeastern Arkansas where the weather was so uncooperative he couldn't finish the paving on schedule. "Even back then we recognized what it cost us in terms of productivity and profit and how it affected the other work we had on our schedule," he says.
"Basically all we've got to have is dry pavement. We need no moisture on the surface of the pavement and temperatures of 40° F and rising and we can go ahead and pave," Baughn says.
But other than guessing when the sun would come out and how long it would take to dry the pavement to the point where paving could start, Blackstone Construction – like many contractors -- was stuck.
Drying the Pavement
But last October, when facing bad weather and nearing the end of the season, they recalled hearing about a piece of equipment that might solve their problems. The Road Dryer RD-1200 is a portable self-contained system that can be towed behind truck, broom or tractor. Weighing roughly 10,000 lbs., the unit measures 24 ft. x 7 ½ ft. and relies on a diesel burner to generate 400° F air which is blown under pressure to the pavement, drying the surface and transferring some heat to the pavement in the process. The unit can be pulled at anywhere from 10 feet per minute up to 50 feet per minute depending on how wet the pavement is.
"It's a super-charged big hair dryer that runs off diesel," Baughn says.
Baughn says Blackstone leased the Road Dryer at the end of November and put it to work immediately. It worked so well for them (they used it 25 days over three months) that on March 18 the contractor took delivery of its own Road Dryer.
Maintaining Productivity
Baughn says that like most contractors, bad weather results in losing a whole day of work or several hours. "And time is money," he says.
"Now even if it's a marginal day I can make it worthwhile to pave," he says. "A lot of contractors can only get in a half day of work on those types of days and because of the time and cost it takes to mobilize and start up it might not be worth it to go out there and work for a half day. This way we can get a whole day in. We don't want to go out for an hour or two but want to maximize production."
Baughn says that because they can add hours to a shift they also are able to increase production at the plant. "Now I can tell the plant what time to start. When I'm out there at 6:00 a.m. and I know I can dry it out I can tell the plant to go ahead and start production and start shipping the mix at 8:00 because now I know I'm going to pave a whole day," he says. "Before I'd have to look at the weather and wait for the sun to come out try to guess how long it would take to dry and what time I could get the crew started."
One day in mid-March was a good example of the impact of the Road Dryer on Blackstone's work. Baughn says it drizzled all day but it was light enough so the crew was still able to mill in the rain. The next morning, however, the milled area was still wet so the crew took the Road Dryer out at 6:00 a.m. and started drying the milled pavement.
"Because we got on the job drying it at six we were able to get the paving crew started at 9:00 a.m.," he says. "Without it we wouldn't have been able to start paving until 11:00 or 12:00 or maybe not at all."
He says that on parking lots where it's rained the night before there's a good chance Blackstone's crews aren't able to work the next day at all. "But because we scheduled the work with the customers and they've conveyed that to their tenants we want to maintain that schedule if we can," he says. "The dryer not only helps our production but gives us a competitive advantage because we can do the work when we tell our customers we're going to do it."
Baughn says there is a brief learning curve with the RD-1200, mainly because it takes a little getting used to handling it and because it takes a little practice to figure out the pace at which to drive over the wet pavement, which varies depending on the amount of moisture. "But the good thing is if you start out driving too fast you can always back up and go over it again," he says.
He says generally Blackstone has used the Road Dryer two or three hours a day, but those few hours enabled his crew to start paving on time as scheduled and has enabled them to maintain their schedule and keep the customer satisfied. "The most we've ever used it was four hours in a day, but those were a critical four hours," he says. "Say we're paving 250 tons an hour and we were delayed three hours. That puts us 750 tons behind – and the plant either isn't producing mix during that time or just sitting on it.
"It's probably difficult for contractors to see adding this equipment when they see the price. Most contractors will say it's a lot of money and it is," Baughn says. "But you can increase your work day and extend your season with it and that's how to look at it."
He estimates that the machine will have paid for itself in about three years despite the fact it's used primarily in the fall, winter and spring. "That's when we get the biggest bang for our buck," he says. "A three-year payback for any high-end machine is pretty good."