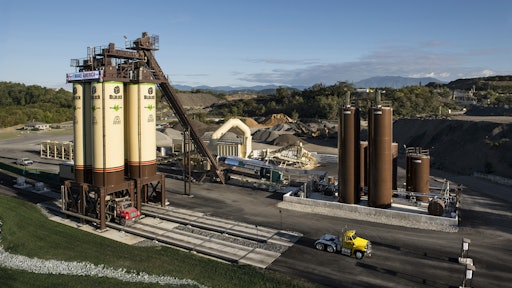 More than 75 years ago in Tennessee, Charles L. Blalock began a business endeavor that grew into Blalock Companies. Today, the companies started so long ago are still operating successfully, including divisions for highway and bridge construction, site excavation and utilities, asphalt paving and production, ready mix concrete production, concrete and precast construction, property development, and building material sales.
It was 1963 when Charlie and his sons formed Charles Blalock & Sons Inc. This venture was dedicated to road construction and became a major asphalt supplier in Sevier County, TN. 
With more than one asphalt plant currently in the Great Smoky Mountains area, being environmentally aware is a top priority, which means using the latest technology to reduce the impact on the surroundings. To meet this need and requirement, Will Smith, asphalt plant manager with Charles Blalock & Sons, made the Astec introduction to Kevin Blalock, vice president of Charles Blalock & Sons.
"We met with Don Brock and discussed the plant features and options that would be best for our location to meet environmental standards," says Blalock. "We aim to be good environmental stewards across all platforms of our business, from construction to plant design to utilizing recycled materials."
Long-term storage
After finalizing the plant design, Charles Blalock & Sons purchased Astec's Relocatable 400-tph Double Barrel plant for the Park Road location in Sevierville, TN. The new asphalt plant features natural gas heating, recycled aggregate feeds, and grid power to minimize its environmental footprint while increasing output.
Another key feature of the new plant is the four-silo configuration consisting of the 600-ton New Generation storage system (two silos) and two additional 300-ton silos. The silos increase the number of mixes that can be offered during a production cycle. This gives customers more options for their paving needs. 
"We supply a majority of the asphalt on the Tennessee side of the Great Smoky Mountains National Park," says Blalock. "Having the ability to store mixes maximizes the availability to provide materials to our customers on demand."
Prior to the New Generation storage system, Charles Blalock & Sons had not used long-term storage for its mixes. This adjustment meant learning new skills for productivity.
"Our operators had to learn to put the mix in at the right temperature," says Blalock. "Once we overcame the learning curve, the storage of our mixes has been fantastic. I would recommend to anyone looking into an asphalt plant and considering long-term storage to speak to Astec. We have consistently stored mix for up to three days knowing the silos could store up to four days."
Smith adds: "We've sent operators and other staff, including myself, to Astec's Advanced Customer Schools to increase our knowledge and hands-on ability to make our plant as efficient as possible."
High recycled mixes
According to Blalock, the Astec Double Barrel plant is running RAP (reclaimed asphalt pavement) for various projects.
"The plant is equipped to run RAP up to 50%, which is what we used to pave our parking lot," he says. "The Tennessee Department of Transportation (TDOT) specs 35% in its mixes. We've been running at maximum capacity since we fired up the plant."
The plant has other notable features that offer various benefits.
"The variable speed motors have been a great benefit to us — not just on energy savings, but helping us control heat and production," says Smith. "We have the Self-Cleaning System on the Double Barrel drum mixer and it all but eliminates the buildup."
For Smith, having a plant with the latest in technology has its advantages.
"It's a good thing to not have to get up as early to make the mix," he says. "The storage silos are a time-saving feature we didn't have before and that's a good thing."
Blalock emphasizes the importance of having the best equipment and technology to improve the bottom line.
"As an asphalt producer working to maximize the potential job opportunities in a certain market or region, having the ability to produce various mixes is crucial, and so is the means for storing the finished products for availability upon demand," he says. "The benefits of having long-term storage silos can mean the difference between having a good year and having a great year; we're off to a great start."