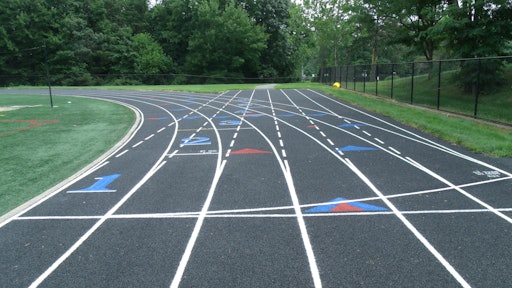 The 400-meter running track at South River High School in Anne Arundle County, Maryland, was in bad shape. The rubberized surface was cracking, the asphalt had worn through the rubber in some places, and the asphalt itself exhibited more-than-normal cracking.
Enter American Tennis Courts, a Baltimore-based contractor specializing in sports surfaces.
"We walked the track and there was no question it was in need of repair," says Nick Rouhana, vice president/general manager, American Tennis Courts. "The question was, to what extent?
"We try to determine the best course of action for schools because they have budget constraints but they need the track fixed. So we try to determine if we can do a repair or if the track has already reached its shelf life, in which case we need to do more than just fix the damaged areas," Rouhana says. "We also try to find out as much as we can about the existing track because it helps us determine what the problems might be, what challenges we might face and how best to deal with it.
He says that often they can make a judgment based on the asphalt outside the track such as around established fencing or beneath bleachers. "That pavement is often placed at the same time as the track so we can get some insight into what's underneath the rubber by examining the asphalt nearby."
But in the case of the South River High School track, American Tennis Courts crews took core samples and learned they were dealing with 3/8 in. of rubberized surface atop 4 in. of asphalt. In this case they were able to determine the track was more than 10 years old.
Rouhana says the rubber surface showed signs of severe dehydration and cracking, but there was little delamination from the asphalt. But those problems, combined with the cracks in the underlying asphalt, indicated the track needed to be refurbished.
Pursuing a Niche Market
Started in 1960 as a sports construction company, American Tennis Courts today is a woman-owned minority business employing 100 people in peak season and dropping to about 30 during the winter. The company generates 80% of its revenue from maintaining, repairing, refurbishing and constructing sports surfaces and 20% from commercial paving.
American Tennis Courts covers the mid-Atlantic region from southern Virginia to northern New Jersey, each year working on more than 1,000 tennis courts and more than 50 running tracks. "It's a very niche business, but it's a staple at every high school or university that they have a running track and tennis courts. So they need to be maintained and repaired and in some cases reconstructed. Plus there are tennis courts for park districts, country clubs and condominiums," he says,
Rouhana says the contractor started its paving division only five years ago, and that division does grading, stone base installation and hot mix asphalt laydown and compaction – on sports surfaces and commercial properties. They also have an in-house fencing division which enables American Tennis Courts to provide a turnkey construction service from the ground up.
"The paving division rose out of the necessity to control our own schedule and work," Rouhana says. "Prior to that we relied on paving subcontractors to do our work but we were always at the mercy of their own paving schedule. And because of our narrow work window – mainly a little more than three months when the kids aren't in school because they don't want us working with heavy equipment and doing construction while the kids are around – that became an issue. We need to do the work when the schools are closed."
Removing the Rubber Surface
Before any reconstruction work could start on the South River High School track, American Tennis Courts needed to remove the 3/8-in. thick layer of rubber. Crews used a motor grader with the blade down to strip the rubber from the asphalt. Two skid steers pick up the rubber debris and deposit it for hauling to a dump site.
"The grader just drives around and around the track until the rubber surface is skimmed off. You don't get it in one peel, especially if it's still sticking well in most places like this was. But you just have to be patient and persistent and you have to have an experienced operator to you get it done," he says.
He says that in some cases, when the underlying asphalt is going to be used as it is, American Tennis Courts crew has to be especially careful not to nick the pavement, but in this case there was less concern because they had decided to mill the top two inches of asphalt anyway.
"Sometimes we don't know the condition of the underlying asphalt so we're careful not to nick or gouge it until we know what we're going to do with it," he says. "The three-day process usually results in a very clean surface free of the rubber material."
Milling & Paving
Once the rubber was removed American Tennis Courts milled out two inches of asphalt. Milling was subcontracted to a local milling specialist who uses a continuous milling train and the 400 meter, 25-ft.-wide track was milled in a single day.
Then American Tennis Courts paving crew repaved the surface, replacing the 2 in. of asphalt. Rouhana said the track was paved with a mix of 9.5 mm aggregate though some track use 12.5 mm aggregate. "You don't want to use a mix that's too open," he says. "If it's too open it takes too much rubber material to construct the surface, which is more costly. The goal is a smooth mat with an even pitch and you'll have an even distribution of the rubber surface on the running track."
Rouhana says the job relied on a typical paving train with dump trucks feeding the paver, which was followed closely by rollers. He says the trickiest part of paving a running track is the curves, and his crews have a lot of experience paving through them easily and getting proper compaction and the smoothness that's important on a sports surface.
Paving was done with a 1% pitch, which is required by the American Sports Builders Association. "It isn't much but it's important to get the water off the track," he says. "And there can't be any undulations because that can affect the runners and their times."
He says the paving crew relied on a 10-ft. straightedge behind the paver to make sure the mat is smooth. "We pay close attention to that as a check so we can adjust it with rollers if need be -- and also so we can adjust the mix placement as we're moving ahead," he says. "We measure the depth and fine tune as we go."
He says that in most case the 1% pitch drains toward the field in the interior of the track because that's usually where the drains are. "It's a very strict tolerance and it takes some expertise and craftsmanship and experience to get it right," he says. "You can't just plug and play. John Johnson, our asphalt foreman, has 30 years' experience and it shows especially on jobs like this."
He says paving took two days, one day for the interior oval and a second day for the exterior oval. "Most tracks like this one have only one paving seam and it runs in the middle of the track all the way around," he says.
Constructing the Rubberized Surface
After the asphalt mat sat for 14 days to allow some of the oils to cure out, crews work a day installing plastic and fencing, which is draped with plastic, to protect the field from overspray of the binder material.
Once that's in place American Tennis Courts begin the three-step process of installing Plexitrac Lightning, a 3/8-in. black running track surface.
Step 1. Prime the track. A special primer is applied using a hand wand. Four 55-gal. drums of primer are applied from a Ford 350 outfitted with tanks.
Step 2. After the primer dries, typically the next day, crews apply rubber granules and a binder. Rubber granules are 1-3 mm in size and made of ground up recycled tires supplied by Liberty Tires Inc. The rubber granules come in 50-lb. plastic bags which are delivered on site. The bags are loaded into the hopper on the Ford 350, and the truck broadcasts the rubber granules evenly across the track as it circles the oval. Once granules have been spread a truck follows using a hand wand to spray apply binder on top of the granules. The binder application requires two passes. Installation of rubber granules and two passes of binder takes about six hours, and then it's allowed to dry overnight. That process (except for the binder) is repeated five times to build up a 3/8-in.-thick rubberized running surface.
Step 3. A final ultraviolet protective coating is applied in a sixth application once the rubberized surface is constructed.
Rouhana says that start to finish the South River High School running track took 40 days to complete, including 14 days where it sat idle waiting for the asphalt to cure before the rubber surface was installed.