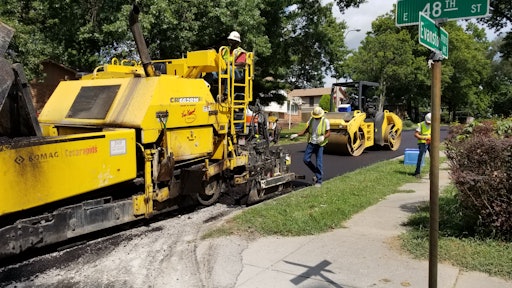 The asphalt industry is inventive and dynamic, ever changing to meet project owner needs, higher road life-cycle demands and budget constraints. Perpetual pavement construction, mill-and-fill overlays, hot-in-place recycling, cold-in-place recycling, and chip seal practices, to name a few, are at the asphalt paving contractor's disposal to satisfy virtually every customer need.                                                                                                           
Asphalt mix designs have also evolved over the years. From containing high recycled material content to additives for meeting a market's special needs, asphalt mixes are growing in complexity to produce as well as pave. "In our market, we see mix with high percentages of RAP, winter additives that melt snow, recycled tire and shingle additives, and non-local hard rock aggregate," comments Andrew Fahey, vice president of Grandview (Kansas City), Mo.-based J. M. Fahey Construction Company.
These changes in asphalt mix designs can make it more difficult for the paving contractor to meet material and/or thermal segregation specifications. Even if no formal segregation spec exists on a project, segregated aggregate and inconsistent temperatures throughout the mat pose a challenge for the contractor. "Cool spots in the mat make it difficult for the rollers to achieve density specifications," comments Bill Rieken, paver applications specialist for BOMAG Americas, Inc.
For years, paving equipment that offers asphalt reblending capabilities at the project site were thought by many contractors to be reserved for high-profile road projects, airports or mainline paving, where stringent specifications demanded the use of this "specialized" equipment. Remix pavers and material transfer vehicles offered mix consistency and the ability to pave non-stop to deliver a mat that stood up to heavy wheel loads and high traffic counts.  
Some contractors, like Fahey Construction and Towanda, Kan.-based Dustrol, Inc., have bucked this tradition and expanded the use of this "specialized" paving equipment for many years. Fahey Construction feeds its CR662RM a steady diet of commercial projects, while Dustrol uses its Remix machines for a hot-in-place recycle process. "We expect to deliver high mat quality in whatever application we encounter, and the CR662RM has given us the ability to provide a superior product in any case," says Fahey.  
Commercial Success
For more than a decade, Fahey Construction has used a Remix auger paver on its commercial paving projects. Keeping its utility, concrete and asphalt paving work within a 75-mi (121-km) radius of the Kansas City metro area, the company's workload consists of 90 percent public municipal work and 10 percent private projects. 
Fahey Construction's two asphalt crews pave everything from parking lots to mill overlays in urban neighborhoods to main thoroughfares and D.O.T. mainline projects. For its smaller projects, the contractor uses the 8-ft (2.4-m) Cedarapids CR362L rubber track commercial paver. Offering paving widths from 8 to 20 ft (2.4 to 6.1 m), it handles everything from small parking lots and urban development roads to shoulder paving on interstates. "We look for versatility in our pavers," says Fahey.                                                                                                            
Versatility was one primary consideration for purchasing the CR662RM RoadMix machine, as it offers the ability to work as a paver, which is how Fahey Construction uses the machine, as well as a material transfer vehicle. "It takes about four hours to switch between the screed and conveyor assemblies, so it's possible for the CR662RM to be paving in the morning and transferring material in the afternoon," comments Henry Polk, manager of paving, milling and reclaimers/stabilizers for BOMAG. 
Fahey Construction reserves this machine for the high profile, main thoroughfare and occasional interstate asphalt paving projects. The vast majority of the work seen by the CR662RM is mill-and-fill overlay on urban roads as well as county highways. The main reason for using this paver for high profile projects, as Fahey explains, is the reblending capabilities offered by the machine. 
"As much as versatility," he says, "we are looking to deliver high mat quality in whatever application we encounter, no matter the customer. The CR662RM's ability to remix the asphalt in-hopper gives us mat consistency with no segregation, and we can tell the difference in the mat between the Remix paver and a conventional paver." 
The hopper design of the CR662RM replaces the traditional slat conveyor that delivers material to the spreading augers with two sets of two augers. Whereas the slat conveyor pulls material from the front to the rear of the hopper, the Remix system's counter rotating augers uniformly draw down and reblend material from all areas of the hopper. "Any asphalt that has cooled during transport is remixed with the rest of the mix at temperature to eliminate cold spots behind the screed," says Rieken. Fahey adds, "The Cedarapids paver provides a superior product that we haven't seen with conventional pavers." 
Temps Below Warm Mix
Whereas Fahey Construction sticks to within 75 mi (121 km) of Kansas City, Dustrol's five HIR crews travel a 16-state market, spanning the central part of the country from Idaho and Montana to Texas and Louisiana. Since forming in 1973, the company's restoration efforts have evolved from heater scarification surface recycling to its current MARS (Mobile Asphalt Recycling System) hot-in-place recycling (HIR) process, which allows for recycling depths reaching 3 in (76.2 mm). "Most of our projects are in the 2-in (50.8-mm) depth range or less, but we have recycled as much as 2.5 to 3 in (63.5 to 76.2 mm)," says Brian Hansen, president of Dustrol.
Repairing surface deformations such as rutting and cracking, the custom-engineered MARS recycling train includes a series of road preheaters, milling heaters and tunnel heaters. Each combination of milling and tunnel heaters will recycle a depth reaching 0.5 in (12.7 mm), so the deeper the project, the more milling and tunnel heater units added to the recycling train. The last component in the train is a milling heater with an oiler that injects a predetermined percentage of water-based emulsion as a rejuvenating agent for the oxidized recycled asphalt.    
The recycled asphalt is laid in a windrow for the paving train to pick up and pave. While heated by the recycling train, the material in the windrow isn't nearly as hot as asphalt designs produced by a plant and trucked to the jobsite. "We are working with asphalt in the 200° to 250° F range, which is just a little cooler than warm mix asphalt," explains Hansen. The low temperatures can make the mix difficult for the paver to work with. 
A second challenge for the paving train is the type of asphalt roads being recycled. Dustrol's workers often face chip-sealed, microsurfaced and heavily patched surface layers. These state, federal and county roads are typically hot mix asphalt surfaces that have been subject to some sort of restorative effort. "This makes it extremely difficult for a conventional slat paver to deliver the high quality finished product we want," Hansen says. 
When encountering an untouched hot mix asphalt road surface, Hansen says that conventional pavers work well. However, when recycling a previously repaired road, he says they would see shadowing in the mat and centerline segregation under the spread auger gearbox. "Most of the roads we recycle will also receive a thin asphalt, Nova Chip, or chip-seal overlay, but we still want to deliver the highest quality mat possible," he says. 
A few years ago, when recycling a stretch of Kansas highway that received two chip seal treatments, Dustrol's crew was having a particularly difficult time achieving the end result they wanted with the slat paver. Mat shadowing and centerline segregation weren't the only issues. "Chip seal sets up fast and doesn't flow well, and the aggregate showed some signs of stripping," Hansen says. 
Dustrol experimented by replacing its slat paver with the CR662RM. "In addition to its counter-rotating augers inside the hopper, the RoadMix also features outboard spreading auger drive to eliminate the center gearbox and centerline segregation issues," Rieken says. 
The combination of in-hopper augers and outboard spread auger drive eliminated the segregation and shadowing issues experienced on that Kansas recycling project, and it resolved aggregate stripping. "Our MARS equipment gives the asphalt some reblending at the last heater mill, but the CR662RM's hopper acts like a pugmill to give the windrow additional reblending and coating of the aggregate," says Hansen. "Remix gives us a better product, and it's all about delivering a good quality product for the taxpayer." 
Since that first project using the Remix auger paver, Dustrol has added a CR662RM machine to four out of its five HIR trains. The train using the lone conventional slat paver is relegated to applications of conventional hot mix asphalt road recycling, and current plans include an auger paver replacing the slat paver when it is ready for replacement. 
Similar Operating Costs
Hansen and Fahey report the operating costs of their rubber track CR662RM RoadMix machines are very close to that of a conventional slat paver. "Since we've been running the CR662RM so long, it's hard for us to tell cost differences, but if there were higher costs, they would be more than offset by reduced call-backs on a project," says Fahey. Hansen echoes Fahey's sentiment, "The benefits of quality far outweigh any additional cost we may incur." 
Randy Meisch, shop foreman for Dustrol, has intimate working knowledge of both auger and slat pavers and confirms the cost assessment made by Hansen. Every offseason, the shop crew plus some of the equipment operators spend time maintaining the fleet. Meisch has found some areas where the Remix system takes less time to repair than the slat delivery system. 
At the end of each season, workers remove both material delivery systems. "It takes about three hours to get the Remix augers on the ground, whereas it takes about eight hours to remove the slats," he explains. "The auger pavers go through the shop a lot faster than the slat pavers." 
Dustrol also gets significantly more service life out of a set of Remix augers. "In our application, we get two seasons from our slat delivery system – one season per side," he says. "With the Remix system, we have run five seasons without repair or replacement of the screw augers, and we have put 2 million tons of material through the paver." 
The key to achieving this longevity, according to Meisch, is proper maintenance. He uses the paver operators to hard surface the augers and for other projects that don't require technical training, so the company doesn't have to lay them off during the winter season. He reports it takes about 40 hours to hard surface the auger sets.
Longevity, versatility and superior end product quality, the Remix auger pavers have offered significant business advantages for both Fahey Construction and Dustrol in nontraditional applications. "We have run Remix pavers for 15-plus years, and they have been a method to mitigate segregation, no matter the application we encounter," summarizes Fahey.