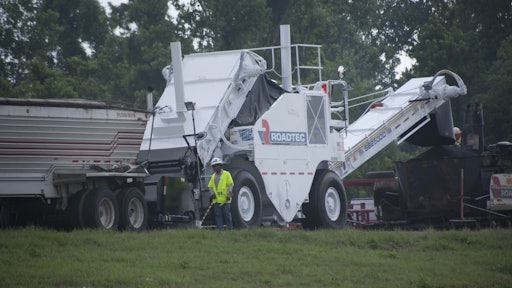 Material transfer vehicles (MTV) have proven their value. Over the years, Shuttle Buggies or MTVs have been credited by paving contractors as being instrumental, if not key, to winning quality recognitions, paving bonuses, and smoothness awards. 
The Roadtec Shuttle Buggy was originally introduced to minimize issues associated with transporting asphalt to a work site, as well as to reduce the material and thermal segregation that can occur during paving. MTVs are used to provide the paver with a regular supply of HMA. Most pavers can receive their supply directly from end-dump or live-bottom trucks, however in most situations it can be better to use an MTV, which is designed to supply thoroughly mixed HMA at the correct temperature.
Since its introduction in 1989, the Shuttle Buggy has evolved and changed. With recent technological innovations, it is safe to say that the new Shuttle Buggy is not your daddy's MTV any more. It's probably like comparing the 1989 Pontiac Turbo Trans Am to the brand new 2015 Corvette Zo6. Both are American-made sports cars, but that's pretty much where the comparisons stop. As Car and Driver magazine states, it's hard to "capture the full wow factor" of the new Vette with "the sheer ridiculousness of Chevy's technological and engineering achievements."
Similarly, the new Roadtec Shuttle Buggy offers "technological and engineering achievements" that surpass the first machines that created a new equipment category more than 25 years ago.
The Roadtec SB-2500e Shuttle Buggy MTV offers refinements that include:
Tier 4 Final engine — The Cummins QSL 9 features 300 hp 2,000 rpm performance designed to deliver better fuel economy than previous engines.
Twin Hydraulic Variable-Speed Fans… provide cooling based on engine demand. The fans are designed to decrease machine noise and add horsepower.
Tight Turning Radius — Shorter wheelbase than other MTVs provides 26'6" outside turning radius and just under 17'9" inside turning radius.
Conveyor upgrades — longer and wider. Depth has changed from 25- to 32-inches on Conveyor 1. The width of Conveyor 2 has increased from 34½- to 38-inches. And the depth of Conveyor 3 has increased from 20- to 23½-inches, while its speed has been reduced from 217 fpm to 160 fpm.
Sprocket upgrades — larger and wider. The mounting bolt diameters have remained the same, but the sprocket's outer diameter has increased from 14- to 15.2-inches. The sprocket width has increased from 1¾- to 2¼-inches, providing 38-percent more wear surface. 
Change of chain design from straight links to offset links, which means the chain can now endure much heavier workloads.
Change of auger-shaft design from a square-shaft auger with 22-inch diameter
to a round-shaft auger with 29-inch diameter, designed to provide 36 percent more wear surface.
New conveyor-floor material on all three conveyors is designed to provide an estimated 30 percent increase in its life. This is a change from AR 500 (Rc 50) to Chromium Carbide Clad Plate (Rc 70).
Better clean out accessibility – Hydraulic door located on conveyor one's dump hopper now spans the full width of the hopper, which is designed to allow for faster cleanup time.  There are also full length Bombay-style clean out doors located on conveyor two that are said to improve cleanup time and a hydraulic door located on conveyor three, if needed, for better access as well.
Additionally, the Roadtec SB-2500e Shuttle Buggy MTV now offers an Autotracking Package, which automates the Shuttle Buggy so it can operate at a continuous speed in sync with a paver. The paver can set the speed for the Shuttle Buggy, which can prevent any defects in the mat resulting from stopping and starting the paver.
Without the Roadtec Autotracking Package, MTV operators have to continuously monitor and adjust their speed to keep the distance from the paver constant. With the Autotracking Package, that constant worry is eliminated and the speed of the Shuttle Buggy is automatically adjusted up or down to maintain a set distance from the paver. This option seamlessly links the paving train and improves operation by eliminating inconsistencies due to fluctuations in speed and distance.
Through a pendant control, the paver operator can enable or disable the Autotracking system and swing the Shuttle Buggy conveyor that feeds the paver. Two light towers on the machine indicate when the Shuttle Buggy speed is going to increase, decrease, or when it is maintaining the appropriate distance between the two machines.  
Control switches for the Autotracking Package are also located on the Shuttle Buggy's operator console. These controls allow the Shuttle Buggy operator to select between automation or manual modes. In either mode, the light towers provide continuous aid to the operator in judging the distance between the paver and Shuttle Buggy.
For paving contractors who have incorporated MTVs into their production train, the refinements and innovations incorporated into the Roadtec SB-2500e Shuttle Buggy may very well "capture the full wow factor," especially when compared to the first MTV model introduced in 1989.