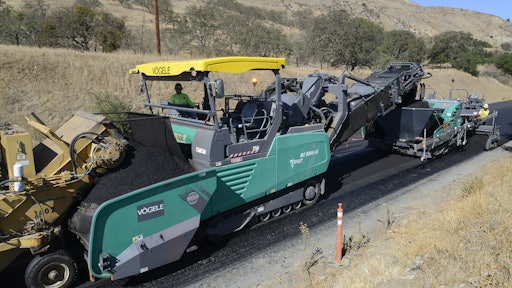 A Caltrans "pilot" project in October 2015 demonstrated both a new-design material transfer vehicle (MTV) and asphalt intelligent compaction (IC) on a two-lane highway in San Benito County, CA, on S.R. 25 near Tres Pinos, about 95 miles south of the Bay Area. The goal for use of these techniques on the rural S.R. 25 highway was to evaluate the use of a material transfer vehicle in obtaining a superior HMA pavement.
Prior to the overlay, Pavement Recycling Systems, Inc. (PRS) of California cold milled the existing highway by 0.2 ft., then in-place-recycled (CIR) to a depth of 0.2 ft. A Vögele MT 3000-2i material transfer vehicle was then paired with a new Vision 5200-2i paver with VR 600 screed for the paving process. Intelligent compaction (IC) was provided by the Hamm Compaction Quality (HCQ) system mounted on an HD+ 140 VO breakdown roller, a GRW 280i pneumatic roller as intermediate roller and an HD+ 120 HF compactor in finish mode. HD+ 70i and HD 90 VO compactors were used for the CIR layer, and also were equipped for HCQ.
The six-mile project was then paved 28 to 30 ft. wide in two 14- to 15-ft.-wide lanes to a depth of 0.15 ft. (1.8 in.). Some 11,500 tons was placed by the contractor, Graniterock, and target density ranged from 91% to 97%, with 94% being the average.
[Video] Vögele MT 3000-2i MTV Feeds a Vision 5200-2i Paver on California Highway
MTV Helps Eliminate Stops and Starts
As is the fashion out west where asphalt plants may be a great distance away, HMA is placed in large volumes by bottom dump trailers in windrows down the center of the lane. The HMA is then picked up by a windrow elevator and placed in the hopper of a paver - or in this case, the hopper of the MT 3000-2i, and then to the hopper insert of the paver.
Powered by a 215-hp Deutz water-cooled, Tier 4 Interim-compliant engine, the MT 3000-2i can move 1,300 tph and allows paving to continue at a consistent speed without any problems with starting and stopping, stated Mike Burns, Wirtgen Group product specialist for Nixon-Egli Equipment Co. "It also fights segregation by moving material belt to belt, rather than with paddles," he added. "And when it drops into the hopper insert of the paver, the hopper funnels the material to the center, instead of allowing large rock to roll to the sides." A grid plate across the top of the receiving hopper breaks up chunks of asphalt, as well.
Caltrans engineers were impressed. "The MTV provided mix with no segregation and consistent temperature throughout. And when the MTV put the mix in the hopper insert of the paver, the paver laid it down perfectly," said Abdalla Naas, assistant regional engineer for Caltrans District 5, San Luis Obispo. "I have never seen two machines that worked together so well to produce such a good mat.
"There was no segregation, and no raveling," he added. "When you drive on the mat it's as smooth as can be."
The VR 600 screed Vision 5200-2i paver and Niveltronic Plus grade and slope control system played a substantial role in this. "When you see the quality of the mat, it says that the screed is excellent," Naas said. "Also, the side-mounted sensors... catch irregular spots in the pavement and smooth over them completely."
MTVs are not currently required under Caltrans specs, but rather used at the discretion of the contractor. "They may be required in the future," Naas said. "If it comes to that, I would like to see these machines work in California more often."