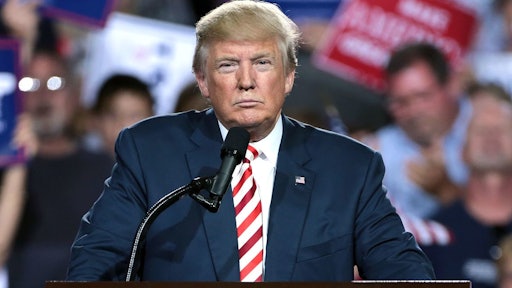 Gage Skidmore via Wikimedia Commons
Senators are pushing back on President Donald Trump's proposed cuts to transportation and housing programs in a spending bill advanced to the full Appropriations Committee.
The $71.4 billion bill, which the Transportation, Housing and Urban Development Appropriations Subcommittee approved on a voice vote June 5, rejects reductions to a program run by HUD and the Department of Veterans Affairs that offers rental assistance to homeless veterans, said Sen. Jack Reed (D-RI).
The bill also would provide $3.3 billion for HUD's Community Development Block Grants and $2.6 billion for the Department of Transportation's Capital Investment Grants. The Trump administration, in its fiscal 2019 budget request, sought to eliminate both programs.
Community Development Block Grant funding was "the most frequent" request among 70 senators who suggested provisions in the bill, Subcommittee Chairwoman Susan Collins (R-ME) said at the June 5 markup.